With an avalanche of anodyne music seeping into our living rooms from tedious TV talent(?) shows, the news that Black Grape would play Aberdeen was great news. Their acidic acid observations are set to uplifting, neo-indie music which thrilled fans and critics when they first set sail some two decades ago. What would they be like now? Suzanne Kelly (article) and Julie Thompson (photography) found out.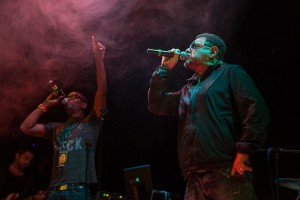 Many old acts are reforming and hitting the road; their motivations vary.
Sometimes it's a case of government austerity forcing these reformations.
It can also be a touch of greed, or a touch of poverty (fame does not equal financial security).
Some such reformed acts ache for a bit more adulation/re-lived glory, or just ache to get away from the wives.
Bands which are forced to tour can fool some of the people some of the time. But there are some things you can't fake.
On Sunday the 5th July, Aberdeen's Beach Ballroom was filled with people who clearly loved Black Grape and who had high expectations. Everyone who entered with high expectations exited in higher spirits. God, I hope they come back.
The support acts were local lad Marc Culleys' Soul Love, Aberdeen's Tijuana Sun, and Mancunians Alias Kid. Culley's set was popular; I was sorry I missed it. More on Culley here.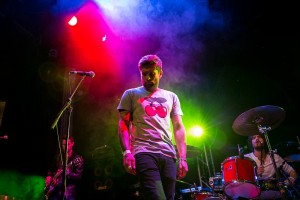 Tijuana Sun has some accomplished playing and some memorable songs and riffs.
TS are a are a local act that's been going for a few years now.
They are Mark Ferguson (Vox), Kris Harris (Guitars), Gregg Bannister (Guitars), John Brown (Bass), Paul Barclay (Drums).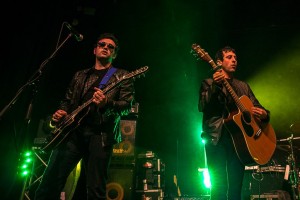 Alias Kid were a great warm up act for BG; it's the kind of young indie act that's very much needed to stir things up in the industry.
I found out afterwards that Alan McGee had signed them and I wasn't surprised.  They are Maz, Sean, Col, James, Nick, Chris; follow them here.
There's a sweet, poppy song 'Zara with the Henna' which went over very well on the night.
My favourite was 'Revolution Sometime' which impressed the crowd.
The percussion was outstanding; guitarist James has a way with his Gibson, and there's lots of anarchic chemistry onstage.
Then it was Black Grape time. The current Black Grape lineup is Shaun Ryder, Kermit, Che Beresford, Mikey Shine, Seth Leppard, Dan Broad. Mancunia Promotions invited Aberdeen Voice to the Aberdeen leg of this 20+ date tour, which just concluded. For further information and links to some great BG videos, visit Mancunia's page here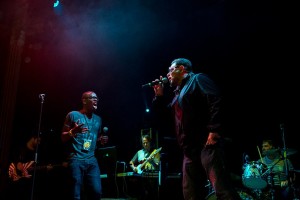 This enthusiasm thing. If Black Grape were faking it, then they should all be in Hollywood collecting Oscars. I wanted so much for them to be enjoying it, and for it to be just as it was when I first saw them 20 years ago. And it was.
Early on it seemed Kermit made a remark to Ryder about his being over 50 years old – and I'd expected the audience to likewise be people around the same age. The ballroom was in fact full of people of all ages.
The people jumping up and down on my right (with me) during 'Reverend Black Grape' and 'Tramazi Party' were all around 25 – 30 they knew every word and sang every word of this twenty-year-old track.
The people in front of me were at least my age; and all around were people testing the famous spring in the ballroom's floor. If I wound up dancing without hesitation, it was the power in that music, the infectiousness of the dancing crowd, and the fact the sprung wooden floor with hundreds jumping on it made standing still a non-starter.
The opening numbers 'Reverend Black Grape', 'In the Name of the Father', 'Tramazi Party' & 'Kelly's Heroes' were stormers. Kermit was amazing. Ryder displayed the personality we expected; he looked good. The bass player smiled throughout, going against the stereotype.
The energy of the music is equal to the lyrics; you have to go far to find anything approaching 'Reverend Black Grape' for a contemporary scathing assault on religious hypocrisy.
'Old Pope he got the Nazis to clean up their messes. In exchange for gold and paintings he gave them new addresses' – and there you have it – the Church's dirty hands and the post WWII relocation of Nazi party top officials at the end of the war – summed up succinctly by a band from Manchester in one verse. And we danced to it. 'In The Name of the Father' puts the imagery from the video into your head as the band performs.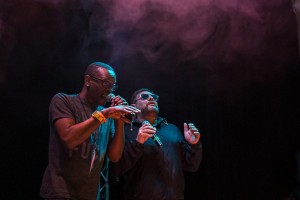 'Get Higher' features some of the band's best writing and performance; the audience loved it, and again we were all singing and dancing.
I'd like to think they saw how into it we were. The waving arms and jumping people might have been a clue.
They really have to keep going and to come back. Soon. Is the material as relevant as when it was written?
No. With the way things are going, Black Grape's music is even more relevant. I'd say we need at least ten more albums of what they've got to say. ASAP please.
On a personal note
I ran out and bought the Black Grape album when it first came out; I got a chance to see them in London (was it the Kentish Town forum or the Bull? pass). Somehow we all had after show passes, not that it mattered in the end, because the whole venue seemed to be a giant unending party. It was amazing. You can't do that at the ballroom, don't you know, but when BG were playing, it all came back. And it was delicious.
Comments enabled – see comments box below. Note, all comments will be moderated.