Aberdeen-based artists Brian and Bibo Keely have turned a major life event into an exhibition of portraiture and sculpture which is optimistic, personal, educational and aesthetically wonderful.  By Suzanne Kelly
Preface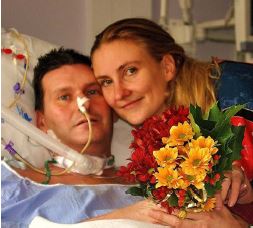 When local artists want to exhibit, more and more of them are going to Glasgow and Edinburgh. There are several reasons for this. Many feel disenfranchised from a conservative Aberdeen arts matrix populated by those who hold the purse strings, those with money and those in government. Outside of Aberdeen arts flourish from the grassroots in an artist-led organic fashion. It is rumoured that here for instance, those who created Aberdeen's lamentable 'City of Culture' bid invented contrivances of their own without input from our existing musicians and artists – to the point that one Culture supremo had to have WASPS explained to them (briefly, WASPS is the largest organisation helping artists work in affordable studio space in Scotland).
Art that comes from personal experience, from research and work independent of a pro-government agenda will always trump art sponsored and commissioned (whether directly or tacitly) by those in power. It is no wonder the arts community Scotland wide decided that 'gigs on rigs' and a one off concert for ships horns, orchestras and horses were events that had little real merit or support from the local practicising artists. We have seen several arts practitioners pack up and move south. This trend must be reversed – possibly the best thing that could happen is for a clean sweep of the existing cabal of people handing out grants from our arts fund to people they very often know. In the meantime if artists are not voting with their feet and moving (like Fraser Denholm, creator of excellent film 'Run Down Aberdeen'), they are certainly taking their work south where it can be shown in galleries that are often artist-led, to be seen by fellow artists and a more international (and dare I suggest it) less conservative audience.
Torry's Anna Geerdes has had a very successful show in Glasgow's Compass Gallery two months back; visitors from several countries and many Scottish cities visited and bought her surrealistic, beautifully-executed work. Also showing work that is beautifully executed, personal and relevant is Brian Keely, currently exhibiting in ArtVillage in Glasgow.  ArtVillage "revives historic High Streets that have suffered decline by creating vibrant, successful cultural centres" – which certainly sounds like the kind of initiative we need here.  Such initiatives are common in many cities south of the oil capital of Europe; it is a pity that while we have the occasional temporary 'pop up shop', there are empty spaces on our high street serving no purpose which could be given to artists' collectives (such as poor Limousine Bull, which had to close because it needed a paltry sum to continue after an arts funding fiscal reorganisation:  no money could be found).  It is just as well we have a few less conventional venues which exhibit fledgling and established artists' work such as our private galleries, BrewDog and Under The Hammer.  But we could and should be doing more.
On With The Show
But I digress.  The point of this piece is to highlight how heart patient Brian Keely has taken from his experience and created a collection of portraits, and how his wife Bibo reflects her experience in her sculpture.  The official programme explains further:-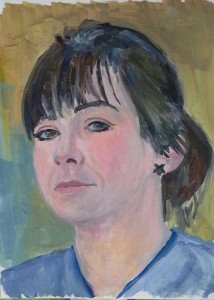 "Brian Keeley graduated from Glasgow School of Art in 1984. He has worked extensively in community film and video, and as a digital video editor. He taught English as a Foreign Language in Germany for many years and, before his illness, he was a secondary teacher of Art & Design in Aberdeen.
"Bibo Keeley's artwork has been exhibited in numerous collective exhibitions and also solo exhibitions, in Scotland and elsewhere in the UK over the last few years, and following this life-changing experience she has embraced her artistic career and in 2015 will begin a BA (Hons) degree course in Fine Art at Gray's School of Art in Aberdeen.
"Brian & Bibo were married in the Intensive Care ward at the Golden Jubilee National Hospital, Clydebank, when Brian was not expected to survive any longer."
 A video of the exhibition can be found here
"Brian's portrait paintings pay tribute to his wife Bibo, and to the medical professionals who saved his life during months in Intensive Care and and who helped him recover following his eventual heart transplant.
"Bibo's sculptures respond to her experiences during this time, and her photography documents her husband's recovery and recuperation."
The many canvas portraits capture a number of personalities and characteristics of those who Brian and Bibo encountered in their dealings with the NHS, but there is an optimism, and a refusal to resort to gross exaggeration or distortion of facial features.  The portraits are fond portrayals.  Brian says of his experiences:-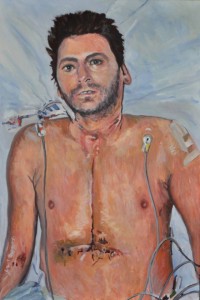 "Although I already knew that I wanted to paint portraits from these photographs, I did not know if I would even walk again, let alone be able to hold a paintbrush.
"The photographs were an important way for me to connect with the subjects during this short window of opportunity between surviving the transplant and leaving Intensive Care.
"Painting these 25 portraits gave me a clear focus and a creative goal during my rehabilitation.
"It was an important part of my recovery, and I wanted to fix this period in time."
Bibo's sculptures seem to reflect the inner emotional rollercoaster the two of them must have been on; there is a demonic figure; there is a tender family grouping, there is a work which seems to show the transformation such major surgery must mean physically, mentally and emotionally.
In Brian's words:-
"The exhibition seeks to raise awareness of the issue of organ donation, and the terrifying numbers of people who suffer from heart disease and heart attacks.
"These issues are particularly current as Anne McTaggart MSP is currently in the process of bringing a Private Members Bill to the Scottish Parliament that would see the introduction of a 'soft opt-out' system of organ donation in Scotland."
This interest in the issues surrounding organ donation is of course personal, but Brian and Bibo are often found in Aberdeen at events where art meets social problems, be it exhibitions at Easter Anguston Farm, artists' gatherings, and premiers of documentaries about important issues. They do what artists should do – look for issues and problems, react to them, help where they can, and create artifacts that reflect what is going on and how they feel. It is these kinds of artist that communities need more than someone whose art tells them how great things are in the eyes of their patrons. Let's hope we are not about to lose more talent to cities that appreciate genuine talent more than we seem to.
Event info at: www.facebook.com/artvillagescotland