With his Martin Stephenson-produced album Working Man's Dream (Pictish Pop Records) on release and its Easter Ross blue collar honesty being well-received by critics, Davy Cowan was kind enough to take time off from creativity and promo to talk to Voice's David Innes.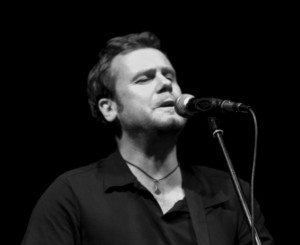 'Home' sounds very questing and personal. Can you enlighten us a little?
"It's more about a feeling or a kind of longing for something familiar rather than an actual place. My father passed away two years ago and  it made me think a lot about life in general, about the meaning of life, our reason for being here and what purpose we have as people. I think it's about an ongoing search, about finding your roots and spiritual identity."
So, is 'Town That I Love' about Dingwall or Invergordon, or is it one of these 'everyman' songs about returning home?
"I suppose this song was inspired by all the different and colourful characters that seem to exist in every town. It looks at all the day-to-day things that go on – doing the shopping, avoiding the traffic warden and dodging the gossip from the local fishwives. So yes, it's about where I come from and live, but I suppose it's relevant to most people's home town. It's much the same everywhere, I imagine."
The Yobs was your first band. Very punk! Do those no-frills influences and that youthful energy still find their way into your songs?
"I like to think so. I still feel as passionate today when I find a hook, a lyric or a riff on the guitar as I did the first time I saw Stiff Little Fingers play at the Ice Rink in Inverness back in the early 80's.
"It's the whole spirit that punk rock created that made it so exciting, I think it was a natural progression from artists way before that, like Willie Nelson, Neil  Young, Bob Marley, Dylan and Bowie. You can hear it in their music – they all had that same energy and drive. Punk was the catalyst that made everyone feel they could be part of something special, whether or not you could play an instrument."
Your Celtic band Coinneach seems to have been a big part of your life. What are your favourite memories from touring with them?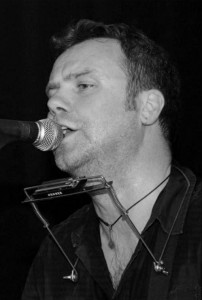 "The old Ford Transit mini bus which we converted into our own little tour bus….catching the overnight ferry from Newcastle to Holland.
"We toured all over Holland, Germany, France and Belgium, had some amazing experiences, we saw some beautiful places and met all kinds of weird and wonderful people, forging some great friendships and alliances with people, most of which are still ongoing today. 
"We really did have some magical mystery tours in those days!
"Our last gig back in 2004, at the Hogmanay party in Union Street Aberdeen with Hue & Cry and Deacon Blue, playing to around 4000 revellers is something I'll never forget. It was a great way to bring that whole band chapter of our lives to a momentous conclusion."
Tell me about working with Martin Stephenson – what did he get out of you as a producer that you might not have expected from yourself?
"Martin has this uncanny knack of getting the best out of you anyway. He seems to feed directly into the creative stream and encourages the artistic side to emerge from a song. He put me through my paces vocally. I think that if you're used to playing in loud environments over the years you tend to shout over the top of the noise to have your voice heard.
"Martin helped me find my true voice from deeper within, almost like re-learning my whole singing technique. I really think I would have struggled to find that if it wasn't for Mr Stephenson."
When can the NE public expect to see you play live here?
"It's been a while since I played the NE. I'm thinking about doing a series of busking tours around major UK cities to promote Working Man's Dream. My idea is to busk outside major venues in each city, for example The Royal Albert Hall in London, The Royal Concert Hall,  Glasgow and of course The Music Hall Aberdeen! The idea is to take the music to the people on the street.
"I'll be outside the Music Hall in Aberdeen at 3pm this Tuesday (3 September) for a trial run!"
You have the choice of all the leading musicians, alive or not, to back you for a one-off gig – who will be in the Davy Cowan Fantasy Big Band?
"Oh now, that's a difficult one.
"OK, this might sound a bit disjointed but here goes.
"Keith Moon on drums, Lee Rocker from The Stray Cats on upright bass, Jools on piano, Hank Williams  and Emmylou Harris on backing vocals, Martin Stephenson on the washboard, Joe Strummer on rhythm guitar, Nigel Kennedy on fiddle and Gerry Jablonski on lead guitar. Oh, and not to forget Old Lizzie from The Gellions in Inverness on percussion. How does that sound?
"But I suppose for just now I'll just keep plugging away on my solo mission and as long as I can keep writing and keep enjoying the music, I can't think of any better way of spending the rest my working life. Onwards and upwards!"
Thanks to Davy for his input and to Donna and Mr Martin G Stephenson himself for their assistance.
Accompanying the promo copy of Working Man's Dream was a most unusual and welcome personal letter from the head Daintee himself, outlining his vision for his Barbaraville label/collective in which he reveals, that he's created the label '…to try to help support artists who I feel should be heard beyond the village'. Music to these ears. Go buddy go!
The Boat To Bolivia tour gig at The Venue in 1986 will live long in the memory of anyone who was there. Respect, Martin.
We have a review copy of Working Man's Dream and a review is imminent.
If you're in the city centre on Tuesday afternoon, pop along to hear Davy and to offer him encouragement.
www.davycowan.com
www.daintees.co.uk/barbaraville
Comments enabled – see comments box below. Note, all comments will be moderated.