It has been a busy summer down at Sunnybank Park. Philip Sim reports.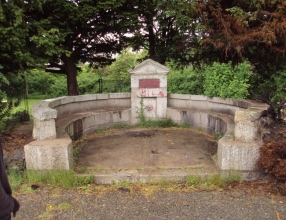 Just six months have passed since the park, formerly known as the St Machar Outdoor Centre, was taken over by the Friends of Sunnybank Park community group.
Already, major structural changes are underway to breathe new life into the previously run-down site, with the newly-built allotments looking full of life.
One of the most visually impacting changes has been the removal of the large metal fence across the middle of the park, which has made the whole area feel much more open and spacious.
The fence removal was funded by Aberdeen Greenspace Trust, who have pledged around £60,000 to the park. They have now completed the bulk of their work, including re-surfacing the existing paths and installing some benches and a new stairway and path leading to the park.
Sunnybank Park Update: July from Philip Sim on Vimeo.
Meanwhile BTCV Scotland volunteers have also been hard at work picking litter, building benches and trimming down the undergrowth. They have also built compost bins for the allotment holders and other green-fingered locals.
There has even been some political interest in the project. Former City Council leader John Stewart has provided funds for signage and a notice board, while North East MSP Lewis MacDonald toured the site last week.
The park was formerly home to a bowling green, but Aberdeen City Council decided to mothball the site after the pavilion was burned down in 2009.
The area was left to fall into disrepair until local community groups rallied round and put together a business plan, complete with funding, to save the park. With many major developments now complete and a few more still to come, the future certainly seems bright at Sunnybank Park.