By Suzanne Kelly.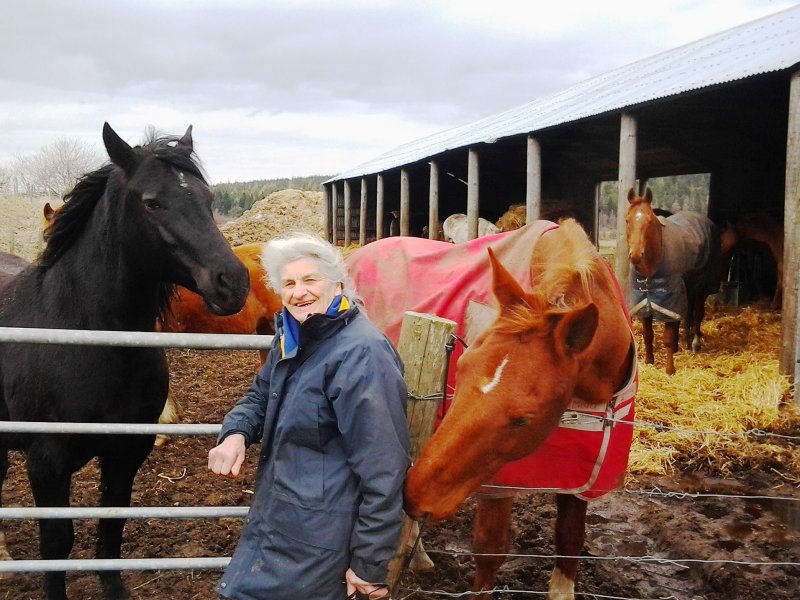 Campaigners determined to save Blaikiewell Horse Sanctuary, home to over 60 horses and ponies launched a petition asking the Scottish Government to treat the charity fairly and give it premises of equal size in the vicinity.
Without a proper valuation and settlement, the charity will find it hard to support the animals it has and to continue.
Mavis Petrie, founder of Blaikiewell had this to say:-
"If we are not given the means to relocate we will have to drastically reduce the number of horses we can provide for.  Destruction is out of the question and not only will the feed bill for the existing animals be greatly increased, it will mean that we cannot rescue another animal in the foreseeable future.
"There are already far too few sanctuary places in Britain for all the animals that find themselves homeless.  In the past we have taken horses from as far afield as Orkney and Mallaig and Kent and Dartmoor, and everywhere between. This is not only an animal issue. 
"Many people are having to reluctantly part with horses and ponies for reasons of ill health or financial difficulty and we have often helped people who were faced with the heart breaking reality of having their pets destroyed because there was nowhere for them to go. We have always taken the horses that have been turned away from all other organisations."  
The controversial Aberdeen Western Peripheral Route will cut through pristine AberdeenCity and shire countryside.  Land and homeowners were subject to compulsory purchase orders.  One of the larger landowners runs Blaikiewell Animal Sanctuary, home to over 60 horses and ponies.   It is reliant on private donations, and as the cost of caring for the animals continues to rise, it has done a great job of continuing its work.
It is related to a separate riding school, Redwing, which exists to support the charity (Reg. No. SC026054)
The petition can be found at this link: http://www.gopetition.com/petitions/save-blaikiewell-horse-sanctuary-aberdeenshire.html
It is bad enough that the AWPR will destroy countryside and add to air pollution, already chronically bad in parts of Aberdeen, which has two of Scotland's most polluted roads.  Giving Blaikiewell's a less than adequate compensation for its compulsory-purchased lands will be a huge blow to the charity and its supporters.
We need to ensure it can continue at premises nearby which are large enough for the horses it has.  Any settlement from the government which will not meet this fundamental requirement, let alone compensate the charity for the loss of this location is unacceptable.  In the run-up to a referendum on the future of Scotland, people will be watching how central government acts locally.
It is crucial that this situation is resolved quickly and fairly.
About Blaikiewell
Blaikiewell Animal Sanctuary is a small charity in Deeside, Aberdeenshire, UK.  It is home to over 60 horses and ponies, two Jersey cows, and six pigs as well as cats, dogs and any other animal or bird that needs a safe place.
The first two ponies were bought on impulse in 1977 at the local market to save them from meat dealers who were bidding for them.  (I know this is no real answer to the problem of horses being shipped, live, hundreds of miles in dreadful conditions to dubious slaughterhouses, but once a horse has looked me in the eye I cannot walk away and let him or her go off on the horrendous journey)
Other homeless ponies began to arrive from various sources and none were turned away.
In 1985, I decided to open a small riding school to pay for the maintenance of the growing animal population.  Redwing Riding School has always been conducted with the welfare of the horses and ponies firmly in first place.
No whips or sticks are allowed and young riders are not allowed to ride with a bit in the horse's mouth until they have learned control of their hands.  They learn in lead rein classes, each with a leader on foot, and the reins attached to a head collar with a fluffy noseband.  Riders are taught to ride with a light squeeze of the legs and gentle hands.  The words 'kick' and 'pull' are strictly forbidden.
It may take pupils a little longer to be off on their own this way but pupils learn that good riding is a partnership and a horse a friend, and many have become very competent and sympathetic riders.
Most of the original School horses are now retired and the Charity was formed in 1997 to help raise funds.  Animals that come to Blaikiewell live here forever and are never sold, nor moved away.  When possible those who have been returned to health and fitness are used in the School and some have been leased to carefully chosen people who have agreed to keep them at livery on the same premises.
When their working life is over, they continue to live in their own fields with their old friends for the rest of their lives.   Many of the ponies have lived well into their thirties.
Comments enabled – see comments box below. Note, all comments will be moderated.