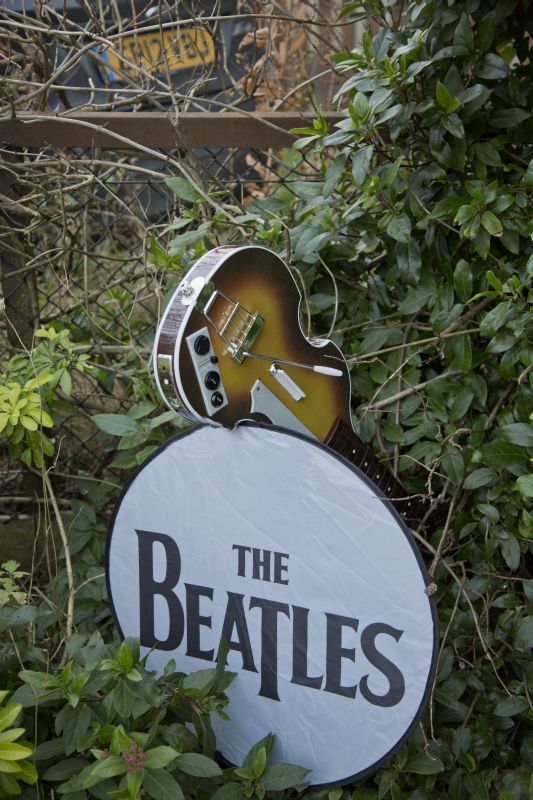 In the May of 1960, Johnny Gentle – a pop star from the same stable as Billy Fury and Marty Wilde – was dispatched by his manager to tour the dance halls of the North-east of Scotland. Backing him were some youngsters from Liverpool. Duncan Harley writes.
Mention The Beatles in the context of Scotland and most folk will recall their 1963 tour.
It began on 3 January that year and included performances in Elgin, Dingwall and Bridge of Allan, before climaxing at Aberdeen Beach Ballroom, on 6 January, with the Fab Four seemingly being booed while on stage, following a reported 'mixed reaction' from the assembled
crowd.
John Lennon, Paul McCartney, George Harrison and Ringo Starr had been billed as a supporting act for the Johnny Scott Band Show, and The Beatles' performance of mainly Buddy Holly and Ricky Nelson cover numbers seemingly suffered from a less than perfect sound system.
After being paid a reputed £45 for the Beach Ballroom gig, the Beatles went on to play to audiences all around the globe. They never returned to Aberdeen Beach Ballroom, but did play in Madison Square Gardens and Tokyo's Nippon Budokan, among a few hundred other stadiums. However it almost never happened…
Rewind to 1960. Page four of the Inverness Courant for Wednesday 25 May included: an advert for staff wanted at Ayr Butlins Holiday Camp during the summer season; a local Elgin car dealer's ad listing a one-owner 1957 Jaguar 2.4 saloon for sale at a "very reasonable price" – and a Northern Border Dance advert for the Beat Ballad Show.
For just five shillings, folk from Nairn, Kinloss, Lossiemouth and Elgin were encouraged to dance the night away at the Forres Town Hall, to the beat of Johnny Gentle and his supporting group, The Silver Beetles.
Fast-forward to Keith, in the present day.
Unless you have local knowledge of the town, the St Thomas Hall is a building quite easy to walk past. Erected in 1912, the hall has a fairly modest exterior, graced only by a stained-glass panel above the plain wooden door. In sharp contrast to the copper dome atop the grand St Thomas' Chapel nearby – the hall boasts a blue slate roof, topped with a pair of rusting ventilators, and a chimney stack with two mismatched chimney pots.
However, on closer inspection, a small blue cast-iron plaque on the wall beside the entrance reveals that the hall played host to one of the earliest incarnations of possibly the most enduring band ever to tour the world stage.
The inscription reveals that on 25 May 1960, The Silver Beetles, comprising George Harrison, John Lennon, Paul McCartney, Tommy Moore and Stuart Sutcliffe, played to a packed hall – almost three years before The Beatles' memorable 1963 tour of the North-east of Scotland.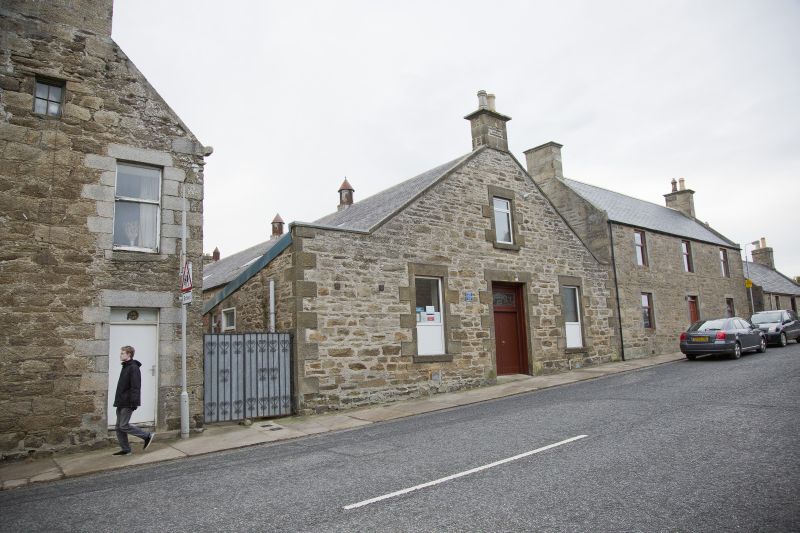 The Silver Beetles' 1960 Scottish tour comprised a series of performances backing the up-and-coming pop star, Johnny Gentle.
In those early days, the group toured in a battered old Austin 16 van, staying in budget hotels along the way.
The group were paid a total of £60, plus travel expenses, for the entire tour and, until an hour before the first performance, they had never even met Johnny Gentle.
London-based promoter Larry Parnes had hired an elderly Scottish pig farmer by the name of Duncan McKinnon to organise the tour, and McKinnon's apparent lack of geographical knowledge meant that the seven gigs were aligned to maximise the travelling distance involved.
The 1960 tour started at Alloa, on 20 May, with a set comprising cover versions of popular hits including: Buddy Holly's It Doesn't Matter Anymore and Raining in My Heart; I Need Your Love Tonight, by Elvis Presley; Ricky Nelson's Poor Little Fool; Clarence 'Frogman' Henry's I don't Know Why; C'mon Everybody, by Eddie Cochran, and He'll Have to Go, by Jim Reeves. In short, there was not a Lennon and McCartney piece within hearing range.
The same set was to be repeated slavishly throughout the tour.
What's more, George was billed as 'Carl Harrison'; John as 'Johnny Lennon', and Paul went by the pseudonym of 'Paul Ramone'. In the publicity material, even 'The Silver Beetles' name was largely unused, with the band being known simply as 'Johnny Gentle and His Group'.
After Alloa, the young musicians performed at Inverness, Fraserburgh, Keith, Forres and Nairn, with a final gig at Peterhead's nicely-named Rescue Hall. In all, they are said to have driven more than 600 miles, in an overloaded and antiquated 1950s Austin 16 van. This gruelling travel schedule, not to mention the late nights and early starts, nearly led to disaster – and a small autograph book holds the key to what happened.
In September 2004, Christie's advertised 'Lot 204/Sale 9919', comprising:
"A very rare, early set of autographs, 23rd May, 1960, on five pages from an autograph book signed and inscribed during the Beatles' first ever tour of Scotland, one page signed in blue ballpoint pen by Paul McCartney and George Harrison with their then stage names Paul Ramon and Carl Harrison and by John Lennon as Johnny Lennon, the page additionally inscribed in McCartney's hand The Beatles, another page signed and inscribed in blue ballpoint pen love Stuart xx [Sutcliffe], additional pages signed and inscribed Thomas Moore, Drums; love Johnny Gentle; and With best wishes, Margie xx."
On 29 September 2004, at the firm's South Kensington premises, the autograph book fetched a healthy £5,019 at auction.
Seemingly, the Silver Beetles' tour van, with Johnny Gentle at the wheel, had crashed into a saloon car outside the autograph book owner's house, near Banff, while travelling from Inverness to perform at the Dalrymple Hall, Fraserburgh. According to one account, the band's regular driver, Gerry Scott, had wanted a rest from driving and Johnny Gentle, with a sleeping Lennon by his side – both perhaps a little the worse for wear in those pre-breathalyser days – had driven straight into the rear of a Ford Popular at a crossroads on the A98.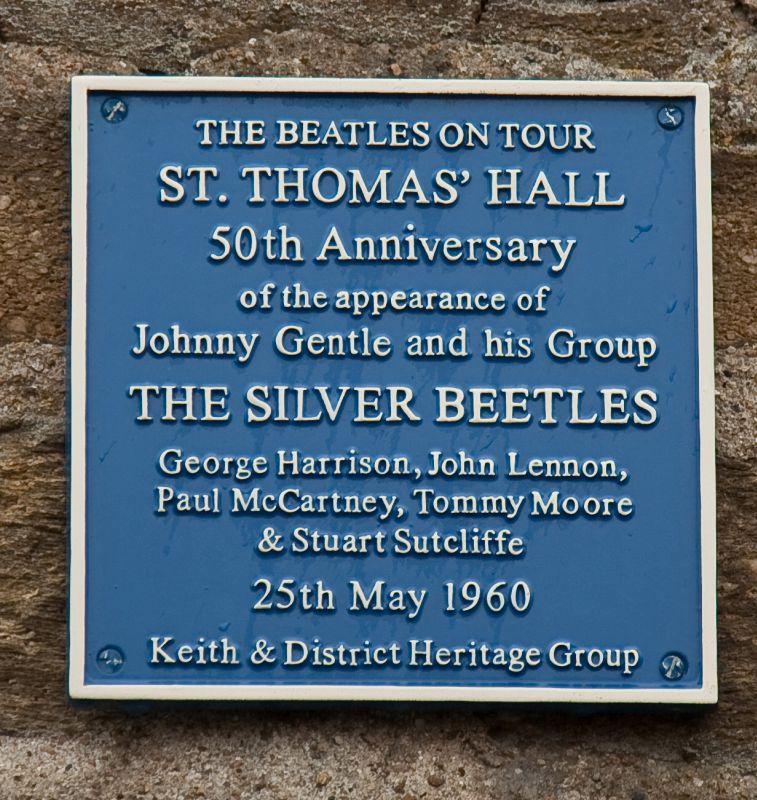 The journey had seemingly been punctuated by a lengthy stop at a North Aberdeenshire pig farm, arranged by tour manager Duncan McKinnon, which had involved copious amounts of bacon and eggs, washed down with copious amounts of Mackeson Stout.
The occupants of the saloon car were reportedly 'all shook up', but otherwise unharmed. The elderly husband and wife had been on a shopping trip to Aberdeen and, of course, could have had no idea at the time how near the accident had been to completely changing the course of British pop music forever.
The tour drummer, Tommy Moore, was not so lucky, however.
The crash impact had sent a flying guitar directly into his face and he was taken by ambulance to the local cottage hospital, having suffered two lost teeth and severe facial cuts.
According to the Christie's sale brochure, John Lennon had asked the autograph book owner where the nearest chip shop was, before deciding to stay at the scene until the police arrived. The young pop fan then went off to buy chips for all the musicians and, on her return, Lennon told her to keep the change and the entire band signed her autograph book.
The "Margie" who signed "With best wishes, Margie xxxx", was seemingly Marjorie Overall, Johnny Gentle's girlfriend at the time, whose striking peroxide-mauve hair and matching tight mauve trousers must indeed have been an unusual look in the Scotland of 1960.
Following the accident, the dented, but still serviceable, van continued en-route to the Fraserburgh gig, arriving in the seaside fisher town at about 3pm, in plenty of time for the evening performance, but of course minus one drummer. The Silver Beetles would have probably managed to perform without a drummer, but the local organiser of the gig insisted that since he'd paid for a drummer, a drummer was what he wanted.
So the luckless, and by now semi-sedated, Tommy Moore was literally dragged from his hospital bed by his fellow band members and transported to the ballroom, where he was grumpily seated behind his drums and encouraged to perform. His painful, if not life-threatening injuries, plus his growing disillusionment with a life on the road, led him to wonder if his past employment in a Liverpool bottle factory might be preferable to a future with a travelling pop group.
The tour proceeded at a pace from then on, and, after performances in Keith, Forres, Nairn and Peterhead, The Silver Beetles decided to change their name to The Beatles, with reference to the 'beat' generation and Jack Kerouac's On the Road. 'Paul Ramon' became Paul McCartney, 'Johnny Lennon' reverted to John Lennon, and 'Carl Harrison' became George Harrison.
The rest is history and even some 54 years on, the contribution to the music scene of the first real mega-group is still being felt.
To this day, many Elgin and Forres folk of a certain age will very quickly correct any visitor who dares suggest that the Beatles ever played in Keith. They will usually assert that the Keith leg of the 1963 tour was cancelled due to a blizzard and blocked roads. They will further assert that the Beatles still owe the former owner of a local hotel for bed and breakfast, and that Paul McCartney was so skint during the tour that he played at an Elgin wedding reception to earn some extra money to pay for fuel.
In truth, however, the Fab Four played to the townsfolk of Keith well before 1963 – although given that potentially serious road accident on the road to Fraserburgh, on 23 May 1960, it very nearly never happened.
First published in Aberdeen Leopard http://www.leopardmag.co.uk/blog/ © Duncan Harley 2014
Comments enabled – see comments box below. Note, all comments will be moderated.