It's been 27 years since there was a proper flag day at Pittodrie, but on 11 November hundreds flocked to the Richard Donald Stand to sign an 83-foot banner. That's right, 83. The banner will go on permanent display along the upper deck of that edifice from January 2, 2013. David Innes and photographer Alan Jamieson undertook the labour of love in attending and helping out at the event.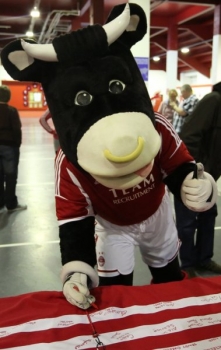 Fans of all ages and sizes queued patiently, hanging out with that lovable butcher's shop on legs Angus The Bull, browsing and buying memorabilia from the Dolly Digital Design stall and grooving to the GutterGodz, the excellent local rock band soundtracking the day.
Seizing the red marker pens on offer, hundreds of fans signed their own names, the names of those exiled far from Pittodrie Park and of some who are, sadly, no longer with us. Many wrote their own personal slogans to commemorate this opportunity to become a permanent part of Pittodrie. Angus himself signed, concentrating so hard he had his tongue out. Oh wait – he always has his tongue out, come to think of it!
The initiative was the brainchild of Sue Shepherd and Mark Elrick, the pair behind many of the previous imaginative banners and flags which have provided colour both at Pittodrie and away grounds in recent times.
Sue spoke to Aberdeen Voice about the project's background, the effort put in and how those who haven't signed yet can contribute:
"Mark and I have worked on a couple of projects including the Teddy Scott banner, and I had an idea to display what would be the biggest permanent banner ever designed. I approached Mark and asked him to come up with a design based on the idea and we were both very happy with what the content of the banner would be. Mark then set about creating a unique design. 
"It kind of grew arms and legs after that. We approached the AFC Heritage Trust and told them what we wanted to do, to get a banner made from high quality fabric that's going to hang well and which you won't be able to see through. The club asked us along to a meeting and they were delighted. It's nice to get a wee bit of credit for it, being purely a fan initiative the AFC Trust has supported with funding.
"We approached an English company and this is the third-biggest flag they've ever made, so it was a goer. Mark then came up with the brilliant idea of getting people to sign the flag, and about 800 or more have come along and signed it today.
"We'll make sure fans have further opportunities to sign the banner. It will be in the stadium and we're planning to take it out on the road into the Northeast community and maybe further afield, involving people even if they can't be in Aberdeen.
"Even then, anyone who can't come and sign it in person can scan their signature and send it to Mark at Dolly Digital and we'll make sure it goes on the banner. We want every Dons fan to have the chance to become part of something unique and permanent."
Contact Mark at mark@dollydigital.co.uk
It is a fantastic achievement and shows that when the fans are involved, their initiative and energy on behalf of the common cause knows no bounds. As one signatory put it in his message:
"One city, one team, one love"
Correct, my friend.
Come on, you Reds!
www.afcheritage.org
info@dollydigital.co.uk
http://www.reverbnation.com/guttergodz
Comments enabled – see comments box below. Note, all comments will be moderated.