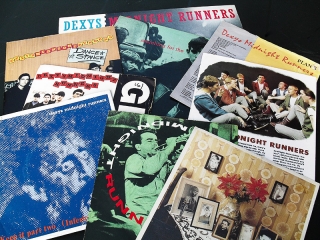 By Dave Innes.
So what has a thirtieth anniversary gathering of ageing music lovers in Birmingham in July 2010 to do with NE Scotland?
What interest can there be for Aberdeen Voice readers in a gathering of the still-faithful, ever-passionate followers of Dexys Midnight Runners – an act who, if truth be told, last released an album of new material in 1985?
Maybe you're unaware that the man known in Dexys' folklore as Big Jimmy, the tall, muscular quiet guy blowing hurricane-strength trombone riffs and fills pinning down Dexys' brass-heavy, no-prisoners-taken approach to uncompromising soul, was, and firmly remains, one of ours – Jim Paterson from Portsoy, Banffshire.
By his own admission shy and reticent, his quiet responses to compere Gavin Martin's questions, on his origins, his influences and his occasional demons commanded respect among those gathered to commemorate the thirtieth anniversary of the release of Searching For The Young Soul Rebels. Dexys was always about demanding and offering respect, and Jim Paterson still epitomises that spirit in his own self-unassuming and humble way.
His appearance onstage at the climax of the celebration with one-time Dexys' brass partner Jeff Blythe on tenor sax, blasting forth I Couldn't Help If I Tried and Tell Me When My Light Turns Green evoked memories of 1980, the hope Dexys' soul manifesto offered in the face of youthful alienation and Thatcherite adversity and saw more than a few grown men shed tears.
Jim admitted that this first live appearance for fourteen years was emotional, inspirational and confidence-boosting. He'd love to do it again. Just let us know where and when, Jim.
He's now living a quiet life in London, keeping fit, writing songs and being happy. He still talks fondly of his formative years on the Moray Firth coast, of friends made in his 1970s brass band schooldays and his fondness for Donald the Portsoy baker's butteries. His accent is barely unaffected by thirty plus years spent away from Banffshire.
Respect.