Future Choices, a charity which provides disabled people with safe and social inclusion, is holding a special auction on Ebay.  The article being auctioned is a framed T-shirt, signed by Sir Steve Redgrave, for which bids can be submitted here.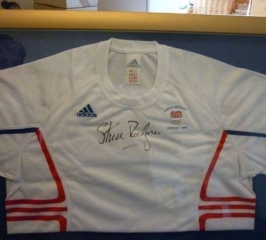 The work of
Future Choices
, which was set up following the closure of the Choices Day Centre, has changed the lives of many of Aberdeen's disabled people through offering them opportunities for social interaction in a safe and friendly environment.
It also offers opportunities for a range of other activities, including formal and informal education and access to services towards employment, training and income-generation.
The charity, which has many high profile supporters including Dame Anne Begg MP, Paul O'Connor MBE and Peggy Finnie MBE, is run exclusively by volunteers and its funding comes purely from its own fundraising efforts.
The bidding for Sir Steve's signed and framed T-shirt ends on Saturday 25th August, 2012.
For more information please contact David Forbes, Chairman, on 07821 700046