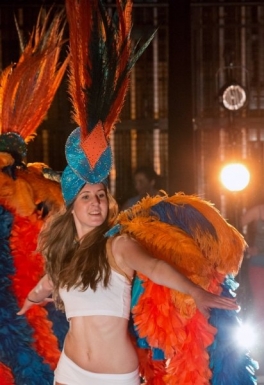 So, now we've been told why Aberdeen wasn't short-listed in its bid to be UK City of Culture 2017. No wow factor, no coherent vision, no passion… It's a pity then that the judging panel weren't seated in a roasting hot HMT to witness the Great Big Dance Show earlier this month, says
Angela Joss.
Produced, for the second year, by our own Citymoves Dance Agency and funded by Get Scotland Dancing, this event showcased and celebrated the region's dancing talent, from the professionals to those on a big stage for the first time; from the very young to the silver-haired; from the clearly accomplished to those dancing for the sheer joy of it.
Really, if something on the evening's programme didn't Get Scotland Dancing, then it was not for the lack of choice.
On a day when an unpleasant group had demonstrated in Castlegate to promote their view that multi-culturalism is dangerous, Scottish country, Bollywood  and Irish features co-existed harmoniously and Aberdonians and visitors alike were shown further proof that the SDL promote errant nonsense. 
In any case, judging by the peaceful counter-protest against the SDL's intolerance, the dancers were preaching to the converted.
In a full 35-dance programme, which included tap and jazz, it would be unfair to pick out only a few highlights, although Quicksilver, with an average age of around 65 and with hair colour which one imagines gives them their name, delivered a moving and amusing Summer Gloves and Satin Sandals.
It centred on the act of ironing men's shirts and segued into a tango with the garments until the audience could almost see the virtual partner inside. This inevitably brought to mind thoughts of widowhood and divorce, which will undoubtedly have touched the lives of at least some of those women.
In a similar vein, performances in previous years from Step Forward, an integrated group for people with and without learning difficulties, have always been life-affirming, for the dancers' purity of enjoyment and downright joy in movement. The group's rendition of Singing In The Rain was a brolly-twirling success, bringing a much-needed shower to freshen up the auditorium's sultry atmosphere.
And there were boys! At last, we appear to be leaving a period of dance history where male dancers have been perceived as cissies. Perhaps Billy Elliot is more than a fine film and stage production and has influenced a freer-thinking generation.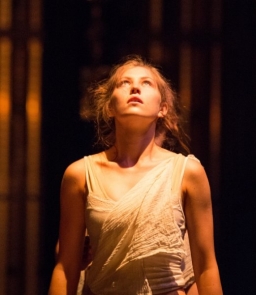 HMT suddenly had a stage full of lads who delivered a creditable jazz performance followed by a rollicking hip-hop skirmish to the music of the Beastie Boys, Eric Prydz and PJ & Duncan.
If there has to be any criticism, then the show's stated aim of including as many groups and dancing styles as possible made this, perhaps, an over-long evening, especially for little ones present, and the stifling heat didn't improve matters.
However, it's hard to see what could be left out, and an evening of such variety and inclusiveness sent the audience out into the night, buzzing and delighted, possibly thinking that we don't need the validation of a judging panel to tell us that there's some inspirational cultural activity going on, right here, right now.
Photos by Sid Scott, for Citymoves Dance Agency – 2013
Comments enabled – see comments box below. Note, all comments will be moderated