At age 18 Declan Michael Laird is getting a remarkable reception in Hollywood.  He is on a scholarship to the most prestigious acting school there is, he is playing football with celebrity expats, and he is having the time of his life.  Aberdeen Voice's Suzanne Kelly catches up with Declan, and gets the gen on his story so far.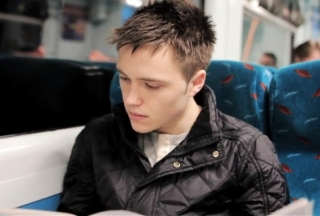 Declan answers the phone, and the first thing that comes up is weather.  Aberdonian readers don't need me to tell them how this summer is going, but Declan's interested. 
"You'd be surprised – I do miss the damp weather sometime… the sun can get to you sometimes if you're running around a lot."
he offers,
"But I do love it, and I'm lucky."
His voice is filled with enthusiasm (it sounds as if he is smiling and on the verge of laughing), and it should be.  He is in Hollywood pursuing a career as an actor.  Not bad for a teenager from Scotland.
I ask what he got up to today.
"I got up early, did some school work, then went to gym and tried to work out, then met friends for coffee – I'm off to class shortly."
Class in this case being acting lessons at the Stella Adler Academy of Acting and Theatre.
"I was playing for  Greenock Morton FC and left school at 16 – I wanted to be  pro player.  I never thought about acting .  I was on a pro youth contract. 
"I came to Los Angeles on vacation, and there was a workshop at an acting school.  I was with my dad, and said I'd go in and give it a shot.  I'd never had the opportunity back home.  I went in and I loved it – I felt I had a knack for it – I did it, loved it, came home from LA and told my family that I wanted to give it a bash.  
"I got an agent in Glasgow and my first audition was for River City.   This was only a week or so in [to being signed by an agent], and I got the part. I'd never even been in the school play!  I did the audition the way I thought it should be done.  I got the call the next morning to say I got the part."
"It was all amazingly sudden," Declan tells me,
"I went to the first filming and decided this was what I wanted to do – the cameras, the actors, being on set was amazing.  Football, which had been my aim for 10 years, suddenly fell to the back.  I did a few short films back home with independent filmmakers. 
  he said, 'You would be the first person since Robert De Niro to get this scholarship.' 
"In December 2010 I got a call from Stella Adler School – (from Milton Justice who is an  Oscar-winner documentary maker; he was the man who took the workshop).  I had no idea I was doing the workshop in front of an Oscar winner – maybe that's why I wasn't as nervous as everyone else.  He said he was impressed, and there was a place if I wanted to go to LA.  
"I was signalling to my mum and she said it would be too expensive.  But I told him l'd speak to my parents and call back.  So I spoke to my parents, and called back to say we couldn't really afford it.  He sort of laughed and said 'we're offering you the place,  it would be a full scholarship'.  Just as I was about to get my words out – I was speechless – he said, 'You would be the first person since Robert De Niro to get this scholarship.'  – I thought I was being punked".
Declan continues:
"So at that point there was only one thought – I was going to go.  So, fast forward  they wanted me in January – but I was still 17 –so  I came in August."
Laird has a manger and an agent, not something that your average teenager winds up with after a few months in Hollywood by any standard, and work is coming in.
"I've just booked a film with award-winning director Stan Harrington 'Lost Angels,' which  starts filming this month.  I start in July – I'm excited about that."
And from the tone of his voice, yes, he is.  There are other call-backs and opportunities which we discuss.  I look forward to watching where he's going to next appear.
"I don't even know the name, but there's a movie being made in Scotland and the casting director's wanting  to 'Skype' with me to talk about."   
There are other international prospects in the pipeline, and it will be interesting to see what choices Laird makes.
"It sounds far- fetched when I tell people." Declan says of his experiences.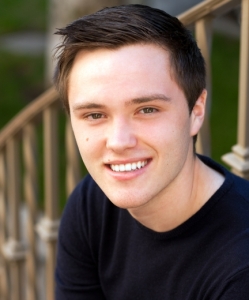 Indeed, one of the reasons I wanted to get in touch was that his story sounded far-fetched to me when I'd first heard it from his father.  Parents do generally tend to exaggerate what their children are up to, but with hindsight what his father told me was understated compared to the facts.
We talk about football.
"The good thing is I'm playing football as well .   Vinnie Jones is the coach; there are a few guys from Hollyoaks.  A lot of British actors, models and singers are coming from the UK, and here there's not a lot of opportunity to play. 
"Vinnie rounds up everyone he can who is able to play.  
"Mark Wright is out here making a documentary.  He plays in the team on Sunday, and the show filmed it – you'll see me playing with Mark and Vinnie shouting at us."
I ask about visits home – wouldn't a teenager so far from home miss his friends and family?
"I've only been back once – I went back at Christmas.  It is difficult sometimes, but this is where  I want to be, and I'm very determined."  I'm more than convinced of the determination by this point.  " People think I'm about 25 – being here alone has matured me a lot."
"Ross King has been really helpful – he does the Hollywood scoop.  He heard about me coming out here, got in touch.   When I first came I didn't know anyone.  He's introduced me to people, takes me to the studio – he's been great."
I come back around to football – after all there are just a few issues with Scottish football at present.   Would he still be following his team?
"I am a Celtic supporter.  I don't watch all the games, but there is an Irish bar in Hollywood that  shows the  Old Firm games.  My brother is a Rangers supporter and my dad's a Rangers supporter as well." 
Not wanting to linger on Rangers' future or any family football rifts, I get back to acting."What roles appeal to you?" I ask as what must be a fairly predictable question. 
"A lot of people seem to think they can see me as a bad boy – could be to do with the accent.  But I like comedy – I like making people laugh.  But I'm open to everything.   All the good roles are the bad guys."
 I can't argue there, and think of De Niro's ability to be a terrifying villain (the remake of 'Cape Fear' springs to mind) as well as his considerable gifts for comedy.  I have little doubt Laird will be another master of both.
Will he wind up another 'Lohan'?  Will he be jaded before he's hit twenty?  Will he keep up the enthusiasm and energy which will be essential to win roles and handle the ups and downs?  I think so – but I ask about it.
"My family are so supportive – you meet so many people out here whose family aren't supportive.  You can be out of work;  you can be in work.  But they support me in every way they can."
Declan's keen to say hello to his friends and family
"Hello!" 
"If I could say a special thank you to Jim Sweeney, who lives in Inverclyde.  When I was first starting he helped so much and I really appreciate it."
I ask Declan for any last thoughts.
"It is amazing what I've achieved in the last 8 months – the events I go to, the people I've met. I feel like it's meant to be.  That  sounds cheesy – but I'm a great believer in things that are meant to be."
Keep up to date with Declan on twitter at @DMLactor