Aberdeen Against Austerity, a group campaigning against the £140m redevelopment of the historic Union Terrace Gardens, has released the following statement in response to the P&J article headlined, "Police probe attacks on city garden team" of 21 February 2012. The statement is published verbatim as received by Voice with only minor graphical changes made to AAA's release to comply with Voice's house style.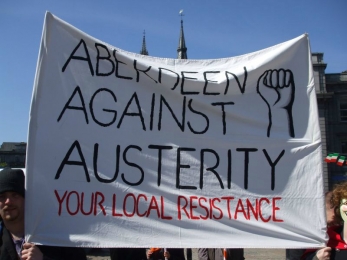 These allegations by Mr Smith and as yet unnamed others are strong indeed – e-mail hacking, online bullying and harassment and personal threats are all criminal offences.
We at Aberdeen Against Austerity are not responsible for any of the alleged offences and do not believe any of our fellow Retain Union Terrace Gardens campaigners would stoop so low either.
We are opposed to unlawful tactics being employed by anyone in this important debate over the future of our city, as dirty tricks cheapen both sides' arguments. However, we worry that the sensational coverage of these criminal allegations in the Press & Journal and Evening Express will serve as a deterrent to ordinary people speaking out, who oppose the City Gardens Development.
The referendum campaign is being fought on a far from level playing field. Six of the seven groups registered against the development are comprised of ordinary citizens (the 7th being the group of Labour City Councillors). By registering as campaign groups we have all been bound by the referendum rules, which allow a maximum spend of £8,524.45, although most groups have no budget at all.
Of the pro-development campaign groups, only three are registered, allowing the vast majority of campaigning to be done outwith the rules, and at huge expense, by PR company The BIG Partnership on behalf of those who propose the City Garden Project. Their Vote for the City Garden campaign has so far included 4-page flyers and newspaper-style brochures to every house in the city, constant radio advertising on all the local stations, a Facebook page manned by full time staff and daily coverage in the local newspapers.
As with any modern debate, much campaigning is being done online and this is where Mr Smith alleges bullying is taking place. Both sides are being equally forthright in their postings on social media, but Aberdeen Against Austerity are certainly not interpreting the strong wording of some of our opponents as bullying or harassment.
We have chosen to rise above any personal slurs and engage in debate based upon facts and we can still have a wee smile at those posts which satirise us and our efforts, because as Aberdonians we retain a sense of humour.
Aberdeen Against Austerity wonders if Sir Ian Wood, who has donated £50m of his own money to the controversial City Gardens Project, will be reporting local comedians Flying Pig Productions to the police for this week's P&J column The Butter-Fingered Philanthropist.