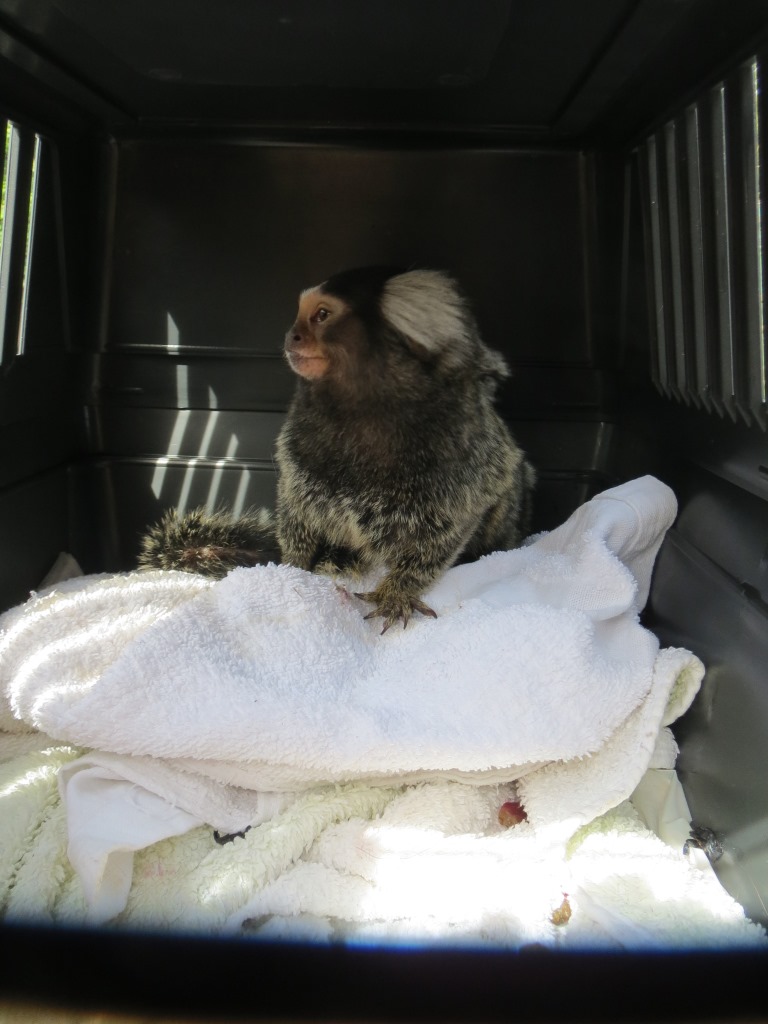 With thanks to Suzanne Kelly.
The Scottish Government is being urged to use a forthcoming review of the trade and importation of exotic animals as an opportunity to ban the keeping of primates as pets. The Scottish Government is uniquely placed to take the lead on this issue following a commitment earlier this year to carry out the review of the exotic pet trade.
The calls come as the suffering of monkeys across the UK is highlighted as animal welfare charities and a veterinary association launch a campaign to end the keeping of primates as pets.
Shocking images revealing primates cooped up in cages, fed fast food and sugary drinks, deprived of companions, living in dirt and suffering from disease show some of the appalling conditions primates are being kept in behind closed doors across the UK.
 An estimated 5,000 primates are being kept as pets in the UK with around 100 of these believed to be in Scotland. Rescue groups such as Wild Futures have seen a steady increase in the number of primate welfare cases in recent years, and now receive approximately one new call every week relating to the welfare of a monkey. The fear is that this reflects a growth in primate ownership, facilitated by the ease of trading on the internet.
Marmosets, capuchins and squirrel monkeys are just some of the primates being kept as pets, destined for unnecessary suffering in an unnatural environment.
Animal protection groups OneKind, the Born Free Foundation, Captive Animals' Protection Society, Four Paws, the RSPCA, Wild Futures and the British Veterinary Association (BVA) believe the cases of suffering they encounter on a frequent basis are just the tip of the iceberg and they have today launched a petition calling on the UK Governments to introduce regulations that will end the keeping and trading of these complex creatures as pets.
As well as petitioning the UK Government to take urgent action the group is calling on the Scottish Government to explicitly consider a ban on primates as pets as part of a review of the exotic pet trade due to be undertaken in the coming months.
Harry Huyton, Director of Scottish based animal welfare charity OneKind, said:
"OneKind has long campaigned for a ban on the keeping of primates as pets. Primates are social animals which have complex needs which, despite the best intentions of individual owners, cannot be met in a domestic environment, resulting in life-long suffering.
 "With a forthcoming review on the exotic pet trade, Scotland is well placed to take a leading role in resolving this important welfare issue. We are urging the Scottish Government to use this opportunity to consider an outright ban on the keeping of primates as pets and set a positive example to other UK administrations."
John Blackwell, President of the BVA added:
"Some people buy primates as fashionable 'accessories' but these long-lived, intelligent, socially-complex animals are not like dogs or cats and are extraordinarily difficult to properly care for. Animal welfare is a priority for vets and BVA has significant concerns as to whether the welfare needs of primates can be met when kept privately as pets: we can think of no circumstances where a primate would benefit from being kept in this way.
We are urging the Government to offer the clarity members of the public need and introduce a ban on private pet-ownership of primates."
To sign the petition to #ProtectPrimates visit www.protectprimates.org.
 Case study 1: The New Arc Centre, Aberdeenshire
 The New Arc Centre in Auchnagatt, Aberdeenshire is one the north-east's busiest animal rescue centres. It regularly takes in primates that have been abandoned or need to be re-homed simply because their owners are unable to meet their welfare needs.
Earlier this year, three marmosets which had been living in the centre for years had a happy ending when they were found permanent homes at one of the UK's biggest primate sanctuaries.
 One of the South American animals, Jock, had been at the centre for almost four years after being taken in from an owner in Aberdeen who kept him in a cockatiel's cage. Jock was in poor condition and suffering from neglect after spending almost a year living in a cage totally unsuitable for a primate. He was joined by Colin and Douglas last year when their owner – though he cared deeply for them – decided he was unable to keep them on any longer.
Keith Marley who owns the New Arc said:
"The appeal of these extremely active, highly intelligent animals is understandable, however fights between them can happen over the slightest thing and a sustained attack on an owner is virtually guaranteed at some point, as the scars on my face and tendon damage to my wrist will testify.
"This often results in animals being locked up in small cages as the owners lose confidence, beginning a downward spiral of abuse and neglect.
" Accidents happen and problems like metabolic bone disease require vets with specialised knowledge and sadly, they are few and far between."
 Case study 2: Tam, St Boswells, Scottish Borders
Tam, a capuchin, was born in 1996 and was sold into the pet trade by a breeder when he was still an infant. Along with his brother, he was separated from his mother and family group and went to live with a human family in the Scottish Borders.
They shared an enclosure at the bottom of the garden which comprised indoor cage of 4' x 4' x 7' and outside cage of 5' x 12' x 7'. When they reached maturity, they started to fight so they were castrated on the ill-informed advice of a vet. Unfortunately, this did not have the desired effect and another fight sadly led to the death of Tam's brother.
Tam was then left living on his own for seven years. He was licensed under the Dangerous Wild Animals Act, but in contravention to this he was allowed to roam outside of his cage, until the Scottish Borders local authority intervened. His owners loved Tam very much, but they eventually realised that he would be better placed in a sanctuary with others of his own kind, so they contacted Wild Futures' Monkey Sanctuary to take him on.
On arrival at the Sanctuary, each new monkey receives a thorough health check at the vets. Tam's check-up showed signs of second degree frostbite on his toes, due to him spending a lot of time out in the cold and he was underweight with poor muscle development due to lack of exercise.
Tam now lives in a social group with access to spacious, natural enclosures and is provided with specialist care.
His former owner Linda Wood said:
"After keeping Tam 16 years it was a very hard but right decision for him by giving him up to Wild Futures monkey sanctuary in 2013 and I still contribute to his care by adopting him and visit every year, so if asked about keeping a monkey as a pet I just recommend that they adopt one."
 Break out box of primate facts:
Primates need to live in social groups – in 60% of cases investigated by the RSPCA in England and Wales, these animals were being kept alone in isolation.
Usually sold as infants, pet primates suffer emotional damage and are deprived of essential social learning opportunities that continue to cause problems, Even if an owner tries to pair their primate up with another at a later date they may not get along and the damage has already been done.
The most common monkey animal welfare organisations receive calls about is the marmoset monkey, one of the smallest monkeys in the world that generally lives for around 20 years.
Frequently kept in a bird cage as a pet, in the wild they travel up to 0.6 of a mile every day.
The RSPCA has taken 22 prosecutions to court in England and Wales over the last 10 years in regards to primates. That averages at more than two per year.
15 European countries have already introduced a ban on keeping primates as pets, of either all or some species. We now need the governments in the UK to follow.
* Comments enabled – see comments box below. Note, all comments will be moderated.