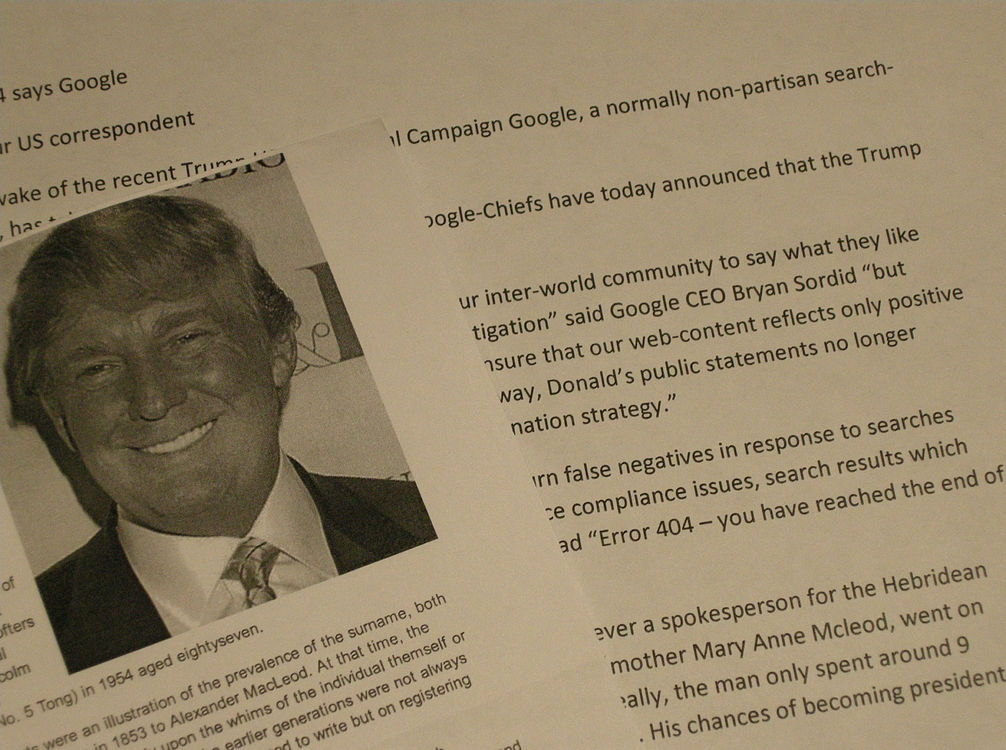 From our special correspondent, April McNulty.
In the wake of the recent Trump US Presidential Campaign Google, a normally non-partisan search-engine, has taken a stance.
Outraged by the Donald's deliberations on Mexicans, Google-Chiefs have today announced that the Trump organisation is decidedly a not for profit target.
They will instead concentrate on the newly emerging Alaskan Taco market.
"We candidly respect the rights of anyone within our inter-world globally focussed community to say what they like mainly and without prejudice or fear of perfidious litigation" said Google CEO Bryan Sordid,
"but from today on, we will be taking positive action to ensure that our web-content reflects only positive search news and sadly, and I cannot put it any other way, Donald's public statements no longer provide a positive fit in the future Google global domination empire epoch-making strategy."
From 9am this morning Google search engines will return false negatives in response to searches relating to the man and despite US Department of Justice compliance issues, search results which slip through the Google Trump search-ban will simply read "Error 404 – you have reached the end of the line please re-submit."
Critics of the internet ban remain largely silent today however a spokesperson for the Hebridean village of Tong, the Stornoway ancestral home of Donald's mother Mary Anne Mcleod, went on record as saying:
"I have no idea what all the fuss is about really, the man only spent around 9 minutes on the island. I kind of liked him despite the toupee. His chances of becoming president are nothing to do with me but I wish him well."
Mr Trump's mother was born in the village of Tong in 1912 and his father Fred, a property developer, seemingly married her following a romance conducted by letter.
Mr Trump's office today was unavailable for comment.
© April McNulty
Comments enabled – see comments box below. Note, all comments will be moderated.