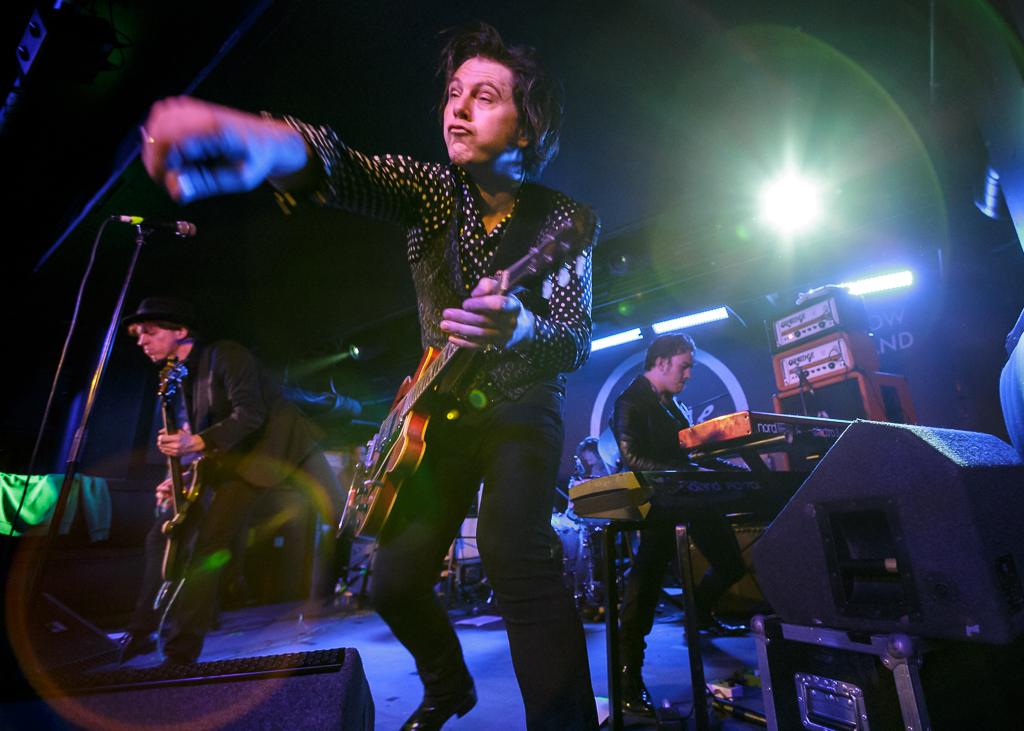 A roadtrip, three gigs in 2 evenings and a spot of sightseeing  proved an exhausting but exhilarating weekend in and around Glasgow for Voice photographer Julie Thompson.
It might seem a bit of a hike to head for Glasgow for a small gig but it WAS the last ever show in Scotland for the Jim Jones Revue. Combine this with The Undertones the following evening and it made the trip even more enticing.
So, a hotel was booked – not in Glasgow but a bit out of town on the seafront in Helensburgh, just a short drive from Loch Lomond, meaning we could add a spot of sightseeing to the weekend. There was no enticement to hit the city during the day – I'm not one for shopping.
So, early Friday evening we arrive at Òran Mór, the venue for the first gig. We're early – and hungry – so we head for the bar to grab a bite to eat, bumping into a couple of well known faces on the way in, who are also down for the gig. The food was OK, basic, but tasty and very hot. Just what was needed.
Checking the time, we have to dash for the door and head down to the basement for the support, which was partway through the first song when we arrive so it was a bit of a mad rush into the pit for some photos before heading to the bar for a drink and a listen.
John J Presley (no relation, I think) were playing – a 3 piece consisting of 2 guys (lead/guitar & drums) and a girl (keys). Mellow, bluesy music with driving guitar from the lead. Bass tones come from the keys section along with the interesting addition of a Harmonium. We actually had a long discussion – and some internet searching – with Jim Gellatly, a familiar face from the festival circuit, about what the instrument was actually called.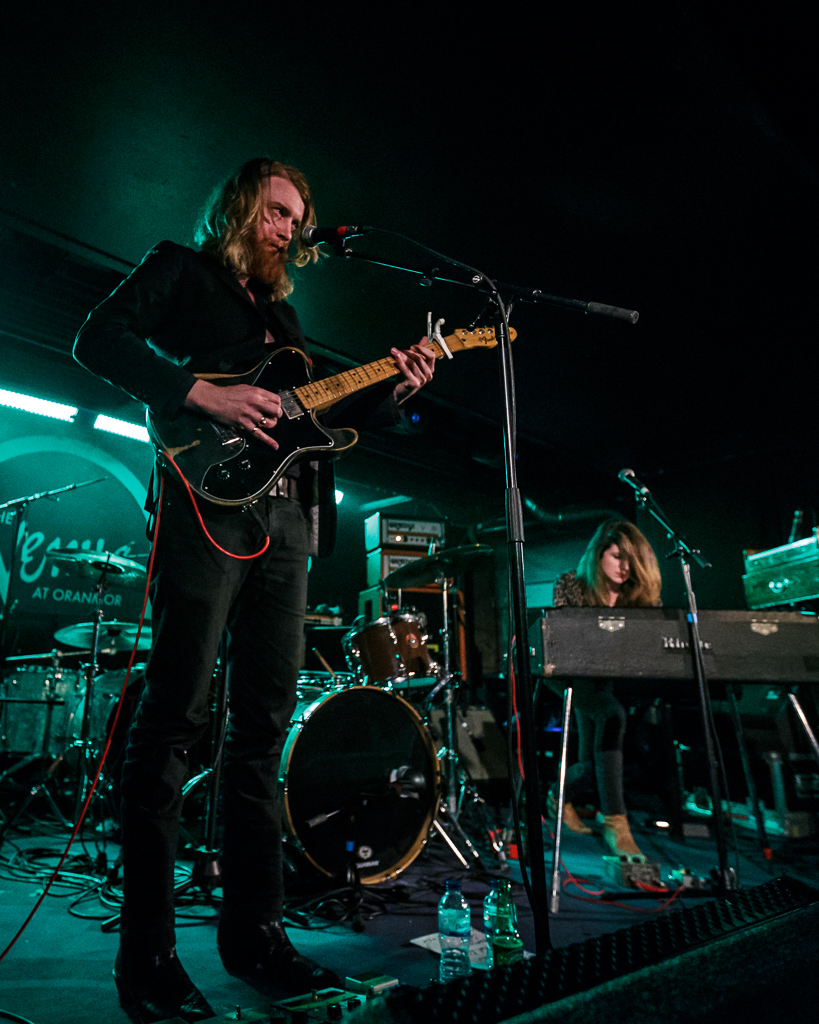 Òran Mór itself as a venue was actually pretty good. There are layers to this converted church. Food is served upstairs, where there is also a function room, there was a wedding going on somewhere and the basement was the live music spot and separate doors take you to the different spots. A very versatile place.
The popular A Play, A Pie and A Pint thing that comes to The Lemon Tree every so often, has a home here. Starting in 2004, they do lunchtime sessions and now put on 38 new plays a year.
Of course, we were here for the Jim Jones Revue. They recently announced that they were stopping recording and that this was their last tour – the 'Last Hurrah' tour in actual fact – so we had made a special effort to make it down for this – their last ever gig in Scotland.
By now they will have finished their tour ending back where they began, in London, but leaving a lot of disappointed fans behind.
They began their set as they meant to go on – at 100 miles an hour – blasting out their old school rock and roll like it was going out of business. We had a mad 10 mins in the pit (the length of the first 3 songs) before squeezing into the crowd to watch the rest of the gig. It was hot, sweaty and bouncy, even that early on.
Up on the stage there was a lot of thrusting guitars, splayed legs – in fact, all the moves you'd expect to see. The crowd wasn't much different except they were thrusting their mobile phones into the air.
I spent a bit of time trying to figure out who Jim Jones reminded me of. Then it came to me – he looked a bit like Alan Rickman (except he was packing a guitar and yelling into a microphone) in Dogma. Well, it made me smile.
Not having seen Jim Jones Revue before, I was totally unfamilar with their work. I'd heard they were worth catching live and they really were. I am very glad to have had a chance to see them before the end.
Before we'd left Aberdeen my gigging partner, G, had spotted that a band we'd been wanting to catch were playing their last residency gig at Broadcast in the city centre. It was a late gig, so the timing was perfect for us. We'd decided to wait and see how we felt after Jim Jones Revue before deciding whether to head down for our second gig of the evening.
Just across the road from Òran Mór is the Botanical Gardens, where we had parked, and walking back to the car we spotted a food van. The aroma captured us as we wandered past – we were hungry again after bouncing about for a couple of hours. We didn't have the advertised Scoobie Snack (1/4lb burger, sausage, cheese, bacon, egg & potato scone, all in a burger bun – for £3.40) but we did demolish a cheeseburger each.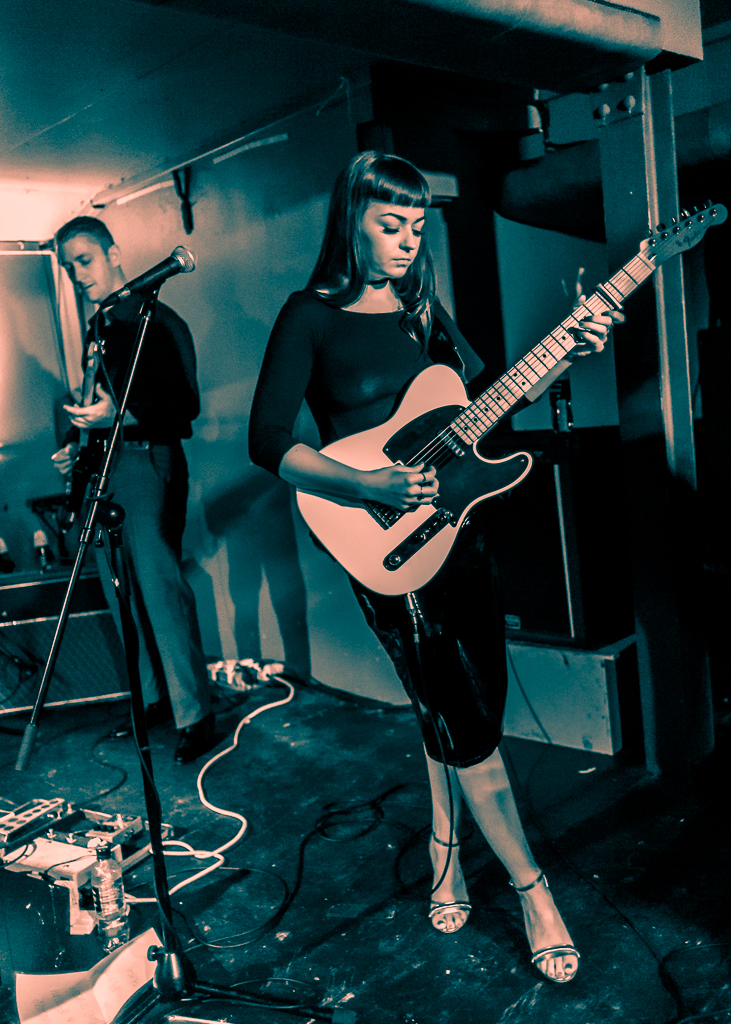 Replenished and re-energised we headed off down the road to Sauchiehall Street for a spot of Baby Strange, arriving shortly before their support, Laura St Jude, was due on stage.
Broadcast is a small, low ceilinged space in the basement of a bar, across the road from The Garage (where we would be the following night) and accessed via a spiral staircase. It's pretty dark and red lit, not the best place to be with a camera and no flash but we're always game for a challenge.
We had time for a drink and a sit down before the music began. Laura St Jude is a bonny girl – all dark hair, long eyelashes, high heels, long legs and a lovely voice. Mellow tunes strummed on her guitar, supported on lead guitar by a familar face to anyone who has seen The Amazing Snakeheads (who recently played The Lemon
Tree).
Dale Barclay is a lot more restrained (and fully clothed) here. In fact, Laura has also been known to hop up on stage with The Amazing Snakeheads for a couple of songs – as she in fact did at The Lemon Tree just a few days ago.
The mellow music is a nice break from the fast and furious pace we'd just experienced and the place gradually began to fill up as the set progressed.
We'd last heard Baby Strange from a distance at the Wickerman Festival but I'd previously seen them in Inverness at the GoNorth music festival and had been hoping to catch them again. Here we got up close and personal with them and a very bouncy crowd – literally bouncing off the ceiling at times.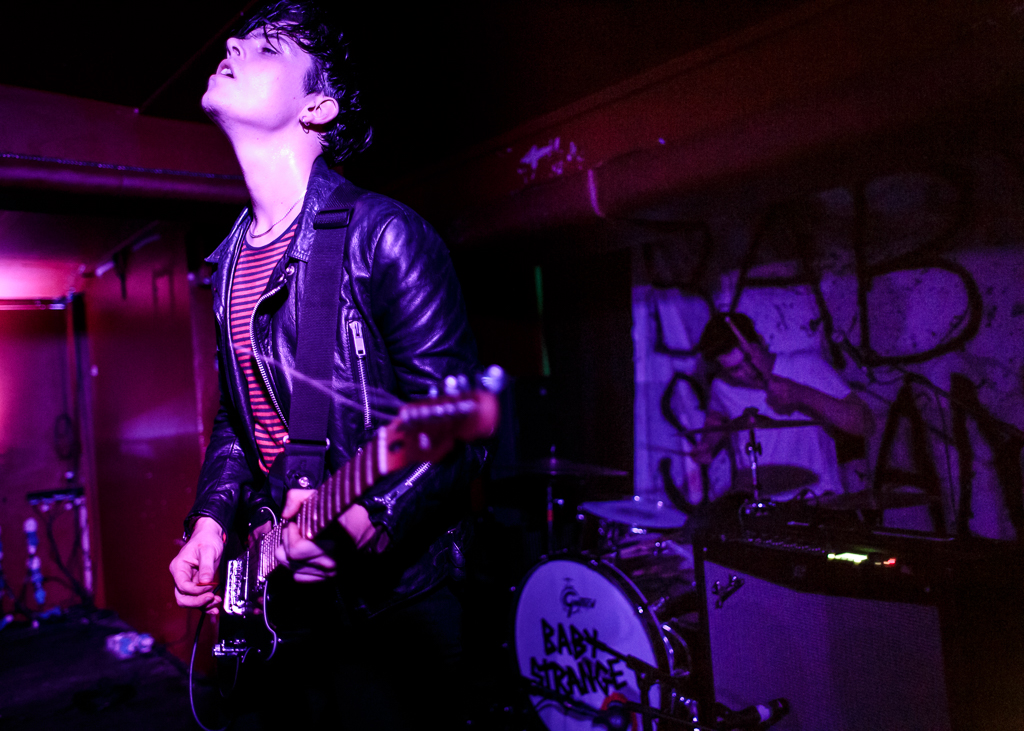 They've been doing a residency here at Broadcast for a while – playing here regularly and building up a following at the same time. It's an interesting concept that some Aberdeen places could think about trying. Anyway, this is their last night of residency and they went out with a bang.
It was hot and sweaty and very lively, we had great fun here and G was pleased to finally have seen Baby Strange. They have a new fan and we hope they make it to Aberdeen sometime soon.
It was pretty late (early if you prefer) by now, so we went back to the car and began the drive back to the hotel. it was mostly motorway and pretty quiet so we made good time. I seem to remember faceplanting onto the bed and being off to sleep pretty quickly.
Morning found me a bit bleary but in need of sustenance. A walk along the seafront found a hot food shop where a bacon roll was gratefully accepted. I also managed to begin my Christmas shopping on the way back. Then we went for a drive up to Loch Lomond.
Heading north along the western shore we were disappointed by the lack of places to stop. There were lots of private no access roads until we got a bit further north. Then we hit the roadworks.
I'd forgotten the road got washed away some time ago and they are still fixing it. The queue northbound was maybe a half to three quarters of an hour waiting time. When we finally got to the head of the queue, the stop/go sign man let two lots through from the north with a long gap between where both ends had to wait (moving roadwork vehicles I guess), leading to a man in a car behind getting out to remonstrate with him.
We finally got through the fairlt hefty road workings only to find about 2 cars waiting to go south. We counted around 80 waiting to go north when we went back through a little later on.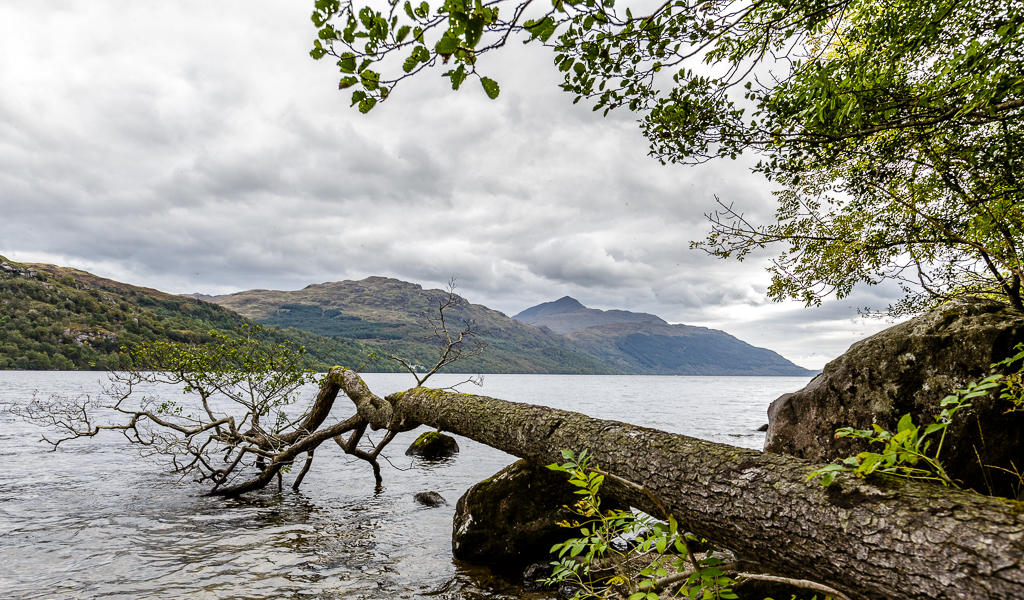 Heading to a hotel/pub at the tip of the Loch we had a look in – it was dead and the car park was full of signs effectively saying 'Don't park here unless you're going to spend money' which put us off.
So we decided to get lunch elsewhere.
We stopped at one point and managed to get down to the Loch shores and had a wander along the banks.
There was so much rubbish there I spent some time picking up bits of emergency tape, old batteries and other nasties to dispose of properly. Not the reason we wanted to be there. All in all we found Loch Lomond a bit of a let down.
We found some information about the Loch Sloy hydroeletric scheme (the largest conventional hydroelectric power plant in the UK, begun in 1945, completed in 1950, built partially by German prisoners of war, 21 men killed during the construction) in the Inveruglas Visitors Centre and found our lunch in Luss, before heading back to Helensburgh to change and collect the gear for our next gig.
We were heading to The Garage – handily located across the road from Broadcast, so we were familiar with the area.
Supporting tonight were Esperanza – a fast 7 piece ska band, which struck me as a strange warm up for the Undertones. However they did a sterling job, and the place was busier than might have bee expected so early on.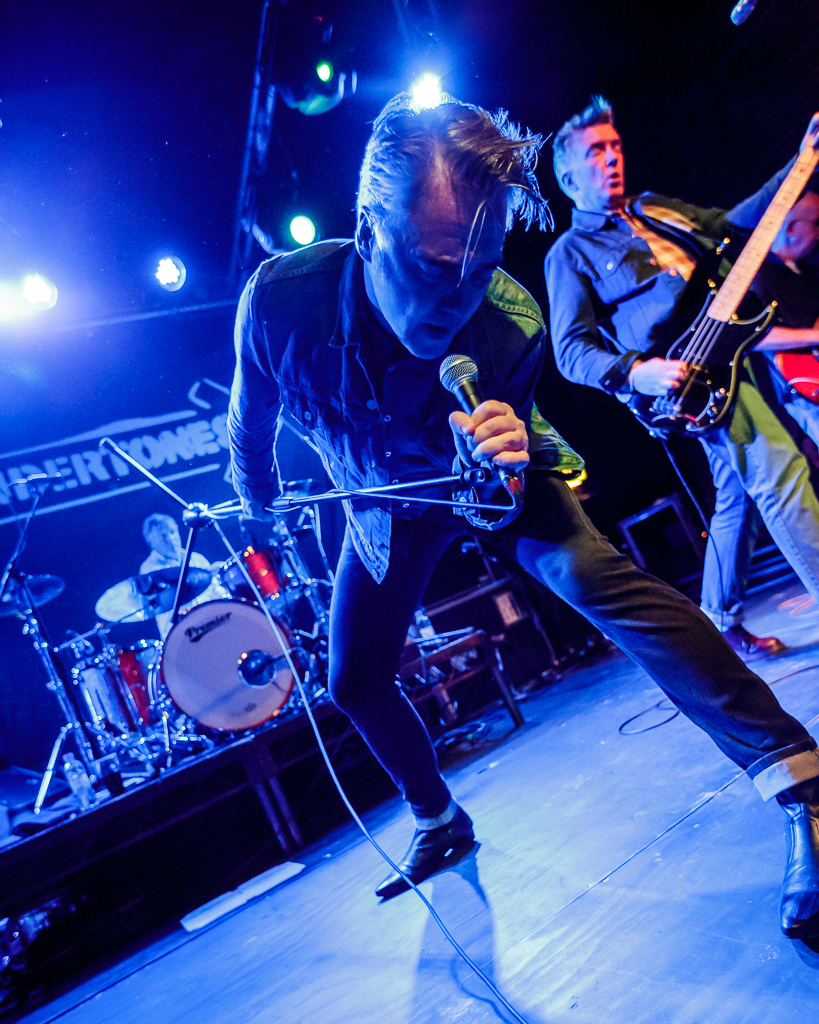 There was some jovial banter – 'Hey Robert, where's your hat' – from a crowd who were obviously familar with them.
Their bass player is a tiny female, who was only slightly taller than her bass, sporting a batman belt buckle. Later we spotted her right in the middle of the lively moshing and having a whale of a time.
Ah, The Undertones. Tunes from my teenage years. I remember my first kiss – it was a guy called Nigel who cringed whenever a certain popular The Undertones tune came on the radio. Oddly enough, this was the show opener.
They have lost the distinctive vocals of Feargal Sharkey of course, but Paul McCloone provides a lively replacement.
Post photo shoot, we joined the crowd just on the edge of the moshpit. A few songs in, the bloke in front turned around and said 'I apologise for what I'm about to do' and with a giant grin he launched himself into the fray gone wild as 'I've Got Your Number' began.
The encore was 5 songs long, bringing the set list to 29 songs in total – and even then people did not want it to end.
Post gig, we located a fish and chip shop for some late night supper (bumping into one of the Security folk we'd seen in the Garage). G asked her for a funny story while we were waiting for the orders – she mentioned some of the things found when they searched people on the way in; a breast pump; one guy had some condoms, to which his girlfriend said 'why have you got them, we don't use them…' – and so to the car and back to the hotel for bed.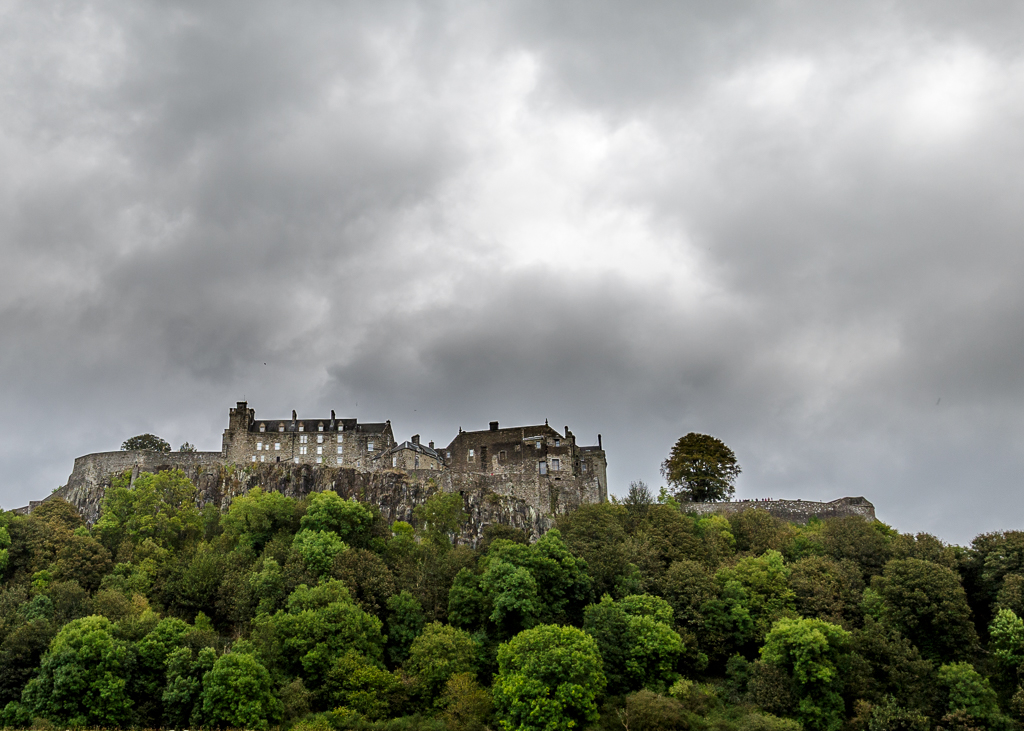 We headed home cross country on the Sunday, the last day of the Ryder Cup at Gleneagles, joining the M9 at Stirling, stopping for lunch in a lay-by close to Stirling Castle while enjoying the view, before heading finally for home.
So back to my original thought – it might seems a long way to go just for a gig, but if you plan a little, you can turn it into something so much more. Why not?
Comments enabled – see comments box below. Note, all comments will be moderated.