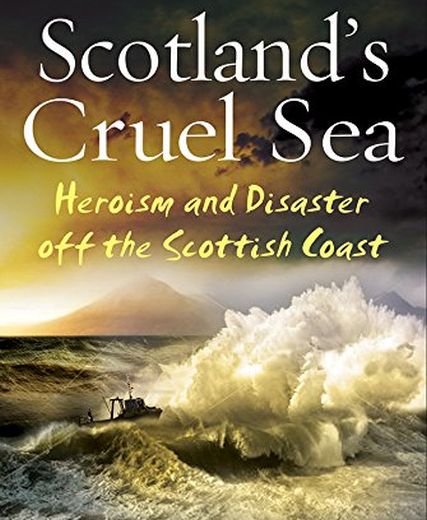 By David Innes.
The recent Pentland Firth tragedy in which the Cemfjord was lost with all hands, demonstrates that no matter how sailing and marine technology improves, the treacherous Scottish coastline and our frequently-inhospitable weather refuse to be tamed.
45 years have elapsed since the twin tragic losses of lifeboats from Fraserburgh and Longhope and whilst technology and training have improved, there remains considerable scope for losses at sea.
In a clockwise circumnavigation of this coastline in Scotland's Cruel Sea, Robert Jeffrey charts how along its entirety, marine disaster has befallen the unwary, the unprepared and the unlucky.
He recognises the bravery of those who have fought elements, waves, currents, rocks and fortune, be they mariners or rescuers.
He also tells of the frequent crass stupidity which saw seafarers ill-prepared for almost certain death – a steam-driven submarine with folding tunnels and multiple vents? You don't need to make that up – it happened and is well-documented here.
Likewise, his exacting prose describes clearly how the Iolaire sank just outside Stornoway harbour on New Year's Day 1919, with over 200 men, who had survived the brutality of The Great War, lost within sight of their homes, a tragedy that is still mourned in the Hebrides.
The Longhope lifeboat TGB, from which all crew were lost exactly 45 years ago on a mercy mission doomed to failure, was recovered intact, re-fitted and went on to serve for another ten years and 41 call-outs in Ireland. Who knew that?
He describes the June 1916 loss of the Hampshire as a harrowing experience for Britain, as Lord Kitchener was the most high-profile loss on Orkney's west coast, in an ill-considered venture into a raging summer storm. The effect of Kitchener's death, and the conspiracy theories it spawned, Jeffrey says, would be akin to the more contemporary deaths of John F Kennedy or Princess Diana.
Of most interest to Voice readers, of course, will be the marine losses affecting NE Scotland, including Piper Alpha which caused "collective shock" not only in the oil industry, but in the country and where the bereaved and survivors found it, "as difficult to extract fairness from the multinationals as it was to get the oil and gas to the surface".
Linked to North Sea exploration, is the insightful chapter on Chinook and Super Puma ditchings and near misses along with a tribute to pilot skills which, Jeffrey points out, have prevented many more losses in extreme conditions.
The Tay Bridge collapse of Hogmanay 1879 also gets its own chapter and Jeffrey's frustration is obvious as he tells of the forewarnings of structural instability, inappropriate train speeds and the fears of an ex-Provost of Dundee who would only travel southbound on the ill-fated structure. It's a surprise to learn that the final death toll has never been enumerated and that the locomotive was recovered from the Tay and put back into service.
Scotland's Cruel Sea is informative, sympathetic, cautionary and written so that non-technical readers can appreciate the issues behind the human suffering associated with our being an island race.
Scotland's Cruel Sea by Robert Jeffrey.
Black & White Publishing
ISBN 978 I 84502 886 2
£9.99