Rev. Hugh Wallace of Newhills Parish Church, Aberdeen  tells Voice about a "Not-So-Grumpy Innkeeper" and his highly accomodating role in a  community event to celebrate Christmas and the switch-on of the Bucksburn Christmas tree lights.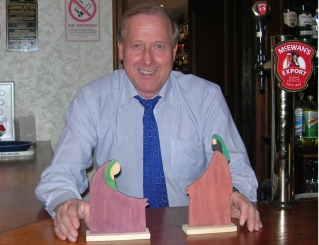 Jim Bell of the Cloverleaf Hotel welcomed around 200 residents from Bucksburn into his Inn for mince pies and tea following the Third Annual Switch-on of the Christmas tree lights.
With the financial encouragement of Aberdeen City Council and the organisation of the local Community Council, the Christmas Story was told in carols and readings.
With a Community Choir made up of children from Bucksburn Primary, Newhills Primary, Stoneywood Primary and Bucksburn Academy, with members of staff and members of Newhills Church, Miss Kirsty Robertson (music teacher at Bucksburn Academy) led the choir in John Rutter's "Angel Carol" to enthusiastic acclaim from the gathered crowd.
Traditional Carols were sung together, and Rhonda Reekie (Chair of Newhills and Bucksburn Community Council), Rev Nigel Parker (minister of Bucksburn Stoneywood Church), and Rae Wallace (teacher at Newhills Primary School) read the Nativity story from St Luke's Gospel.
The countdown to the switch-on rang out across the car park until Jim Bell duly lit the tree, rounding off a wonderful evening. The previous week the storms had blown down the tree and buckled its stand, but a sympathetic guest at the Hotel arranged for a new stand to be made in time for the Community Event. A Mexican "Mary and Joseph", travelling on their way to Bethlehem, also stopped off to take in the atmosphere before heading on their way.
It is thought that they may join the Street Pastors in town this week, and visit the Aberdeen Winter Care Centre where other homeless folk are being welcomed in this Christmas. Perhaps there is room this Christmas for Jesus.
Personally I want to thank the many Newhills Church folk for coming out to support the event, John and Doug for sorting out the sound, and the many others who sent texts and emails of encouragement.
God bless.
Hugh.