Voice's Old Susannah takes a look over the past week's events in the 'Deen and beyond. By Suzanne Kelly.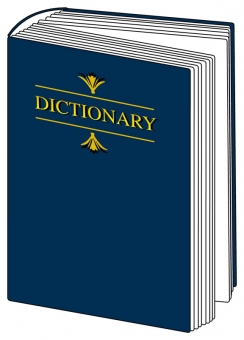 Hurrah! Result! We're to leave Europe. Or maybe not – no one knows for certain what Scotland's future looks like at this point, but isn't it fun and a bit exciting?
And we might get either Michael Gove or Teresa May as the new PM! The Brexiteers Nigel Farage and Boris Johnson as so magnanimous in victory that they've scarpered.
You might compare their running away from the result they pushed for to insects running to hide when you turn over a stone, but I know that they're just getting ready for some further selfless acts of heroism.
Another hero who shuns the limelight is former PM Tony Blair. With the Chilcot report released this week, you'd expect Tony to take the credit for the Iraq war. After all, he saved us from those Weapons of Mass Destruction. Thanks TB.
Looking at this week's news, here are a few little facts you might enjoy:
When the dust settles a bit on Brexit, Old Susannah will revert with more facts – that's if anyone's saying anything factual at all. While Scotland voted to stay, the Brexiteers said that the EU was costing us £350 million a week which could be better spent on the NHS. Clearly that in no way meant that any money saved would be spent on the NHS, which of course is in fine shape anyway.
In far more important news, it was the Portsoy Traditional Boat Festival last weekend, and the weather was largely fine. The Black Isle Brewery was on hand, as was Dyce's new brewer, Fierce. They have some delicious gear, I bought a lovely wheat beer and a coffee and vanilla concoction. In the meantime BrewDog's launched a few Jackhammer Variants; Jackhammer being my favourite brew with off-the-scale bitterness.
Blackhammer is my favourite; I hope to see it around for a long, long time. BrewDog is also doing its bit for up-and-coming music and comedy talent; comedy troupe Wildly Unprepared have been doing their improve thing on Thursday nights in Underdog (the venue beneath BrewDog Castlegate). Hope to see you there.
One person though has managed to end years of The Malt Mill's and Downstairs' nurturing of fledgling bands. Someone moved to a flat near to the venue – a venue with 'LIVE MUSIC' in giant letters proclaiming that the Malt Mill, which looked like a bar with live music to the rest of us – and you'd never guess it – there was live music going on at night!
If only there had been some clue that a flat on a busy commercial road close to a long-running music venue and bar might not be quiet at night! Now Old Susannah understands that people need to play music for whatever reason, and I suppose there should be some allowance in society for that kind of thing in small doses.
It was always going to be the event of the year
Perhaps the venue should have just spent £100,000 from their petty cash and soundproofed the place. After all, if you put on live bands, that means you're rolling in money.
Hopefully we'll get something useful in place of The Malt Mill – like a mobile phone shop or Estate Agent. And from now on, let's all be very, very quiet when we are out on the streets late at night.
Perhaps the hero who forced this closure could let us know when it's convenient for the rest of us to make any noise on Holburn? I'd absolutely love to hear from you. My words of congratulations for your fighting for your individual right to quiet (rather than using ear plugs, moving, or just getting used to it) and successfully closing down a place for the rest of us to hear new bands are ready any time you want to hear them. I salute you.
Finally, we will all remember where we were when celebrity misogynist Donald J Trump flew into Menie this past week. It was always going to be glamorous with Sarah Malone in attendance. It was always going to be the event of the year with the Press & Journal present. But when Rupert Murdoch AND Jerry Hall flew in as well – what can Old Susannah say? Words cannot convey how exciting this was; it was like being a part of history in the making.
How unfortunate then that a few spoilsports decided – I can't imagine why – to hang up Mexican Flags near the course. It's bad enough these people live close to the course in houses The Donald finds unattractive, but to add to the visual pollution – well, that was unforgiveable.
Perhaps not as unforgiveable as Trump's people: cutting off residents' water and electricity supplies, calling the police to arrest lawbiding journalists, blocking access for the disabled at various points on the estate, threatening a grandmother with eviction, stopping Michael Forbes from salmon fishing, or threatening to use compulsory purchase orders to steal homes – but it's all a matter of perspective, isn't it?
(NB – the residents decided not to stage a personal protest, but to just have the flags reminding the world of Trump's bigotry towards Mexico and everyone who isn't a white male billionaire. The massive amounts of news cover the flag protest generated in advance of the visit was remarkable. The brief, chaotic, rambling words of Trump to a few score of journos just didn't cut it. With all of her professional qualifications i.e. being a former beauty queen, the polished, finely-tuned press call on the day was what I expected.).
But at this rate there won't be any definitions, and I very much want to get back to that part of this column. By the way, this column will finish with No. 200. That will be quite enough for this format, but it doesn't mean that I'll take my eyes off The Granite City. Anyway, a few words – about trees and consultations in Aberdeen.
Consultation: (English noun) An exercise in which various experts and/or stakeholders are asked for their opinions and facts on a particular subject.
Peterculter Tree Cull consultation: (Aberdonian noun) An exercise in which various experts and/or stakeholders are asked for their opinions and facts on a particular subject, and the majority of people involved don't get a look in. and facts are overlooked.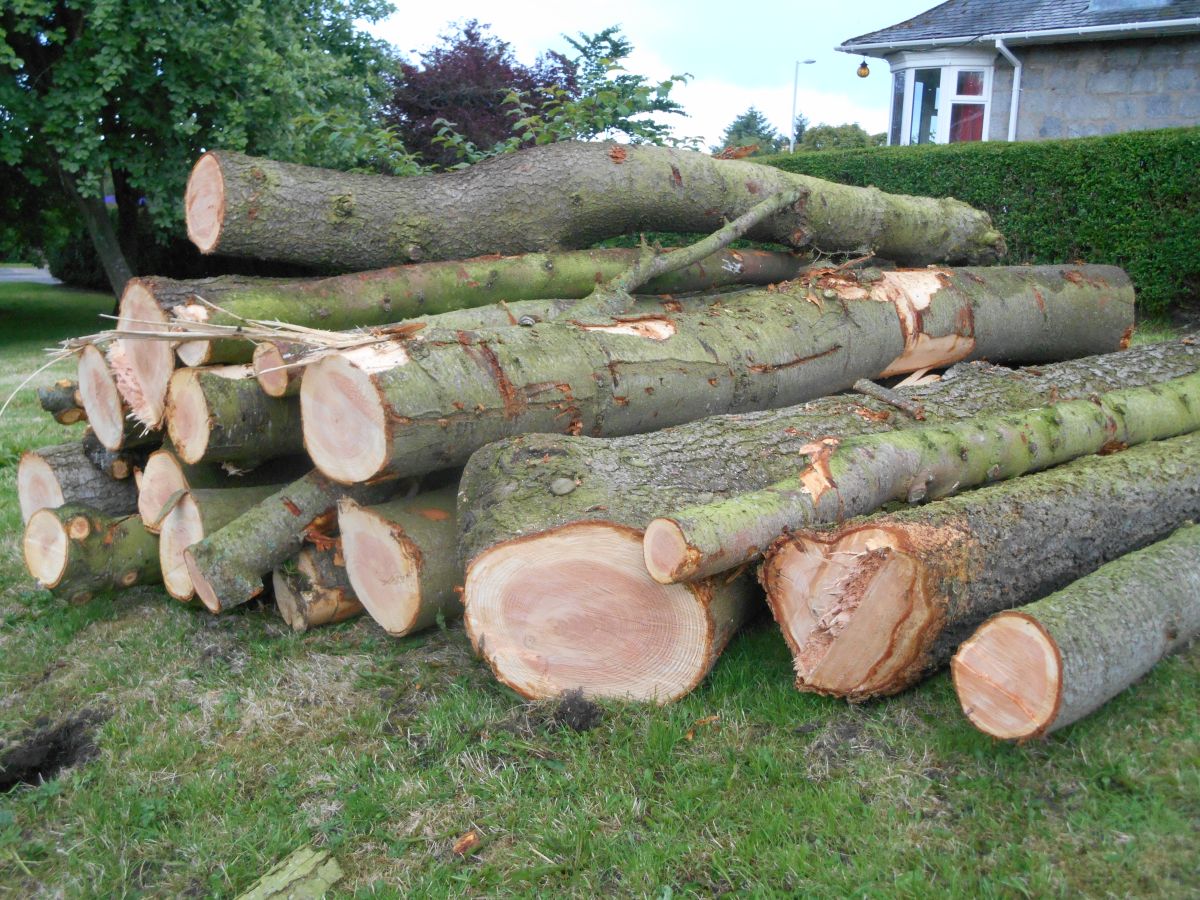 Secondly, the trees were old, and we've got enough old stuff around here anyway.
Then there was the fact that the trees were cutting down the amount of sunshine reaching one or two people in adjacent housing.
I for one know that if the sun's not streaming in my Scottish windows 24/7 365/365, it can only mean the trees (not clouds, storms, snow, hailstones) are blocking the light.
Of course, some of the more intrepid people actually go outside when it's sunny – but you can hardly do that if you're living somewhere as dangerous as Peterculter.
So the city got back some responses from people who hated the trees, and cut them down.
Some councillors were very quick to defend this action too. Some councillors said that the trees were diseased and posed a hazard. That must have been a hell of a tree disease. On the one hand, it must have come up very quickly – or surely the city would have taken action before now.
On the other hand, it's a pretty interesting kind of tree disease when instead of getting rid of the trees (or heaven forbid trying to treat it), you can decide what to do about the trees not by saying their diseased and cutting them, but by asking residents what they want done with the trees.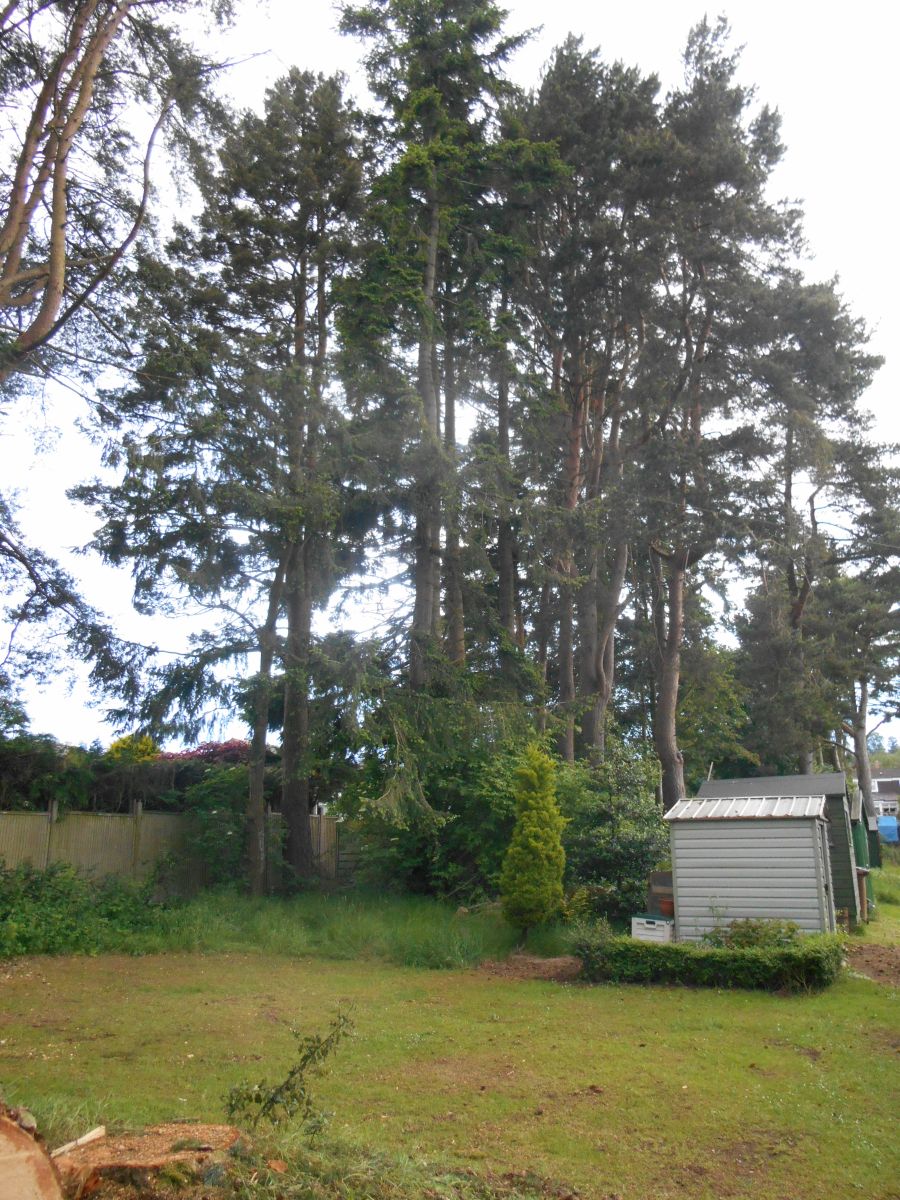 One person at least tried unsuccessfully to get through to the relevant people at the city, but as we know, the city responds instantly to any and all queries.
Another funny thing is the city's existing tree management policy. It seems to say that if it owns trees that are not close to a dwelling, they aren't going to cut them down.
It's not that I'm cynical, but I'd love to find out what the disease was that was so bad the trees had to come down but not bad enough that the residents' opinions could have stopped it. For more info, see here.
Some people claim their responses to the consultation were unanswered. Would the city ever do that?
Tree for Every Citizen scheme: (Aberdonian noun) An exercise in which various experts and/or stakeholders are asked for their opinions only if they are from the SNH or stand to make lots of £££ from killing deer on the hill, or wear shoulder pads (Aileen 'Ho'Malone), in which consultation existing plans to kill deer are deliberately left out, stopping the public from taking much interest, so their opinions can be 'managed' in the words of the SNH. 
No one objected to the proposal – until it was too late. Funny that they didn't announce the cull when they mentioned the other operational details (rabbit fences).
Even funnier; they refused to listen to free advice from experts on how to have trees and deer. And now we have no deer and no trees. We do have a consultant who's at least £100,000 better off. And ranger Ian Tallboys got an award from Princess Anne. Result!
The award-winning, manicured Tullos Hill forest will provide a cost-neutral lovely recreation area for city residents. Only that it's cost a packet, cost the lives of 38 deer (give or take – the city's record-keeping is so bad we don't know), and the trees are in such poor shape we've been warned that we might have to give the government its grant money back.
That would be nothing new, the previous attempt to plant trees on this former garbage tip with very poor soil didn't work, either – I wonder why – and cost us £43,800.
Sometimes there is no need to bother even with a token consultation, as the people of Bedford Road can tell you. If they didn't read page 47 of the Evening Express, read community council notes and city papers – and magically deduce that a 'bus gate' meant they would not be allowed to drive on their street again, then it's their tough luck.
No one thought it necessary to write to them to ask for opinions; although funnily enough, the Peterculter residents were written to about cutting down the trees (apparently 2 people said to cut them – and that was good enough for ACC).
You don't have to consult the public over minor details like the Marischal Square project either. Just tell them an iconic, smart, forward looking building will breath new life, etc. etc. into the area, but the architects will respect the importance of Provost Skene's house: then hope they won't notice when the reality is nothing like the original promise.
In fact, the reality is so much better! We can barely see the provost's house now, and I hear we might get a hamburger joint. AND – the Press & Journal are going to move in! The best loved, most cutting edge newspaper in the best-loved, most cutting edge building! Result! as they say.
Next week: Blair, Brexit, Boris
PS – An observation
I was walking through Torry one early evening, past where a small green space off Victoria Road has a small but pretty collection of flowers. A couple were there, possibly Eastern European. We said hello as I passed. They had a little girl. She was smiling from ear to ear, pointing at the flowers, and jumping up and down.
Completely devoid of any prejudice, mindless hatred, greed, or ill-will, she was just delighted to be with two obviously adoring parents, looking at beautiful flowers.
I wondered whether it was too much to ask that we stop hurting our kids by pouring our prejudices and poisons into them. Will this girl be one of the 5 who will eventually be sexually assaulted? Will she encounter kids at school who are mean to her – because their parents taught them to hate people who are 'foreign' or 'different'?
Will she be encouraged to study whatever she wants to study – science, art, languages, history – or will the system channel her into 'girlish' activities or will well-meaning people make her study things which lead to well-paying jobs while forsaking arts and philosophy? If she were a Muslim/black/Native American/Asian child, what kinds of barriers, doors and hatred would she be experiencing before long.
I wondered, is it too much to ask that with all the problems we've left for the next generation that we can at the very least manage not to fill these little people with hatred and just be nice to them instead? The answer, sadly, is that it probably will be too much to ask. I hope she remembers how happy, free and innocent she was that night. I wish she could live like that always – if she and her peers could, then there's a chance we could have another world and a far better one.
Comments enabled – see comments box below. Note, all comments will be moderated.
[Aberdeen Voice accepts and welcomes contributions from all sides/angles pertaining to any issue. Views and opinions expressed in any article are entirely those of the writer/contributor, and inclusion in our publication does not constitute support or endorsement of these by Aberdeen Voice as an organisation or any of its team members.]