Moray based theatre company Right Lines Productions, in association with Eden Court, are touring a powerful new play throughout Scotland in May.  Be Silent or Be Killed, written by Euan Martin and Dave Smith, and is based on the true story of Roger Hunt as told in his book by Roger Hunt and Kenny Kemp.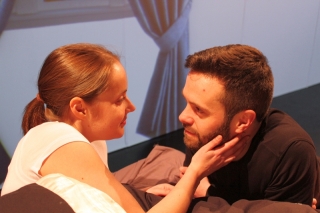 A production of intense, dramatic theatre,
Be Silent or Be Killed
concerns the impact of international terrorism on the individual and the resilience of the human spirit in the face of adversity.
The production is a multi-media project, with the audio/visual aspects being an integral part of the process from the outset.
In November 2008, Roger, a North East businessman set off from his home in Macduff destined for Mumbai, to set up a new project for the Royal Bank of Scotland in the country's financial capital.  However, little did Roger know that this routine business trip would turn into an extraordinary, life-changing experience.
Shortly after his arrival in Mumbai, Roger became caught up in a deadly terrorist attack which claimed the lives of many innocent people.
For 40 hours, Roger lay hidden and alone in his hotel bedroom as terrorists moved from floor to floor seeking Western targets. Amazingly, he was able to communicate via his BlackBerry with colleagues at RBS headquarters in Edinburgh, and it was this support, along with Roger's calculated decision-making, personal resilience and determination to survive that led to his eventual rescue.
The fourth anniversary of his ordeal was in November 2012.
Euan Martin commented:
"We were absolutely delighted when Roger agreed to Right Lines adapting his story for the stage. He and his wife Irene have been 100% behind the project from the outset.  He has seen the script and is comfortable with it which is a great relief! 
"Needless to say, there are some difficult issues to tackle in the story and we deal with that in an interesting theatrical way.  However, there are also lighter moments in the show – believe it or not we manage to cover Aberdeen Football Club and disco dancing at different points in the play – so it's not all about a man hiding behind a sofa for 60 minutes!"
"Be Silent will really appeal to a teenage and young adult audience because it is relatively short, but action-packed.  The sound design by Forres man Dave Martin is fantastic and the video projection work by our colleague John McGeoch from Arts In Motion is really innovative and engaging."
The tour will commence in Inverness and other venues include Musselburgh, Perth, Cumbernauld, Falkirk, Greenock, Edinburgh, Glasgow, Dunfermline, Glenrothes, Findhorn and Paisley, before finishing in Aberdeen.
The highly talented Scottish cast includes James Mackenzie, who plays Roger. The other cast members are Helen Mackay (Irene) and Ewan Donald (Chris) and the play is directed by Ian Grieve, all of whom have worked with Right Lines previously. Set and Video Design is by John McGeoch, Sound Design by Dave Martin and costumier is Kay Smith.

Be Silent Or Be Killed
The Lemon Tree, Aberdeen Friday 24 & Saturday 25 May 7pm 
£12/£10 + booking fee
Box Office 01224 641122
www.boxofficeaberdeen.com
Post show discussion with Roger Hunt Saturday 25 May