Reminiscences of Gothenburg 1983 are appearing everywhere this week, and quite right too. At the time we thought such success would be forever. Now we know better but we have vivid, rainbow-hued, life-affirming memories never experienced by the plastic pretenders who would crow over us now.
It was quite a week thirty years ago. Here's what David Innes remembers.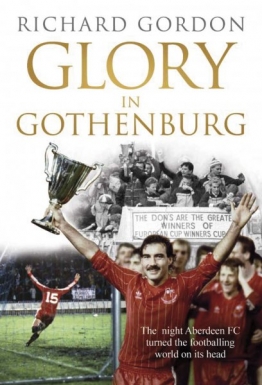 On Monday 9 May I went to the old Odeon cinema to see
Local Hero
, then just out but still relevant today when events just north of Balmedie are taken into account.
As I emerged blinking into the afternoon sun, the headline on the Evening Express mannie's billboard proclaimed that Thatcher had called for the dissolution of Parliament.
Although the dissolution didn't actually happen until Friday 13 May (feeling lucky, punk?), I still maintain that the Dons greatest triumph DIDN'T take place under the Tories since she'd already decided to go to the country. It's just a pity that she didn't go to one far far away from here.
We flew to Gothenburg early in the morning of Wednesday 11 May via one of the fleet of charter planes that Britannia Airways had laid on.
The airport was jam-packed with Dons fans, the duty free shop had queues a hundred yards long and all everyone seemed to buy was dreadful gold-canned Carlsberg and half bottles of Whyte and Mackays. It did the trick.
This was my first time in the air, unless you count the times that clogging midfielders of opposing Division V amateur teams dealt with my silky skills by decking me. Or maybe it was the other way round. Anyway, somewhere above Great Western Road, a gap in the cloud appeared. Through it, I saw an Alexanders yellow service bus looking like a Matchbox toy. I wasn't happy, but a giant swig of the duty free worked wonders.
Gothenburg was overcast. It was still mid-morning local time. A few Real fans greeted us as we came off the airport bus. One of them was El Bombo, the geezer with the drum in the Ullevi later on. One of our crew swapped his Dons scarf for El Bombo's purple and white Real one.
We had Carlsberg for lunch and went to explore the city. Reds awye, the strains of Here we go, here we go, here we go and The Northern Lights seeming to be in the air everywhere, along with that dreadful European Song.
It began to rain. Hale water. Hosing it doon. It was like every Monday holiday of the year rolled into one. I'm not sure that it's stopped yet. My trainers are still sipin.
In the hotel, I changed into my new Dons shirt, bought in Simpsons Sports at the weekend. "A special one, wi writin on it", the Simpsons' shop quine had announced. I still have it. It's worth a fortune due to its rarity, but it no longer fits me. I guess it must have shrunk in the wash. Or something.
Something historic and emotional and ace and fab happened out on the pitch
We gathered in the bar to await the bus to the stadium and got a rebuke from the BBC's Gordon Hewitt who we'd accused of being an Old Firm gloryhunter. He wasn't. He'd paid for his own trip as a Dons fan and had taken his nephew from Oldmeldrum with him.
We bought him beer after the game as an apology. He waxed lyrical about our full backs Rougvie and McMaster, both playing out of position, but his heroes of the evening.
It was raining outside. We smuggled our half bottles into the stadium. Others were allowed to bring in their entire beery carry-outs when the Swedish Police saw, "how much that beer means to you sir" as thrifty Reds decided to neck a dozen cans there and then rather than dump them in the skip. I was the beneficiary of my old friend from Keith, Beel Murdoch's stash of McEwans Export, a welcome change from bloody Carlsberg.
Something historic and emotional and ace and fab happened out on the pitch, I think. Bedlam broke out around me at the final whistle. I removed myself from the mass greet-along, tear-athon terracing cuddle being simultaneously enjoyed by 12000 delirious Reds just to soak (aye…) it all in, to take a mental photo of the mental goings-on and the spectacular denouement taking place out there.
My sister's kitchen still has a blurry Instamatic photo of the scoreboard reading Aberdeen 2 Real Madrid 1 in pride of place. It still gives me an emotional tug every time I see it.
Back in the hotel we drank Swedish beer, commiserated with the Real fans who were very decent people, celebrated with the locals who had taken the Dons to their hearts and asked about getting a shottie in the swimming pool, politely turned down. Maybe the hotel staff thought we were wet enough already, on the inside as well as the outside.
We stayed up all night drinking bloody Carlsberg, reliving the triumph, planning excitedly for future trips to European Cup finals and ended up playing football on a disused railway line across the motorway from the hotel at 0500.
A couple of hours sleep and off we headed to the St Machar Bar to celebrate with something other than bloody Carlsberg
Gothenburg Airport was like Merkland Road East. The spirit was akin to "the first Hogmanay aifter the war" as Scotland The What? Might have put it.
We greeted friends we'd only seen a couple of days before like heroes returning from El Alamein. We tried to offer them a drink. "Nae bloody Carlsberg?" they enquired before refusing politely.
We flew home and got to Dyce only half an hour after we'd left due to the time difference.
All the papers were bought, even the scummy sleazy salacious tabloids and right wing loonypress. They're still in my loft. A couple of hours sleep and off we headed to the St Machar Bar to celebrate with something other than bloody Carlsberg. Jim Alexander, the licensee, even stood his hand, almost as remarkable as the Dons' win.
Then we raced to Pittodrie and waited hours to see our heroes, who had taken forever to wend their way through the suburbs and a city centre crammed full of north-easterners delirious at the triumph.
We celebrated for weeks. Cans of Carlsberg seemed to multiply in the hastily-discarded kitbags we brought home. I doubt that another can of the goddam vile brew was ever drunk by anyone who returned with any.
We thought that this high would last forever, but it didn't. Ach weel. We had our few years in the sun, skelping arses all over Europe, dominating at home and generally just being ace.
We're still ace, of course. We are the chosen ones.
Now, about that something historic and emotional and ace and fab that happened out on the pitch…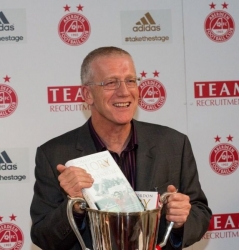 Richard Gordon has written beautifully about the entire history of that battle campaign in The Glory of Gothenburg, and thanks to Black and White Publishing, we have two paperback copies to offer as prizes to readers of Voice.
Answer me this, Reds – Who tripped as he dashed from the dugout at the final whistle in the Ullevi Stadium and was trampled all over by his fellow occupants of the dug-out?
Post your answer to competition@aberdeenvoice.com .
The first two correct entries will get the books.
Please include your name and postal address when you respond to us, it's really difficult for the postie to deliver to an e-mail address.
Come on you Reds.
Comments enabled – see comments box below. Note, all comments will be moderated.