Bobby Niven presents ISLAND, an exhibition using film, sculpture and found objects to explore the history and architecture of Inchgarvie, an uninhabited island located under the Forth Rail Bridge. With thanks to Peacock marketing manager Kylie Roux.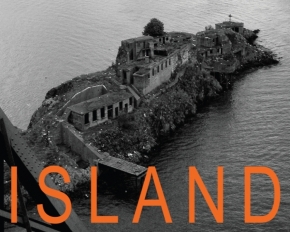 ISLAND is based around the strange architectural history of Inchgarvie whose now uninhabited ruins tell of past lives as a castle, a prison, a quarantine and a foundry and accommodation for workers who built the Forth Rail Bridge under whose shadow it sits. Like the Inchgarvie ruins themselves ISLAND comprises distinct but related parts: the film, the grey room of concrete sculptures and the orange room of objects and artefacts.
Shot on location the film evolves around a room full of sculpted birds and a lone inhabitant. There is a seemingly playful and humorous visual language to Niven's film as the character prances and cavorts across his island but this quirky abandon is misleading.
Despite the humour a dark undercurrent runs through. Framed shots of sinister sculpted birds, contaminating deposits of guano, the lapping water, flotsam and jetsam and a manic trumpeted soundtrack all contribute to a feeling of suspense and isolation. (The suggestion that our island fellow is perhaps quarantined, the result of a modern day pandemic, alludes to the island's history as a place of seclusion for syphilis and plague victims.)
The colonies of sea birds that occupy the island and their vast deposits of guano were the inspiration for the sculpted birds perched inside the concrete dingy rooms of the ruins that feature in the film. Niven further references and repeats these motifs by creating large-scale concrete abstract forms that take over the gallery in all their monochromatic splendour, paying tribute to the island's concrete structures.
Continuing the narrative and landscape of the film found objects and artefacts that relate to the island, the structural forms of the bridge and the activity of the fictitious character are displayed with museum reverence inside an orange fluorescent box in the reception gallery.
About the artist:
Bobby Niven was born in Fife in 1981 and is currently based in Glasgow. He holds a 1st class honours degree in Fine Art from Glasgow School of Art and a masters degree from the University of British Columbia, Vancouver.
Niven has exhibited both in the UK and internationally. Exhibitions include: Sierra Metro, Edinburgh; Lowsalt Gallery, Glasgow and CSA Space, Vancouver; The Royal Standard, Liverpool; Glasgow International Festival of Visual Art (2010); TBC Gallery Melbourne; and Peterfabers Gallery, Copenhagen.
Preview night Friday 25 May, 6 – 8pm, all welcome!
Exhibition runs 26 May – 7 July 2012
Other Exhibitions And Events
BIG JESSIE // Donald Urquhart
The Brunswick Hotel, Merchant City, Glasgow
http://www.peacockvisualarts.com/events/373/big-jessie-donald-urquhart
exhibition runs until 27 May 2012

CLASSES & WORKSHOPS
At PVA throughout 2012
http://www.peacockvisualarts.com/get-creative/courses-classes
call 01224 639539 for more info & to book

http://www.peacockvisualarts.com/