Is it really possible to  walk on fire? If so, is it the supernatural at work, mind over matter or the power of physics? Aberdeen Voice's Nicola McNally asked Be Free about their forthcoming Firewalk event.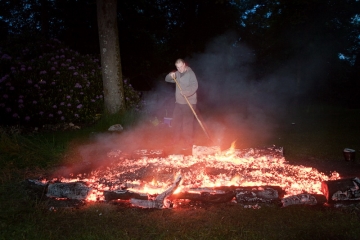 In the Northern Hemisphere, the sun is rising later now, and nightfall comes sooner. The time of Autumn equinox is here.
In traditional sky lore, the Harvest Moon is the full moon closest to the autumnal equinox. In 2012, for us in the Northern Hemisphere, the autumnal equinox comes on September 22.
That makes the September 29-30 full moon the Harvest Moon.

Be Free's next motivational/personal empowerment event will be a timely Fire Walk at Haddo House on 29th September 1pm-5pm.
Firewalking participants will be guided by international motivation coach, Graeme Pyper, and given the opportunity to fire walk this equinox in the beautiful setting of Haddo House.
Graeme Pyper has worked in the field of Human Potential Coaching for over two decades. Having started in sports excellence, he can now be seen bringing his experience to an international audience. Graeme is the founder of Be Free, and he is supported by the Be Free Team when delivering his bespoke training.
Graeme is a lively character who has been known on occasion to dip his toe into the stand- up comedy circuit, which he explains is the counter balance to working as a practitioner / trainer in such areas as hypnosis, NLP, Corporate Stress Management, Social Work, Cognitive Restructuring, Restorative Justice, Conflict Resolution and BSL.
Graeme spent many years studying the cognitive arts, spending time with teachers from many cultures. He has a remarkable way of bringing his teachings to life and making them real for the individual situations of each audience member.  Among the empowerment tools Graeme uses are fire walking and glass walking. In 2008 he set a new world record for the longest fire walk at Archaelink, Oyne.
Through the years Graeme has been asked by various bodies, including The Scottish Government and local authorities to have input on positive behavioural change programmes. Graeme was instrumental in developing a youth justice service from concept through to delivery which was recommended for an award at The Howard League in 2012. The service was shortlisted out of two thousand nominations.
Be Free's Firewalk events are ever popular. Participants may complete their walk for their own charitable causes and personal empowerment reasons. Anyone considering trying their first firewalk is encouraged to get in touch.
You can join Be Free at this September event by contacting the team for further information:
Contact                 Graeme Pyper
Mobile   07971927765
Email     graeme.pyper@btopenworld.com
Be Free can also be contacted on facebook. 
Where?
Haddo House
Methlick
AB41 7EQ
Phone: 0844 493 2179
Email: haddo@nts.org.uk
Disabled Facilities: Lift to first floor. Disabled parking to side of house
Car Parking: Parking available in public car park