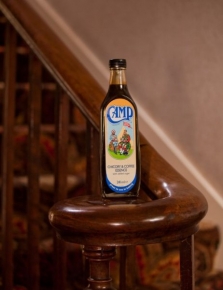 The politically incorrect nature of chicory based coffee substitute. By
Duncan Harley.
An Aberdeenshire recruitment consultant was recently stunned when her job advert for reliable and hardworking applicants was rejected by the job centre as it could be offensive to unreliable and lazy people.
An Aberdeen T shirt retailer was also left stunned when during the last World Cup, police turned up to investigate his racist T-shirts which read "ABE" meaning "Anyone But England."
Even Donald Trump of Trump International Golf Course, Aberdeen has been slated for apparently having said "I have a great relationship with the blacks."
The Robertson's Jam Golliwog badges of yesteryear, which were beloved by those of a certain age, are out; as are those politically incorrect Big Black Sambo money banks which of course many of our grandparents owned but which can now only be viewed in the backroom of the local antique shop, lest they cause offence or lead to litigation.
Political correctness marches on it seems. Folk can think what they want in private of course since that is the nature of democracy, but woe betide anyone who, like that Duke of Edinburgh man, crosses the boundary between the acceptable and the not quite so acceptable, unless you are royal of course.
The good prince who is aged 92 and balding, on meeting a Scot's driving instructor gaffed 'how on earth do you keep the natives off the booze long enough to get a license' and equally famously while chatting to a class of British exchange students in Xian, in the Peoples Republic of China quipped 'don't stay here too long or you'll go slanty eyed'.
Political correctness is here to stay however, so we might as well all get used to it. It sometimes causes us to lie silently instead of saying what we think but as an ongoing process it does bring about changes in culture which hopefully in the long term may enable us to look back and be amazed at the views of ourselves, our parents and our grandparents.
Removing the black Jelly Babies from the box and putting some real coloured folks into the cast of the Black and White Minstrel Show is one thing. However the actions of the manufactures of Camp Coffee go a few steps beyond and above on that score.
Dating back to around 1886, Camp Coffee is a thick black syrupy substance which was originally made in the good city of Glasgow by Paterson and Sons Ltd.
A "secret blend of sugar, water, coffee and chicory essence", it came enclosed in a tall glass bottle with a label depicting a Gordon Highlander officer sitting kilted and sporraned atop a comfy cushion drinking a cup of Camp, while a turbanned Sikh servant stood obediently next to him, holding a silver tray with a bottle of Camp and a jug. The white military issue tent in the background was topped by a fluttering pennant emblazoned with the words 'Ready Aye Ready', while helpful instructions on the reverse urged Camp drinkers to 'Stir one teaspoonful of Camp into each cupful of boiling water, then add cream and sugar to taste. Made with heated milk but not boiled, it is delicious' read the blurb.
This was of course the world's first instant coffee and the marketing was deeply manly and heroically suggestive of a sort of colonial luxury based on the right of the people of Britain to reap the good harvest of Victoria's Empire!
Not much wrong with that perhaps. Well for a start, in those days the word Camp probably referred to the camp that the soldier on the label lived in as opposed to any other more recent meaning.
He was known as 'Fighting Mac' for his exploits at the battle of Omdurman
Also, in those days, the servant with the tray with his proud but of course respectful attitude towards his betters, was just what any Scottish officer serving abroad in the Gordon Highlanders would have expected given his rank and high position.
The officer in question was in fact based on a real life Gordon Highlander. Seemingly he was none other than Major General Sir Hector McDonald. The son of a humble crofter, Hector had worked his way up through the ranks of the Gordon regiment serving with distinction in the second Afghan War and in also in India.
He was known as 'Fighting Mac' for his exploits at the battle of Omdurman, where the Gordon's had bravely deployed forty single-barrelled, water-cooled Maxim machine-guns, each capable of firing six hundred rounds a minute.
These were used to massacre an army of 60,000 lightly armed Sudanese Ansars, referred to as Dervishes in Gordon Highlander military speak, on a plain near Omdurman in the Sudan in what was to be a dry run for the set piece battles of the 1914-18 war.
The Gordons left the enemy wounded to die and amazingly refused them medical aid. A young war correspondent by the name of Winston Churchill reported that the Sudanese army resembled nothing so much as a "twelfth-century Crusader army armed with spears, swords, and with hundreds of banners embroiderd with Koranic texts."
What has all that to do with coffee? Well, over the decades, the label on Camp Coffee has undergone some subtle but significant changes.
From the early days of the servile but proudly turbaned Sikh servant, the Camp Coffee label has morphed into a new and quite radical label portraying the Sikh servant and Major General Sir Hector McDonald sitting side by side enjoying a well deserved relaxed cuppa as equals.
Observers have however noted that on the way to this politically correct meeting of equals, there have been a few changes to the label over the years. In the 1980's for example, the silver tray disappeared and the Sikh servant was left standing with his left arm by his side, while his right arm remained in its original under tray position. At least now he has been granted a well deserved seat.
No one really knows who the servant was, although no doubt he did exist. As for Major General Sir Hector McDonald, he was wounded in the second Boer War and later given command of the regiment's troops in Ceylon where charges of homosexuality were brought against him.
He shot himself in a Paris hotel in 1903.
Sources:
Comments enabled – see comments box below. Note, all comments will be moderated.