By Bob Smith.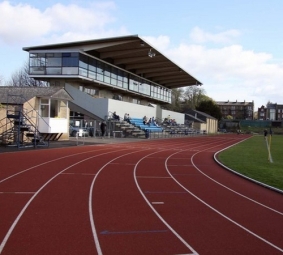 Lang afore the advent o TV, fowk got tae hear aboot their sportin heroes throwe the radio, papers an in the case o fitba throwe magazines like Charles Buchan's fitba monthly. Tho' loons like me war aye interestit in the great sportsmen an sportsweemin o the time, there wisna the same nyaff idol worship like there is noo, altho' we wid try tae heid the ba like Wullie Bauld o Hearts or mak saves like Jimmy Cowan o Morton, twa weel kent international fitba players in the 50s.
Fin a wis a loon growen up in the 40/50s a wis interested in maist sports, fitba, boxin, athletics, rugby, gowf, tennis, horse racin, aye even cricket, bit aat wis maybe cos ma cousin Zena's man, Tom McLeod, played fer Forfarshire C.C. fer a gey fyow 'ears.
A'm gyaan tae confine masel tae screiven aboot BRITISH sportin heroes cos in the1940's/1950's at wis the only eens a wis really interested in. A'll gie a meention tae three fae ilka sport a likit maist.
Fitba:- Ma faavrit player in the Don's squad wis the cinter haaf Alec Young, a great exponent o the slidin tackle. Jist fin ye thocht een o the opposition wis in on goal Alec wid cum fae naewye, slide in an git the ba awa tae safety. A reckon he wis een o the unsung heroes o the 1954-55 league championship winnin side, nivver missin a league game aa season. If ma memory serves me richt he finished up ainin a grocery shop in Fortrose.
Anither gran player wis Gordon Smith. No, nae thon baheid faa played fer Rangers, bit the een faa played in the great Hibs "famous five" forward line o Smith, Johnstone, Reilly, Turnbull and Ormond. Gordon wis a Scottish internationalist faa wint on tae play fer Hearts an Dundee faar he helpit Dundee win the league championship in the early 60s. 1962 a think.
Een o the great goalies o the time wis Bert Trautmann o Manchester City, a German prisoner o war faa decided tae bide in Britain an ply his trade.
Mony City fans war unhappy aat a former member of the Luftwaffe wis tae join the team an some protests war organised. Trautmann seen won them ower wi his displays an in the 1956 FA Cup Final he wis tae becum a legend. Wi aboot 15 mins tae go an Manchester City leadin Birmingham City 3-1 he wis injured divin at the feet o a Birmingam player.
Peter wis the first Scottish boxer tae win twa Lonsdale belts ootricht
Nae subs war alood in thae days an efter a fylie's treatment he got back, a bittie groggy kine, tae his feet an defied the Birmingam attackers fer the rest o the match. It wis only fun oot, efter a day or twa, he hid played on wi a broken neck. He feenished his career wi City in 1964 withoot ivver playin fer his kwintra o birth.
Boxin:- Randolph "Randy" Turpin, alias "The Leamington Licker" wis ma aatime faavrit boxer fin a wis a loon. A weel remember ma mither an faither laachin as a steed in front o the wireless throwin punches fin listenin tae thon doyen o commentators Raymond Glendenning alang wi his summariser W. Barrington Dalby describe Randy's fecht fer the middlewecht warld title in 1951 wi the great American fechter Sugar Ray Robinson.
Turpin won on pints bit sadly lost the title tae Robinson twa months later in New York. Randy continued his career tull 1964. Twa ear later he committed suicide cos o siller troubles.
If ye're a Scot o a certin age and interested in boxin aat aa yer sure tae myn o the great Peter Keenan. Peter wis the first Scottish boxer tae win twa Lonsdale belts ootricht an in his career as a bantamwecht wis British, Empire an European champion. Een o the mair gutsy fechters o his time he wint on tae hae a braw career as a boxin promoter.
A fyow ears back the legendary Dick McTaggart wis ask't faa he thocht wis the greatest Scottish boxin pro' he hid seen. Withoot hesitation McTaggart replied – Peter Keenan.
Een o the maist colourfu characters in boxin wis licht hivvywecht Freddie Mills. It wis thocht he wis the biggest British boxin star o the immediate post war era. Stairtin his fechtin in the fairgrun boxin booths Freddie wint on tae becum warld lichtwecht champion in 1948 beatin the American Gus Lesnevich faa wis the current hudder o the title. He lost the title in 1950 tae anither Yank Joey Maxim an retired seen efter.
He still kept his popularity bi appearin fer a wee fylie as a presenter o BBC's pop music programme "Six Five Special". He wis as weel a nicht club ainer an the notorious gangsters the Kray twins war frequent visitors. Freddie cam tae a sticky eyn, bein fun shot in his car in 1965. Suicide wis the official verdict bit at the time he wis hivvily in debt tae a criminal gang an it wis rumoured his suicide wis staged.
A colourfu chiel tae the laist.
kennin the result o the race, a still fun masel wullin him on
Athletics:- Bein a bittie faist masel ower a hunner yairds at skweel a took an interest in fit wis gyaan on in the athletics warld. The greatest achievemint bi ony athlete fin a wis young hid tae be Roger Bannister runnin the mile in unner 4 meenits, the first billie tae dee iss.
We didna hae TV in 1954 bit a myn seein the race on Pathe News at the picters. Tae see Bannister fleein roon the track at a gweed lick wi his rinnin pals Chris Brasher and Christopher Chataway wis sumthin else an tho fin watchin in the picters an kennin the result o the race, a still fun masel wullin him on. Neen o yer funcy race tracks back then. They ran on a shunner track.
A afen winner fit time he wid hae postit if he hid ran on a modern surface.
A canna forget Derek Ibbotson, anither stalwart o the race track aroon aboot the same time as Bannister an his freens. I myn o seein Ibbotson in the flesh fin a wis doon on holiday at ma auntie an uncle's in North Yorkshire an gyaan up tae a race meetin at Gatesheid or it micht hae bin Darlington an watchin Ibbotson rinnin. A myn on iss as clearly as tho it wis yesterday.
Derek's greatest achievemint wis winnin a bronze medal in the 5000m at the 1956 Olympics in Melbourne, Australia.
A name faa deserves mair recognition  is aat o high jumper Dorothy Tyler faa competed in fower Olympic Games stairtin, fin she wis jist 16, wi  1936 in Berlin, faar she won a silver, an 1948 faar she got anither silver, syne 1952 in Helsinki, an finally at Melbourne in 1956. Noo in her 90's her latest claim tae fame wis bein ask't tae fire the stairtin gun at the recent London Marathon.
Weel fowks aat's jist a smatterin o names  o aa the weel kent sportin stars fae the 40's/50's. Aat era wis hotchin wi great sportsmen an sportsweemin afore siller an professionalism took ower.
At a later date a micht git roond tae ither sports stars o the forties an fities like cricketers Len Hutton, Dennis Compton [o Brylcreem fame] an Godfrey Evans alang wi jockeys, Charlie Smirke, Eph Smith and Gordon Richards plus rugby legends Dally Allardyce, Cliff Morgan and Arthur Smith, gowfin stars John Panton, Eric Brown an Fred Daly an finally tennis players Christine Truman, Angela Mortimer an Bobby Wilson.
Image Credit: Steve Daniels – Creative Commons Attribution Share-alike license 2.0
Comments enabled – see comments box below. Note, all comments will be moderated.