Voice's Old Susannah takes a look over the past week's events in the 'Deen and beyond. By Suzanne Kelly.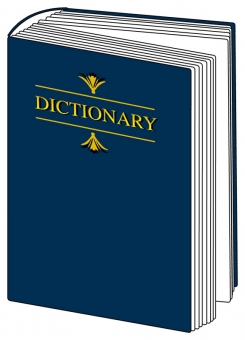 What a week it's been.  Firstly (before the satire sets in), I have been asked to convey thanks to the Formartine councillors who took the logical, courageous, sensible, prudent step of deferring the planning permission Trump had asked for.
Several Aberdeenshire residents asked me to write on their behalf to the councillors in question, asking them not to approve the retrospective permission.  These residents, and plenty more, are very pleased with the outcome, and hope to see the bunds down – and Trump Golf International forced to comply with what was approved.
If the councillors visit the Munro's now-dark kitchen and look out the window at the bund which blocks the light as well as the view, they cannot fail to vote to take the bund down. 
Thanks to the residents, those who lobbied, and above all, to the person who found out the shire had changed documents on this application, yet still recommended approval.
I had a delicious meal at Norwood Hall this week, enjoying some fun and games courtesy of Team Challenge.
There was a crazy golf game set up.  It cost far less than £200 or so to play, there wasn't sand and snow blowing at the players, none of the course disintegrated, and coffee and a sandwich didn't break the bank.  No security guards jumped out in front of me as I prepared to putt; I even got a hole in one.  Thanks Norwood and Team Challenge.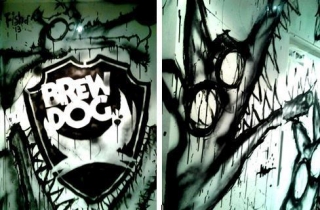 I made a brief visit or two to BrewDog, which continues to be a great place to enjoy the odd half or two, and talk to interesting, friendly people.
Long may it run.
My photo shows some sensational new wall art by BrewDog's Fisher; he's organised it so undergrads from Gray's can hang work up in the bar, too. Expect the first art in a few days.
There is a fundraiser for Willows down in Chichester this Saturday night; I'm very happy to be going.  Patron Paul Rodgers and his wife Cynthia will be there; Paul's performing, as is…. Deborah Bonham, who has a new album imminent.  (If you didn't know, she is sister to the late, great, unequalled John Henry Bonham of Led Zeppelin).
There will be an auction of memorabilia afterwards as well. (This sounds like my idea of heaven).  It is hoped that a concert can take place closer to Willows sometime, but this night is for two charities and the performers are based in that part of the world.  Willows own open day is this Sunday; let's hope the weather improves for their sake and the sake of all animals.
But now it's time for a few relevant definitions based on this week's events; this week with an eye on the modern self.
Self-harming: (Modern English compound noun) The act of inflicting deliberate injury on oneself, often involving bloodletting and sharp instruments; an emotional illness.
Perhaps the most bizarre health-related story of this or any other recent week concerns those poor souls who self-harm.  Thankfully, this is the 21st century, and the latest psychological treatments are at hand to help.
Unsted Park School has this unfortunate malaise in hand.  Well, actually, one of its teachers hands out sterilised blades to self-harmers.
According to the BBC, a school spokeswoman said:-
"This was a short-term, local procedure introduced by the head teacher and school principal who genuinely believed it was in the best interests of the pupil.
"However, they accept that the procedure should not have been implemented without further approvals having been obtained from key stakeholders and senior management prior to its introduction."
http://www.bbc.co.uk/news/uk-england-surrey-21941578
This amazing statement has failed to impress school inspection officials, who for some reason find dishing out razor blades to emotionally-disturbed young people 'deeply worrying.'  You don't say.
For 'stakeholders' read friends and family, who some feel just might want to have a say in whether or not their friend, daughter, son or sibling was given a way to self-harm.
Apparently we are supposed to be happy that this was 'supervised' and that the blades were sterilised.  We wouldn't want anyone getting hurt while self-harming, would we?  And you thought you'd heard everything.
It would be rather nice to know who this teacher was, what approval they had received and from whom for this great scheme, what psychological training they had, and to know what in the heck they were thinking to actually think this was in anyone's best interest.  Wherever this teacher gets their ideas from needs serious investigation.
Self-justification: (noun) Rationalising one's own methods and actions.
Looking through a Press & Journal this week, I learnt that the 'Tree for Every Citizen' Scheme was a great success! Although this gave me déjà vu to see in print, it's won an award!
Those behind this huge success story told the P&J that the scheme was opposed by some animal rights activists, but it's an award-winning, tree-celebrating, all-singing, all-shooting success.  I'm so happy to hear it.
Only a pedant would point out that the local community councils wanted to keep the meadowland and the deer they had – a herd which had wandered the hill for over 70 years with no problems or over-population issues.
Only a petty mind would care that Chris Piper, man behind the scheme, made about £70,000 from the City, and over £100,000 was spent to turn our meadow into a defoliated mess.  Trees at St Fitticks are growing, says the City Council, so it must be true.  Of course they are no taller than they were two years ago (well, the tree protector tubes that aren't actually hollow anyway).
The area is choked with weeds, but if the city and the P&J say it's a successful scheme, then who am I, thousands of local residents who signed a petition, the Scottish SPCA, Animal Concern Advice Line, and a host of political figures to disagree?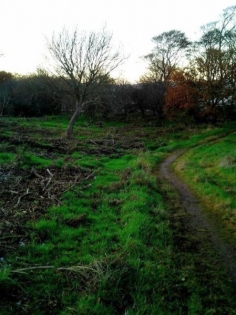 Bulldozing gorse, killing deer, getting rid of the wildlife we had from butterflies and birds to small mammals and deer – these can all be explained away by Tallboys, HoMalone and Piper – they had to kill this wildlife so that they would make a home for wildlife later on.
The trees newly planted on the hill are already surrounded by taller weeds.
The SNH told us to spend time and money ensuring that weeds didn't hinder the scheme for a second time (it's already cost us £43,800). For some reason, none of this gets into the Press & Journal.  I wonder why.
More tellingly, there is not a single photo in the P&J showing what the hill looks like now.
If you want to see our own war zone, go and visit it for yourself, or see older photos in Aberdeen Voice.  But as long as a handful of self-enriching, self-aggrandising people behind this scheme are happy, than what's the wishes of thousands of others and our previous wildlife haven in comparison?
Self-Deluding: (compound noun) State of convincing one's self that an untruth is actually true.
Mr Trump says offshore wind farms,  which sadly for him  were approved this week, will destroy Scotland.
For some years now, I thought it would be acceptable to have an offshore wind farm.  Even though someone as astute and as big an environmentalist as Donald Trump said it was a horrible idea, I thought there might be some merit in wind over nuclear energy or some other fracking nonsense.
Well, earlier this week I was nearly convinced that Mr Trump was right all along.
Again I look this week to the Press & Journal for my facts:  and what I saw at first terrified me.  The paper showed a picture of St Nicholas House, coming in at around 174 feet high, and next to it, towering over it (!) was a wind turbine which could actually be over 600 feet tall!  I'm not kidding!
My first reaction was of course complete horror:  "Did everyone know that an offshore wind turbine can actually be even taller than St Nicholas House?  Why didn't anyone tell me?" I wondered.   I'd never have guessed!
The paper's position seems to be that wind turbines, or windmills as Donald  Trump likes to call them, of this size would of course ruin Scotland not only for tourists – but for golfers as well, and we can't have that obviously.
Perhaps we should back a call not to put any 600 ft windfarms in town next to St Nicholas House.
It's an amazing bit of coincidence that the paper and Donald Trump are against windfarms, and keep repeating what a nightmare offshore windfarms would be if near The Donald.  They do say great minds think alike.  Then again, they also say fools seldom differ, particularly if one really rich fool hires the wife of a fool who wants advertising revenue.
Thinking over this great illustration for a nanosecond or two, I became less alarmed.  While I'm sure the P&J meant well, and aren't  trying to cause any panic, I would like to refer whoever wrote this to an old episode of the inimitable Father Ted. 
Ted and Dougal are in a caravan on holiday (but obviously not in Scotland because there isn't enough golf and there are windfarms).  Father Ted holds a plastic toy cow, shows it to Dougal, and points out the window to some farm animals in a faraway field.   Dougal seems baffled, looking from the plastic cow in his hand to the cows and bulls in the field.
"This looks big," Ted says to Dougal, "but those are very, very far away." Ted explains.
Perhaps a wind farm far off shore would not look as big as one next to St Nicholas House?  A wild theory, but I've enough self-confidence to put it out there.  In the meantime, no doubt Trump and the P&J will keep repeating their line that windfarms must go.
Keep repeating it gentlemen; you'll eventually start to believe it.
Self confidence: (noun) A condition of self-awareness and acceptance; being at ease with one's self.
In this age, self-confidence is essential to get by.  Self confidence is necessary in business and social situations , but remember, girls must not be very self-confident, or they run the risk of being 'full of themselves', a sin men are rarely guilty of.
It must be a hard thing to be a man in today's world and lack self-confidence.  Take for a moment (or just take full stop) one Mr Donald Trump.
This retiring wallflower billionaire recluse should really think about getting himself some public relations.  He's rarely mentioned in the press, despite all his good works. His name and winsome photo only appear in the media if he goes somewhere, says something, sneezes, holds a golf club, or gets on or off of an airplane.
He should really stop hiding his light under a bushel.  For instance, he stated to a government inquiry that he considers himself to be an environmentalist.  Try as I might, I can't find any news stories to back this up.
Perhaps there is some way he can ingratiate himself further still with the Scottish public.  Does he have any Scottish ancestry, I wonder?  Perhaps he could get a coat of arms made up; this would impress us all.
Sad to say, but a lack of self-confidence can come from a lack of personal grooming skills.  Perhaps he should let his hair down a bit more or something.  Perhaps a trip to the dentist might help; on those rare occasions he is seen in the press, the faces he makes suggests wisdom tooth issues or badly fitting dentures.  Good luck to you Donald; we're all behind you (one way or the other).
I think we'd best leave it there for now.  A very Happy Easter Weekend to those celebrating it.  Whatever you celebrate or don't celebrate, the National Trust has some great activities for families this weekend (and there is the Willows open day, too).  Let's hope for some continued warmer weather.
Special Easter Egg Hunt Competition:  Hidden in this satirical column are one or two grammatical errors!  Yes really!  If our sub editor doesn't spot them, not only will they have their salary withheld, but the first reader to point out the grammatical/spelling errors will win the sub editor's AV salary for the week!
Tally Ho!
Comments enabled – see comments box below. Note, all comments will be moderated.