With thanks to  Emily Wyndham Gray.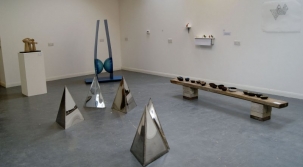 Beginning on the 16th of September, Scottish Sculpture Workshop will be opening its doors to the public for NEOS 2012. This year, SSW will be hosting an open studio exhibition, showcasing the work of artists in residence and programme participants, as well as a variety of events and activities.
Cheesecake Making and Afternoon Tea, and will continue throughout NEOS with Still Life Drawing classes, woodcarving demonstrations, artist talks, a participatory paper-kiln workshop and will close with a performance by local group Dudendance on Sunday 23rd.
The Open Studio Exhibition, Sunday 16th September to 22nd September will feature work from artists who have been in residence, and from projects led by SSW over the summer. The exhibition will bridge areas of sculpture, ceramics, illustration, installation, photography and text-based work. Alongside the exhibition will be resident artists working in their studios, giving visitors an insight into the day-to-day of Scottish Sculpture Workshop.
Visitors will also have the opportunity to engage with the ongoing Sculpture in the Landscape Symposium; information revolving around the renovation of the Lumsden Sculpture Walk will be made widely available and any input on the development is welcome.
The results from SSW's Makers' Meal, which has been running since the beginning of July, will also be on display. Makers' Meal is a project between local artists and artisans which has seen the setting for a meal crafted from the ground up, combining areas of woodwork, ceramics, and forging, with heavy emphasis on collaboration.
The work will be on show in the SSW studio over NEOS for anyone who would like to view the final collection before being exhibited on tour around the North East.
Contemporary dance collective Dudendance will be performing at SSW on Sunday the 23rd of September, 6.30pm, to conclude the Open Studios event. The group will be creating a site-specific performance piece, as a durational work in the open studio space.
Date(s) and Times:
Open Studio Exhibition
10am to 5pm, 16 – 22 September
Paper-Kiln Workshop and Woodcarving demonstration
10am to 5pm, Saturday 22 September
Dudendance
6.30pm, Sunday 23 September
Location: SSW, 1 Main Street, Lumsden, Aberdeenshire, AB54 4JN.
Cost: Entrance Free
Afternoon Tea, £2.50/person
For more information or to book a place on any of the workshops and classes listed above, visit our website www.ssw.org.uk, call 01464 861372 or email office@ssw.org.uk.
Image Credits: All pics ©SSW