By Mike Shepherd.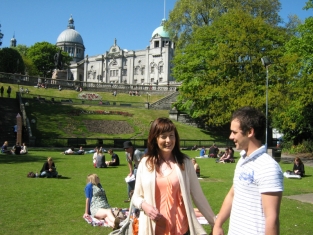 The polling cards are out for the Union Terrace Gardens referendum and you have until March 1 to vote. The hype means you'll have been bombarded with leaflets, pamphlets, news items and radio adverts.
If 'connectivity', a '21st century contemporary garden', or 'street-level access' are key factors in deciding your vote, look no further; vote for the City Garden Project.
If you are undecided or swithering then read these very good reasons for voting to retain Union Terrace Gardens. 
1. Your vote will preserve the look and feel of the Granite City. Union Terrace Gardens are an integral part of the heritage of Aberdeen. Planned by the same architects who designed the Art Gallery and the frontage of Marischal College, they show an architectural harmony in the city centre which would be destroyed by a modernistic City Garden.
2. Your vote will not result in a ghastly modern structure replacing our park. Although described as the City Garden, it is in fact a mixture of buildings, flyovers, underpasses and parkland. The design has a passing resemblance to 1960s-style new town architecture. At one public meeting, someone said that the underpasses in particular were likely to end up as urban no-go areas. I have even heard a supporter of the scheme conceding that it will look dated after about five to ten years.
3. Your vote will stop a multitude of new glass box office blocks being built in the city centre. Council documents show that consideration has been given to plans to build a central business district in the city centre and encourage office block construction. The building of the City Garden Project, "will encourage development in the city centre sooner, and on a bigger scale, than might otherwise be the case without public investment in enabling infrastructure."
4. Your vote will improve our much-loved park. Jimmy Milne, oilman and MD of Balmoral Group, has said:
"I and many of my business contemporaries, are committed to establishing a fund which will help bring the gardens back to their former glory. Without destroying our heritage, and without putting Aberdeen City further into debt, it would not be difficult to breathe fresh life into the park. Improved access, new planting, cleaning and restoration, park wardens and live events could all be relatively easily and cost effectively achieved."
5. Your vote will ensure that the mature trees in Union Terrace Gardens will be saved. All 77 trees will be kept, including the twelve elms, some of which are at least 200 years old.
6. Your vote will stop our Council borrowing £70m they can't afford. Aberdeen City Council, £562m in debt, is being asked to borrow £70m through a risky tax scheme to help fund the City Garden Project. If there is insufficient money to pay back the loan, Council funds will be required to service it.
7. Your vote will avoid significant disruption and pollution in the city centre for the near three years it will take to build the scheme. The technical feasibility study for the project estimates that the equivalent of 3,947 dump trucks of earth and 4,605 dump trucks of granite will be excavated from the Gardens causing 'large environmental impacts from noise, transport, dust and energy use.'
8. Your vote will avoid the major traffic problems caused by the movement of heavy lifting equipment, dumper trucks and lorries in and out of the city centre. It is estimated that the City Garden will take almost three years to build. It is likely that there will be major traffic problems in the city for much of this time. City centre business will be impacted by this and may never recover.
9. Your vote will avoid much, if not all, of the Council's cultural activities being displaced to the underground building in the City Garden. The council funds institutions occupying cosy, intimate venues such as the Music Hall, Lemon Tree and Belmont Cinema. A review of council-funded cultural activities will be made with a view to possible relocation to the underground concourse.
10. Your vote will avoid any consideration that the future of the HM Theatre could be in doubt. Two major performance venues will be built in the City Garden only yards from HM Theatre. Councillors have asked if this will have an impact on the future of HM Theatre. No specific assurances have been given.
Aberdeen could change forever if the City Garden is built, and probably not for the better.
We have the chance to keep the leafy, green heart of the Granite City. 
VOTE: RETAIN UNION TERRACE GARDENS