With thanks to Kenneth Watt.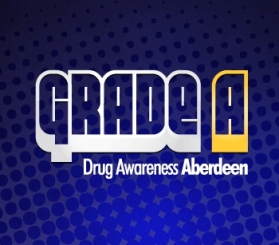 GRADE A (Get Real About Drugs Education Aberdeen) was established in 2010 to consult with young people in the city on behalf of YoungScot.
After a successful consultation, the group, which is a sister organisation of the Aberdeen City Youth Council, decided to look at ways to improve the attitudes and education of young people towards drugs in Aberdeen.
In 2013, the group launched their drugs education app which is available for Apple and Android devices.
The app, dubbed 'Know the ups and the downs,' features news from the organisations, local facilities for drugs support and toolkits produced by GRADE A.
Over the past two years, the group has taken part in peer education training with Fast Forward, drug training with Drugs Action, various residential projects, and has won two awards at the 'Young People Services Awards.'
The app includes various articles, which keep up-to-date with the recent drug issues, videos, photographs and links to groups like 'Drugs Action' and 'Frank' for anybody who needs help with addiction, etc.
Including the audience that watched the ceremony from a live video link, GRADE A launched their app to 1000 people in education, including teachers and higher education staff. The app was created to compliment the peer education programme that Grade A have created and hope to pilot in schools.
Grade A also held a seminar and talked more about their toolkits. From a 2010 questionnaire, many young people said that they felt drugs education was not effective. Older pupils believed the 'Just Say No' policy doesn't work, and the group has have found this to be a view shared by many.
The three toolkits, 'What is a Drug?' , 'Stereotypes' and 'Harm Reduction' aim to inform people about the effects of drugs and how everyday products like alcohol and caffeine are also a form of drug, break prejudiced stereotypes and give advice on how to stay safe IF they ever decide to try it.
Rebecca Lindsay, a member of GRADE A and a youth councillor, said:-
"We have put a lot of hard work in to the group over the past few years and to have it recognised and put in to action with the app is very exciting."
Virag Erdie, also a GRADE A member, said:-
"The app is very user friendly and isn't limited to a certain age group. We have videos, pictures, event, articles and even drop-in centres in the app. People can create their own profiles or log in using their Facebook or Twitter accounts. We use trusted resources to make sure that the content is relevant and up-to-date.
"We are delighted that we can reach so many people using the app. We hope it will raise awareness to drugs in Aberdeen and the rest of the UK. We are also looking to recruit young people to join the group. We believe this is a fantastic thing to do."
Martyna Biorka, a member of GRADE A commented:-
"I am really proud of how Grade A did a fantastic job with the launch and the seminar. They presented in front of many important people and it was a great opportunity."