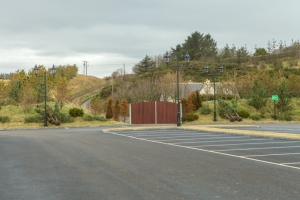 By
Suzanne Kelly.
Aberdeeenshire Council's Formartine Area Committee met today, Tuesday 26 March, and decided not to grant retrospective planning permission to Trump International Golf Links for works at the Menie Estate which had gone against the approved plan.
A Council spokesperson advised that:-
"the application was deferred to allow a site visit and a public hearing. (there was no vote – the action was agreed by committee). The date and time of both will be arranged in due course."
The Planning Officer had recommended granting retrospective permission, which would have seen a giant mound of earth block the Munro home's access to light approved.  The bund had already caused problems for the family when first constructed; dirt and sand from it blew into their property including their home, and damaged cars.
Campaigners also celebrated today as the Government gave the go-ahead to the offshore windfarms Trump so desperately vowed to fight.  Area resident David Milne commented:-
"It came as no surprise, but it was still pleasing to hear that the Scottish Government had decided to retain control over their own energy policy and not hand it over to a non resident, self interested developer.
"It was, however, more surprising and even more pleasing that Aberdeenshire Council decided not to issue retrospective permission for unlawfully constructed bunds surrounding the Munros home at Menie and instead delay their decision until a site visit has taken place; they have after all only had since the spring of last year to consider this.
"Whilst the 17800 signatories to the call for a public inquiry into their behaviour may have had some effect, we can but hope that common sense has finally reared its head with the council, I shall wait and see if this logical and honest decision is the start of a trend or an aberration."
Comments enabled – see comments box below. Note, all comments will be moderated.