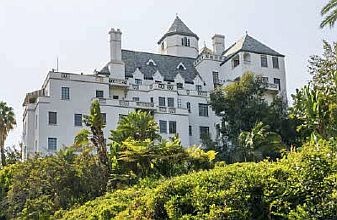 Duncan Harley reviews Tessa Williams' 'Hotels of the Stars'.
Months ago, at least it seems like it, I was sent a copy of Tessa Williams' 'Hotels of the Stars'. Described in glowing terms as featuring 'A-list Haunts and Hideaways' the book, amongst others sat amongst my pile of promised reviews.
Inevitably some never make it to the top of the pile and kindness occasionally precludes that promised review. In the case of Tessa's tome, a bit of illness got in the way and now that I am much better, I thought it timely to pen a few words.
A journalist by trade she is no stranger to the content having spent a portion of her life penning for the likes of Marie Claire, Elle and Vogue.
There are no Holiday Inn's or Travelodge's here and nor should there be.
With an introduction by Albert Roux this book reveals the inner details of that cosseted world of the super-rich and those super-famous-folk who inhabit the likes of London's Dorchester, Fort William's Inverlochy Castle and L'Hotel Paris. Raffles, The Chelsea Hotel and the various Ritz's also feature alongside The Rock at Gibraltar and that iconic Kempinski in Berlin.
Not that I have visited many of the establishments on this list, well maybe – The Balmoral – but, in the big scheme of things, after ruffling amongst these pages, I feel that I have at the very least an understanding of how the other half live.
Replete with quotes such as 'Venice is like eating an entire box of chocolates in one go' – Truman Capote and 'When I was growing up, I had three wishes. I wanted to be a Lindbergh-type hero, learn Chinese and become a member of the Algonquin Round Table' – John F. Kennedy, this is much more than a coffee table trophy.
In all, there are around 37 featured hotels – each with a historical narrative. And each illustrated with iconic images to salivate over.
For my money, the piece featuring Claridge's on P48 gives full flavour to the intention of this book. Alongside a descriptor 'The hotel was also a home for the Hollywood Royalty … including Audrey Hepburn, Katherine Hepburn, Elizabeth Taylor and Cary Grant', we learn that Spencer Tracy described the place in glowing terms:
"When I die I don't want to go to heaven, I want to go to Claridge's."
You really couldn't make it up!
Hotels of the Stars by Tessa Williams is available from Amazon @ £35 in hardback.
ISBN-13: 978-1909399983