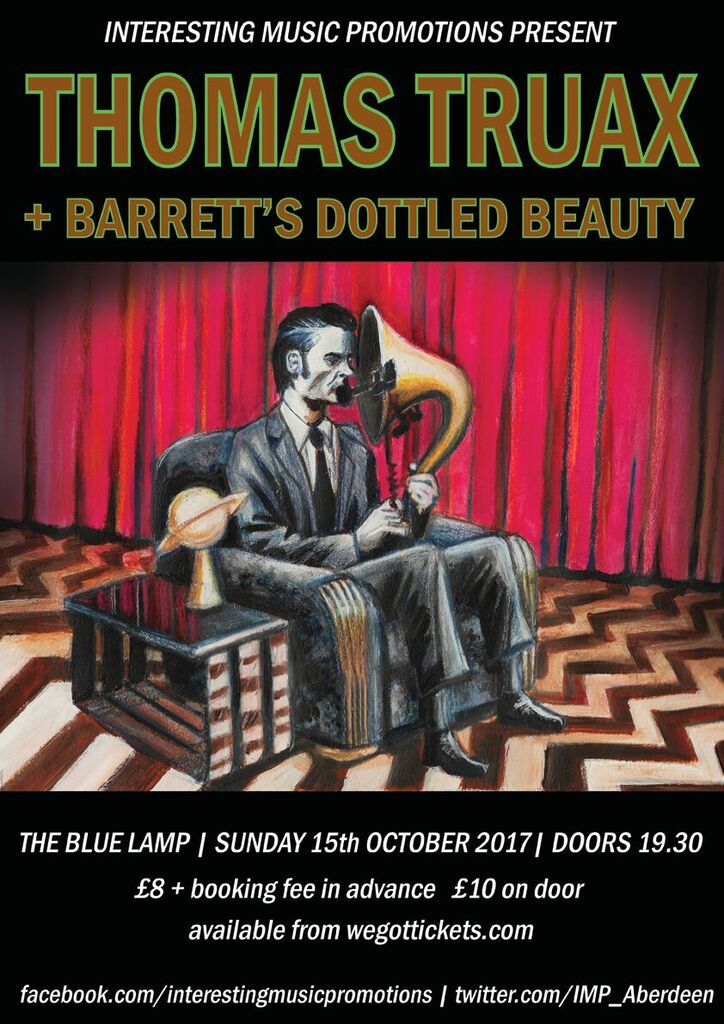 For nearly 15 years now, the people at IMP (interesting Music Promotions) have been putting on a wide variety of acts on in Aberdeen.
As their name suggests these acts are not always the most mainstream of acts and the diverse shows they have put on reflects this. Acts such as Caribou, 60 Days of Static, Arab Strap, The Phantom Band, Aereogramme frontman Craig B, FOUND and more have been promoted by them in venues ranging from the usual live music venues, such as The Lemon Tree and The Tunnels, to more unusual spaces such as Peacock Visual Arts, The Society of Advocates Library and even within a large tent at the Castlegate.
The promoters – better known to friends and family as Mike, Jenny, Mark and Graeme – are turning the clock back and are putting on one of the earliest acts they promoted, way back in 2004 – Thomas Truax.
This will be Truax's first performance at The Blue Lamp but he is no stranger to the stages of Aberdeen, having performed at The Lemon Tree, The Tunnels, Krakatoa and Musa.
If you've never seen him before then prepare to be blown away this eccentric performer and his collection of home-made instruments.
Support on the night comes from Barrett's Dottled Beauty, the latest project of local psych-folk legend the Kitchen Cynics, AKA Alan Davidson.
Here's what the good people of IMP have to say about this intriguing double bill –
We are reclaiming Thomas for his Blue Lamp debut. If you haven't seen Thomas you haven't seen anything like it. Thomas Truax (pronounced troo-aks) is an American singer/musician, inventor and multi-media artist.
One of the most imaginative characters on the pop music fringe, since the year 2000 Thomas has been travelling the world performing with his evolving "band" of bizarre self-made Harry Partch-esque instruments including a motorized drum machine made of bike wheels called 'Mother Superior' and a pimped-up Dr. Seuss-ian Gramophone called 'The Hornicator', as well as his venerable resonator guitar 'Hank'.
Time Out magazine has dubbed him "The king of home-made instruments" while Splendid magazine called him:
"one of the five or ten best singer/songwriters in the world that you've never heard of…an exceptional talent, unique and resistant to comparison, yet fairly accessible even to casual listeners."
Truax crafts rich, poetically evocative songs about insects, trees, technology, and a lifelong obsession with things lunar, including various reasons 'Why Dogs Howl at The Moon'. Notable supporters and collaborators include Jarvis Cocker, Duke Special, Richard Hawley, Amanda Palmer, and the late author Terry Pratchett. Brian Viglione (of the Dresden Dolls/Violent Femmes) plays drums on Thomas's latest studio album 'Jetstream Sunset'.
A stubborn DIY enthusiast, he self-released his debut full-length solo CD 'Full Moon Over Wowtown' on his own Psychoteddy label in 2002.
It was later snatched up by London-based Breakin' Beats for release in the UK and Europe. Numerous singles, compilations and seven other albums have followed on various labels including SL Records, Homesleep and Blang. Among these releases are an original score for a major German stage production of 'Peer Gynt' (by award-winning director Kay Voges), and – inspired by a meeting with director David Lynch – a highly-rated covers album 'Songs From The Films Of David Lynch'.
Barrett's Dottled Beauty
Semi-improvised psychedelic folk from Gayle Brogan of Electroscope / Pefkin and Alan Davidson of the Kitchen Cynics.
http://www.wegottickets.com/event/413654
If that's not enough interesting music for you then be sure to go along to the other concerts that IMP have lined up for the rest of the year –
Posable Action Figures / Gordon James and the Power / Rebecca Dunn – Friday 6th October
The Alice Marra Quartet / Riley Briggs (Aberfeldy) – The Lemon Tree – Sunday 19th October
Half Formed Things / Autumn Hang – Parx Café – Saturday 4th November
Kathryn Joseph / HQFU / Biomechanoid / Move On Up DJs – The Tunnels – Thursday 28th December
Tickets are available at www.wegottickets.com