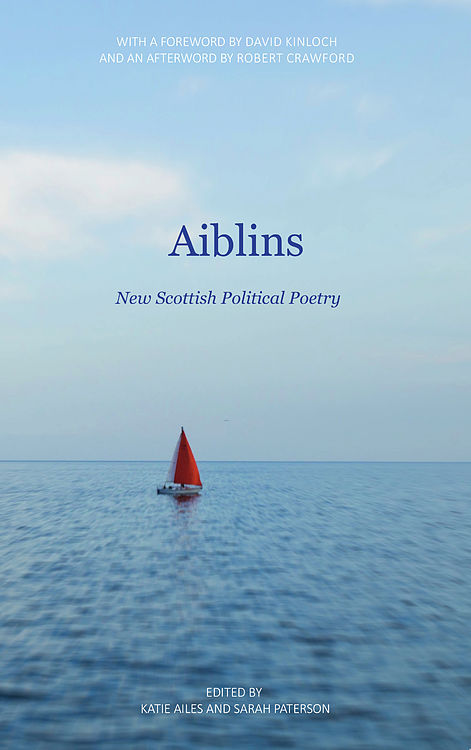 Aiblins – New Scottish Political Poetry. Reviewed by Duncan Harley
Conceived on the back of the September 2015 post-referendum conference Poetic Politics: Culture and the 2014 Scottish Independence Referendum, One Year On at the National Library of Scotland, Aiblins is an anthology of recent work by a diverse range of poets all with connections to Scotland.
Co-edited by Katie Ailes and Sarah Paterson the publication presents as a snapshot of the myriad issues concerning Scotland's poets today.
The poems are written in many styles and address topics as diverse as Indyref and the decaying remnants of Empire.
With a foreword by Professor David Kinloch and an after-word by New Generational poet Robert Crawford, the collection is firmly book-ended. While David reflects on the contribution Scottish poets are making to the "tumultuous, rapidly evolving nature of contemporary Scottish politics" Robert presents the bard's dilemma: No poet should be obliged to engage with politics. All poets should be free to do so.
Hugh McMillan's September 2014 neatly summarises the pro-pre-referendum atmosphere:
'I am the only person here,
this heady day,
And I am balancing the sun
on one finger,
holding everything at bay
for a dream.
And, in what may be post-referendum mode, The Chair by Glasgow playwright Chris Boyland, reflects on:
'this little girl who'd sat on the chair and
gone around in it, wherever it went.
But no-one could recall her face or,
when we thought about it, who she was
or even if she'd really been there at all.
My personal favourite is by Orcadian Harry Giles: All the verbs from Glasgow City Council's New Proposed Management Regulating Public Parks … An Elegy. Even that Glasgow Dreamer, Ivor Cutler, couldn't have made it up.
Intended to reflect on and record tumultuous events which have taken place alongside our borders in recent years, Aiblins is, says contributor Stewart Sanderson,
"Like Scotland, slightly synthetic and in a state of indecision."
The reader alone will decide whether the collection is truly worthy of the publisher's claim that it captures the importance of the arts in shaping modern politics.
Aiblins reflects a wide diversity of views expressed in English, Scots and Gaelic but not in Doric.
Indeed, apart from Mandy Macdonald's Overheard on a bus in Aberdeen, it's almost as if the North east portion of Scotland has silently drifted off into the North Sea.
Aiblins (130pp) is published by Luath Press at £8.99 ISBN: 9781910745847
Words © Duncan Harley , Cover image © Luath Press. First published in the February 2017 edition of Leopard Magazine.
Comments enabled – see comments box below. Note, all comments will be moderated.