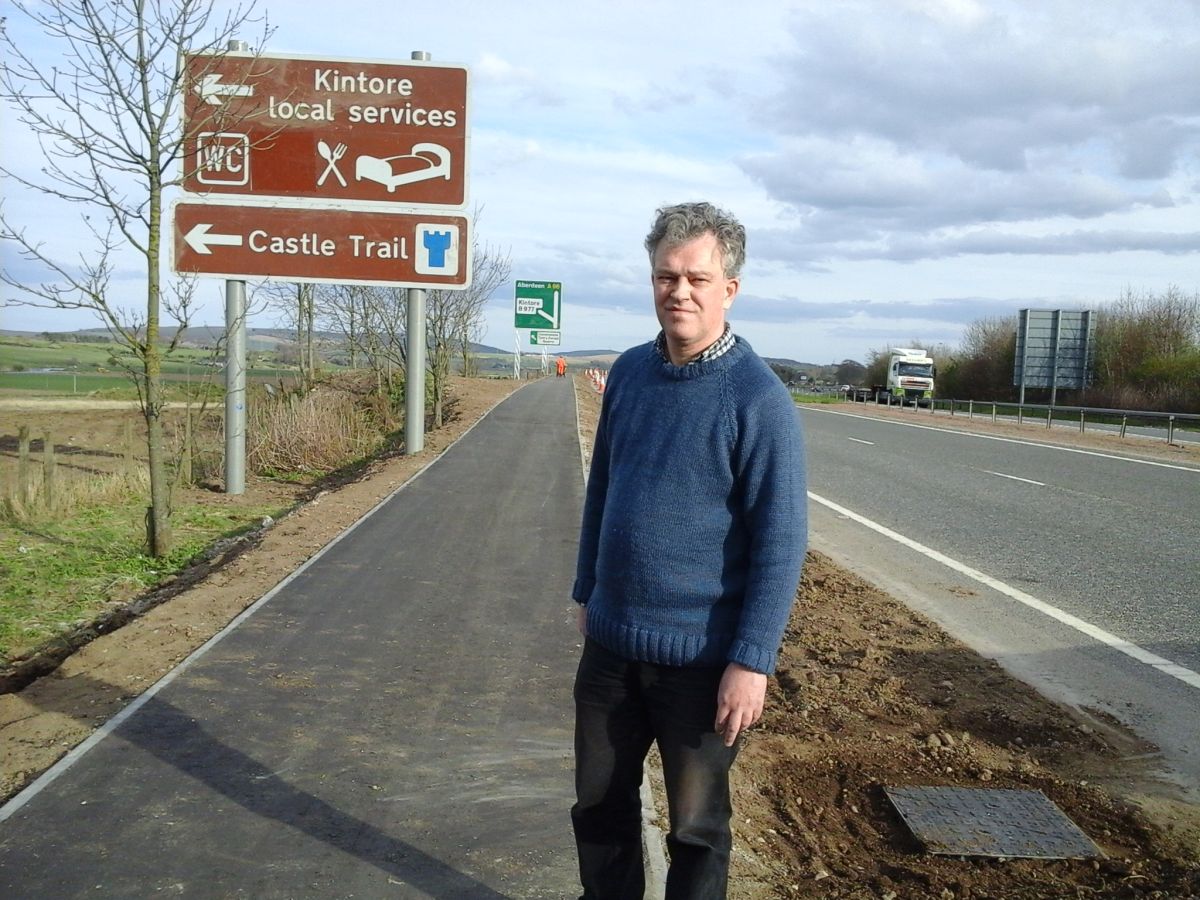 With thanks to Martin Ford.
East Garioch councillor Martin Ford has welcomed progress being made towards a cycle route between Inverurie, Kintore, Blackburn and Aberdeen.
"I'm keen to see a cycle route in place all the way between Inverurie and Aberdeen," said Cllr Ford.
Aberdeen City Council is working towards provision of a cycle route between Bucksburn and its boundary at Blackburn.
Councillor Ford has been pressing Aberdeenshire Council for a cycle route between Inverurie and Kintore so cyclists do not have to cross or use the A96 dual carriageway.
More recently, he has called on the Council to identify then deliver a cycle route between Kintore and Blackburn. And Cllr Ford along with Cllr Paul Johnston (as the Democratic Independent and Green Group of Aberdeenshire councillors) secured an extra £250,000 per year for active travel (cycling and walking) in Aberdeenshire Council's revenue budget from 2016/17.
Between Port Elphinstone and Kintore, a good cycle route was put in place some years ago between Port Elphinstone and the Thainstone roundabout.
Last year (2016), a new cycle path was constructed between Kintore and Kintore Business Park. Cllr Ford has been pressing for the 'missing link' section of cycle path (between the Thainstone roundabout and Kintore Business Park) to be constructed as soon as possible, thus providing a cycle route all the way between Kintore and Port Elphinstone which does not involve using or crossing the A96.
In response to enquiries from Cllr Ford, Council officers have advised the construction of the Thainstone roundabout to Kintore Business Park section of cycle path should go out to tender this month, with the new length of path due to be complete by May 2017 at the latest.
Commenting, Cllr Ford said:
"I will be delighted to finally see cycling provision in place all the way between Kintore and Port Elphinstone. Certainly, cycling on the A96 itself is not a good experience, so having a cycle route available instead will be a significant improvement for cyclists wanting to travel between Kintore and Inverurie."
Council officers have also confirmed to Cllr Ford that Aberdeenshire Council has appointed infrastructure consultancy firm AECOM to progress delivering a cycle route between Kintore and Blackburn.
AECOM will look at feasible options for the route, from the site of the planned railway station in Kintore to the south end of Blackburn at the boundary between Aberdeenshire and Aberdeen City. They have been asked to consider cyclists of all abilities when looking at the options. A report on the feasibility of possible routes, their respective advantages and disadvantages and indicative costs will be prepared by 31 March 2017.
Council officers anticipate a report to the Garioch Area Committee will follow on 18 April 2017 for councillors to take a decision on the preferred route. Detailed design will then proceed during financial year 2017/18 so bids for funding for construction can be made in financial year 2018/19.
Cllr Martin Ford said:
"I'm very pleased to see progress on a cycle route between Kintore and Blackburn. I look forward to engaging with the consultants working on the project over the choice of route, and agreeing a preferred option in the spring. I certainly want to see a route put in place as soon as possible."
Comments enabled – see comments box below. Note, all comments will be moderated.