With thanks to Jessica Murphy, Senior Account Executive, Citrus:Mix.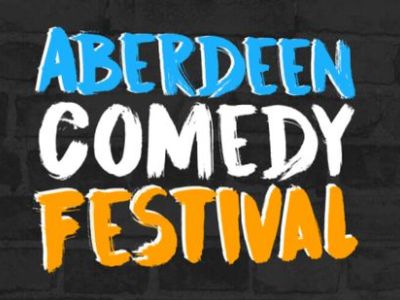 It involved more than 65 shows, over 250 comedians and 25 venues throughout the city centre – all aiming to bring a smile and some laughs to the Granite City.
23 days later, the first Aberdeen Comedy Festival, organised by Aberdeen Inspired in partnership with Breakneck Comedy, drew to a close, with organisers delighted with the fantastic response from the North-east public.
Night after night of the festival, which was kindly sponsored by local bar/pub McGinty's Meal An' Ale, has seen people pack out city centre venues and enjoy a huge array of comedic talent.
From the sold out launch event at the Tivoli Theatre on October 14 featuring Tom Stade, Billy Kirkwood, Liam Withnail and Gary Little to the final show at Park Inn by Radisson with John Scott, Pearse O'Haloran, The Reverend Obadiah Steppenwolfe III and Martin James Walmsley on November 5, more than 3,100 tickets have been sold during the laugh filled extravaganza, as well as over 1,500 tickets from APA and Beach Ballroom promoted events.
Adrian Watson, chief executive of Aberdeen Inspired, said:
"The response from the public, local businesses and visitors to the Aberdeen Comedy Festival has been fantastic and we are delighted with the success of all the shows.
"It was ambitious to undertake to put on an event on this scale, which is already, in only its first year, Scotland's third biggest event of its kind. We can't thank our sponsors, all the venues that took part and the teams from Aberdeen Inspired and Breakneck Comedy that have worked so hard to make it a reality.
"The great feedback we have received from visitors to the festival proves there is a big appetite for events on this scale in the Granite City and at a time when Aberdeen is going through a difficult period, it was great to see people enjoying themselves so much in the city centre.
"We are determined to carry this positive momentum forward and are excited to bring the Aberdeen Comedy Festival back next year."
Operations Director, Alan Aitken of McGinty's Meal An' Ale, said:
"It has been great to see what a success the Aberdeen Comedy Festival has been and as a local business, we were very proud to support it.
"The festival really has brought the city together and it is a great incentive to encourage the public to enjoy everything the city centre has to offer. We can't wait to welcome the comedy lovers back to have some laughs next year."
Aberdeen Inspired is the banner under which the Aberdeen BID (Business Improvement District) operates. It is a business-led initiative within the city centre in which levy payers within the BID zone contribute.
Proceeds are used to fund projects designed to improve the business district. More information on the work of Aberdeen Inspired is available at www.aberdeeninspired.com
Comments enabled – see comments box below. Note, all comments will be moderated.