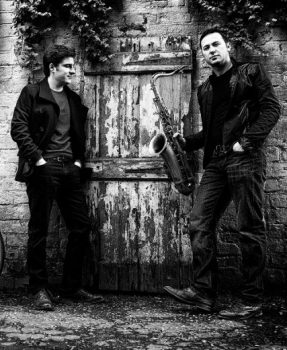 With thanks to Rob Adams.
It's a varied life on the road for saxophonist Konrad Wiszniewski and pianist Euan Stevenson who bring their acclaimed New Focus Quartet to the Blue Lamp on Thursday, November 3.
Already this autumn Wiszniewski and Stevenson's touring schedule has taken them to a blues club in Cupar and churches in Edinburgh and Falkirk as well as the former seamen's mission down by Eyemouth harbour.
"Blues and church music are two of the main ingredients in jazz," says Wiszniewski, who is also one of the stars of the Scottish National Jazz Orchestra's saxophone section.
"Jazz musicians improvise on blues scales and a lot of jazz, especially the soul-jazz style that came out of the 1950s and 1960s, draws on gospel music, so we felt at home in both types of venue and particularly enjoyed the acoustics in Craiglockhart church in Edinburgh.
"We thought it made an ideal jazz venue – and the minister agreed!"
Wiszniewski and Stevenson have been touring to promote their new album, New Focus on Song, the second release by a group that grew out of an Edinburgh Jazz Festival tribute they paid to the great saxophonist Stan Getz. In 1961, Getz recorded a trailblazing orchestral album, Focus, and in 2011 Wiszniewski and Stevenson were commissioned by the festival to recreate the music on the album to mark its fiftieth anniversary.
They so enjoyed working with the ensemble that performed Focus, a nine-piece featuring jazz quartet, string quartet and concert harp, that they turned it into their main outlet, although for economic reasons gigs with the string quartet and harp tend to be quite rare at the moment.
"Although we don't actually sing, the music on the new album is really songlike in style," says Wiszniewski.
"The idea was that the compositions would be roughly the same length as a pop single because people's time is so precious these days and we wanted to try and capture their attention quickly with strong melodies, although we stretch out a bit more in live performances than we did on the album."
Atmosphere plays a strong role in the music, too, and there's also quite a prominent Scottish element.
"The Scottish folk influence is something that came quite naturally, just through living and working here," says the Glasgow-based Wiszniewski, who in addition to various jazz projects has toured with award-winning folk fusion band the Peatbog Faeries and with fiddle player Aidan O'Rourke, from Lau.
"We toured with the American saxophonist Ravi Coltrane's group last year and his musicians were very complimentary about how we were playing jazz that reflected our own culture rather than theirs, so we feel we must be doing something right."
Comments enabled – see comments box below. Note, all comments will be moderated.