With thanks to Ian McLaren, PR account manager, Innes Associates.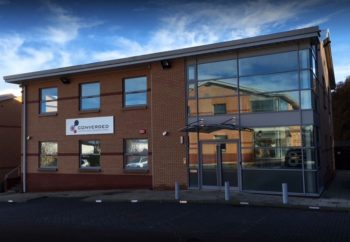 To mark European Restart A Heart Day an Aberdeen business has installed at its premises a potentially life-saving piece of kit which can be used by the local community
North-east IT company Converged Communication Solutions has purchased a defibrillator for its premises at the Spires Business Park on Mugiemoss Road.
Local companies and residents will be able to access the equipment in an emergency during office hours.
The firm's defibrillator is being added to the public access register which is currently being compiled by the Scottish Ambulance Service register.
This means that should anyone in close proximity suffer a cardiac arrest and require assistance, a 999 operator can direct someone to the defibrillator.
Converged, which specialises in providing Internet connections, telephone systems and IT support services, offered CPR training to its entire workforce, with around half of its 30 employees taking part.
The 'shock box' was fitted to coincide with European Restart A Heart Day, which is organised by the European Resuscitation Council and takes place annually on October, 16.  The initiative aims to increase survival rates from out of hospital cardiac arrests by improving CPR knowledge and providing people with the confidence to use it. To mark the day, hundreds of CPR training events were held throughout Britain on Tuesday, 18 October.
Defibrillators give someone suffering a cardiac arrest more time while an ambulance gets to a patient's location. It is estimated that every minute without CPR and defibrillation reduces a person's chance of survival by 10 per cent.
Public access defibrillators are designed for anyone to use on someone in cardiac arrest. The devices talk users through the steps required, including CPR and patient analysis, and will only deliver a shock to the patient if it detects that one is required. This means that there is no chance of malicious or accidental usage.
Neil Christie, managing director at Converged, said:
"Each year, an estimated 3,500 people of all ages in Scotland suffer an out of hospital cardiac arrest. The first few minutes after one has occurred is crucial to survival and defibrillation can help.  Increasing the ease of access to public access defibrillators is important in helping to improve the chances of survival.
"As a responsible employer with a growing workforce, we felt we should install a defibrillator onsite in case the need arose. The device can also be used by local businesses and nearby residents.
"European Restart A Heart Day is a great initiative to raise awareness of sudden cardiac arrest and how to deliver CPR and defibrillation. Public access defibrillators, such as ours, are straightforward to use and guide users through the steps required. I will be encouraging the entire Converged workforce to familiarise themselves with the device and its location to mark European Restart A Heart Day."
Converged Communication Solutions is an independent, Aberdeen-based IT support, telephony and Internet service provider. Established in 2005, the company has grown from a two-man operation into a fully integrated communications company with around 30 staff, which includes a strong technical support team. The firm provides businesses across the north-east with a single and accountable service for their telephony, Internet and networking requirements.
Converged is an official partner on CityFibre's Aberdeen project which has brought a Gigabit speed fibre network to the city. More information about Converged Communication Solutions is available at www.converged.co.uk or by telephoning 01224 656380.
Comments enabled – see comments box below. Note, all comments will be moderated.