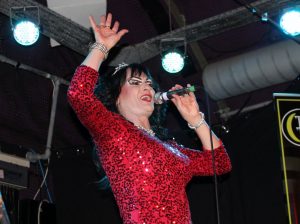 By Fred Wilkinson.
'Something Different' is happening in the Aberdeen entertainment scene.
With musicians and music lovers alike still smarting from the recent closure of yet another popular small venue, we certainly don't want more of the same, and perhaps a taste of trickery may be just the tonic.
The Trickery is a monthly cabaret night which has been running in some shape or form for the last four years, and yet, for all I have been intrigued by the concept, had never managed to attend.
That was until August 26 when I found myself free to accept an invite, and to meet with organiser and compere, Iain Adam.
I asked Iain how The Trickery came about. Iain told me:
"The Trickery was first conceived as a magic show when we had the opportunity to bring one of the biggest acts in magic (Dani DaOrtiz) up to Aberdeen. He was booked for an event that was just for magicians, but we really wanted to show Aberdeen just what was happening in the magic scene.
"After the public show, people came up and asked us when the next event was and we said "next month" and so it began. That was 4 years ago and we have been going ever since. It's run by me and my wife Gail.
"I describe The Trickery as 'Something Different'. Everybody is looking to do something different, something that they wouldn't normally do, and thats what we have for them."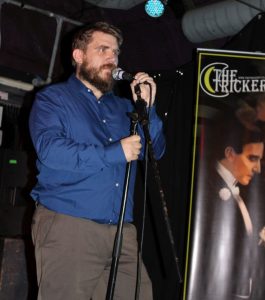 Audience participation is key to the fun and the special atmosphere of The Trickery.
As compere, Iain Adam opens the show, engaging in humorous banter with the audience and whetting their appetite with hints as to what we can expect – including 'the unexpected'.
Putting the crowd through its paces, it is made clear we are not only handed a leading role, but that a licence to heckle is included in the admission fee.
.
,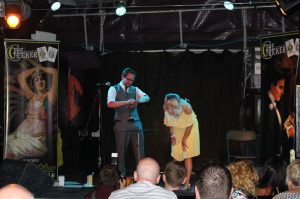 First up is Mind reader/Magician Michael Brandie.
For a performer who publicly talks down his joke telling skills, he can be more than satisfied with the chuckles he winkled out of the audience.
Some laughter, possibly of a nervous nature, even occurred when he stuffed his head in a plastic bag and suffocated himself onstage to the point his heart stopped.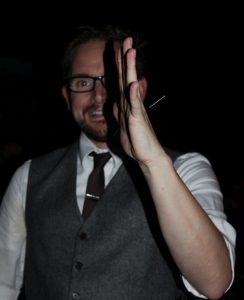 OK, it's only a trick, but I confess to having been more than a little concerned.
Then to prove his given theory that restriction of blood flow has an anaesthetic effect, he pushed an acupuncture needle through his hand …
….. and invited a member of the audience to yank it out!
'Something Different' was promised, and, well, it's not every day …..
.
.
Next up is Professional Artist and Model, Sharrow.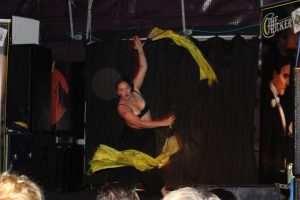 Tonight we witness her Trickery debut as a Burlesque Dance performancer.
Demonstrating her understanding of the art form, Sharrow wastes no time in catching the eye and holding on to it, and in glimpses, offers that characteristic, subtle element of 'tease' which plays more in the viewers imagination than elsewhere, which the audience own up to and call out with their vocal appreciation.
During her routine, the smallness of the stage is suddenly emphasised by the grandeur of her moves which the visually pleasing use of silk scarf 'streamers' served to accentuate.
It's all over a little too quickly, but on the other hand, not too soon for tonight's special guest, Drag Queen, Miss Scarlet Diamonte.
As her name may suggest, she appears in a vivid, red sequinned dress, the hem of which is better friends with her waist than with her kneecaps.
Perched on four inch high Perspex heels, she appears appropriately imposing, and dare I say, Formidable.
And she lives up to that first impression with room to spare.
Scarlet Diamonte's act is not for the fainthearted.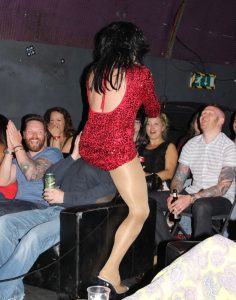 Her humour is unashamedly, unapologetically brash and coarse.
It swishes past risqué without exchanging pleasantries, thumbs its nose at political correctness, and condescendingly pats Innuendo on the head in passing on its lunge for the jugular … and a few other anatomical features as well.
It is borderline brutal, and yet spills out warmth …. and the audience are lapping it up.
She is in complete control as she teases and toys with this crowd, up close, personal and physical, much to their delight, and for all the blushes and involuntary shrieks of laughter, no-one is getting hurt.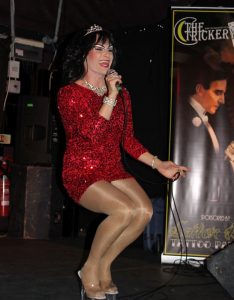 However, should anyone ever be in a position to offer encouragement to Scarlet on her way to the stage, avoid the traditional three worded motivator. Scarlet may well 'break a leg', but I am certain it would never be her own.
I am reminded of the words of Johnny Rotten to an audience at a Sex Pistols gig. Something like:
"I'm not here for your entertainment, you're here for mine."
But the tables are most certainly turned when she turns to the songs.
Her command of her audience is sealed as the power in her voice, matched by an impressive pair of lungs, leaves us in no doubt of the extent of her stagecraft and talent.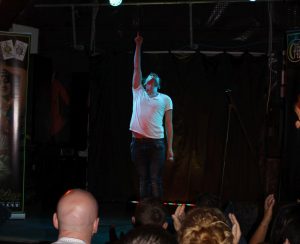 With admirable energy and style, accompanied by expressive gestures and movement from her face to her feet, and the occasional hilarious 'aside', she takes on and slays half a dozen 'camp classics', starting with 'Don't Stop Me Now'.
There was no danger of stopping her – at least not until her finale whereupon, mid song, we were treated to a remarkable transformation which would have had Ennio Marchetto taking notes.
De-wigged, peeled off and wiped clean, Scarlet was summarily discarded.
In her place now stood Tillydrone raised, London based actor Brian Elrick to take the song to it's inevitable crescendo, take a bow and wallow in the whoops and applause of an impressed and thoroughly entertained audience.
Having been given some respite to catch our breath, if not a drink, we were eager to find out what the final act at tonight's Trickery had to offer.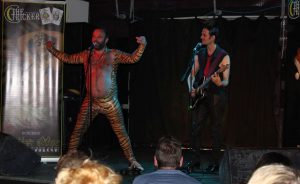 That final offering was 'Ray Guns Look Real Enough' – and we were not disappointed.
In common with most great comedy duos with a certain unique chemistry, musical comedy duo Ray Guns and Luke Real bounce off one another beautifully.
This is a well worked act which skips along at a lively pace.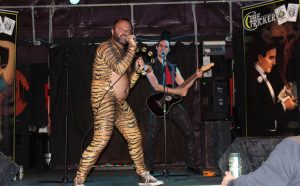 Between the songs, the comedy interplay between the duo, and the audience, is slick … and very funny.
Still, space is afforded to flashes of spontaneous improvisation which always land 'buttered side up'.
From the moment they arrive on stage, we are promised laughs merely by way of their appearance ( Sorry – I mean of course 'image' … they being a famous stadium rock band).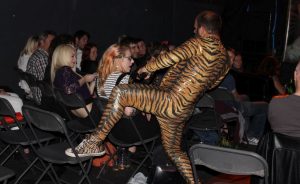 Between them, their stage attire, from the ill-fitting cat-suit to the lacquered mohawk, appeared to be a jumble of iconic items of memorabilia stolen over the course of 3 decades from the biggest names in rock/pop culture.
And much the same could be said of the music as they ripped through a series of montages and mash-ups of pop/rock classics, all seamlessly stitched together and expertly delivered.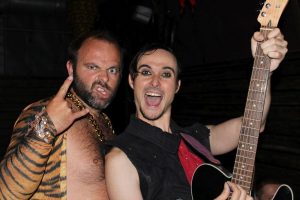 Armed with no more than one guitar, a tambourine, and two well matched voices, it was puzzling to hear the sheer power of their sound and fullness of the arrangement.
The mash-ups were at times amusing simply by way of the zany unlikelihood of the elements combined, but always cleverly presented, and I suspect more than one musician in the audience will have wondered:
"Shit! Why did I not think of that?"
All in all, a superbly talented, creative and entertaining act who are so instantly lovable they could do no wrong if they tried. From their intro to the last second of their deserved encore, I was transfixed to the extent I have no idea how long they were actually on stage.
And with said encore, so ended a cracking night's entertainment – other than the long remaining smiles on the faces of many a highly satisfied audience member.
I asked Iain how this show compares to past events, and what's next for The Trickery. He said:
"The Trickery means a lot to me as it gives Aberdeen the chance to see some acts that they wouldn't get a chance to see anywhere else at any time. In the near future, we have shows opening up in other cities around Scotland.
"We have had freak shows, pick pockets, mind readers, hypnotists and more. We've seen people shot with paint guns, people walk on glass and people break arrows with their throat.
"We've had Hollands biggest magician and the inspiration for the TV show The Mentalist. Every show is different, but every show is great.
"This month we have a double headliner show. Each headliner has just finished sell out 5 star shows in two different fringe festivals (Edinburgh and Amsterdam). Every act is must see, because you only get one chance to see them.
Iain is offering some complementary tickets to this month's event featuring comedy musician, Friz Frizzle and Dutch magician, Fritz Alkemade which takes place on Friday, September 23.
Simply share the 'September at the Trickery' event page on your personal facebook page, then visit the main 'Trickery' page and 'like' the page. Good luck, and hope to see you there.