With thanks to David Forbes.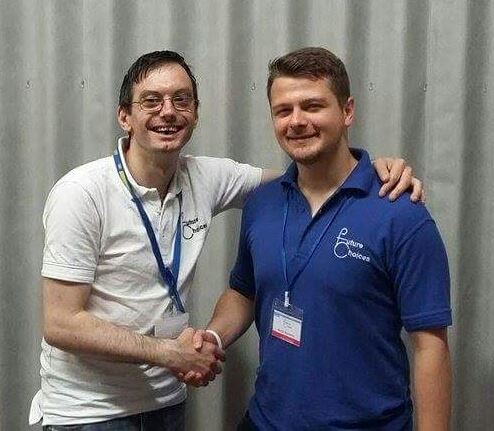 Voluntary Disabled Charity Future Choices Celebrates it's Eighth Year this year with the introduction of it's youngest committee member taking up the role of Vice Chairman.
Devon Thompson (21) joined Future Choices a few years ago and then had to leave to pursue others life commitments before recently returning to help out with many of the Charity's key projects.
He works tirelessly to make sure the members are catered for when the group meets up every Tuesday from 11-2 at their base at Inchgarth Community Centre in Garthdee.
Charity Chairman, David Forbes explained:
"Having Devon on my management committee has been a tremendous asset to running the group and now he's taking the role on as my deputy, he's the perfect man for the job, young, energetic and very inspirational. In my view this is the greatest motivation to many young volunteers out there – that you can achieve success with hard work and determination."
Devon said:
"I am deeply and truly honoured to be elected as Vice Chairman of Future Choices. I have served in the care sector for four years now and have never come across such a dedicated and hardworking Charity, with a constant hunger to grow and develop as an organisation that puts the emphasis on the well being of their members, I am truly humbled that they have shown support and faith in my abilities."
David added:
"Devon taking up this role is very humbling to me as the Charity heads to it's biggest milestone of 10 years in 2 years time, so to keep the group vibrant and progressive is something Devon will be involved with alongside me and the rest of my team."
Devon Concluded:
"It is my deepest desire to rise to the challenge and develop. In my experience, collaboration is the stuff of growth and I look forward to working further with the committee to provide for our members greater choices, for the future."
For more information on Future Choices, visit www.future-choices.org.uk
Comments enabled – see comments box below. Note, all comments will be moderated.