Duncan Harley Reviews 'Annie' at His Majesty's Theatre Aberdeen.
When writer Thomas Meehan was hired to write the story for a musical based on Harold Gray's newspaper-strip Little Orphan Annie he seemingly thought that it was the worst idea he'd ever heard.
The brief was to convert Gray's far right cartoon rants against welfare, unions and Roosevelt's 'creeping communist policies' into a sugar sweet Dickensian romp fit for Broadway.
The result is a powerful and entertaining celebration of the enduring power of the American Dream set within a slightly dubious tale about a balding US billionaire, war profiteer Daddy Warbucks, who sends his PA down-town to the local children's home to pick up an orphan for Christmas.
Its depression era 1933 New York and the banks are going bust. The stock market is in chaos and the factories are shutting down nationwide. The citizens are starving on the streets and there is barely controlled civil unrest afoot. To make matters worse, Japan's colonial ambitions threaten American interests in the Pacific and in Europe Herr Hitler has just become Chancellor of Germany.
Red headed Annie lives at NY's Municipal Orphanage for Girls along with Molly, Pepper, Kate, July, Duffy and Tessie.
Run by the tyrannical Miss Hannigan AKA Elaine C. Smith, the orphanage is in reality a sad sweat-shop where gin soaked Miss Hannigan subjects her charges to an oppressive regime from which escape seems impossible. In a scene reminiscent of Colditz the feisty freckled Annie, Anya Evans of Team Liberty – there are three alternating teams of young actors in this production, defies the odds and makes her bid for freedom.
Meeting downtrodden out of-work Americans along the way she and her canine pal Sandy, played obediently by Amber the Labradoodle, defy the odds and achieve the seemingly impossible.
By the end of Act Two, Annie has come to terms with orphanity, advised the US President on economic policy and made an old man very happy. The nasty Miss Hannigan gets her just deserts, Annie's fellow orphans won't have to work no more and all is well in the land of FDR's New Deal.
This is a picture perfect production. From the moment early in Act One where the orphans throw off the bed-clothes to the final curtain call, the electrifying entertainment pounds on. Lighting, sound and set combine superbly and it is obvious from the very start that each and every cast-member is committed 110% to the show's success.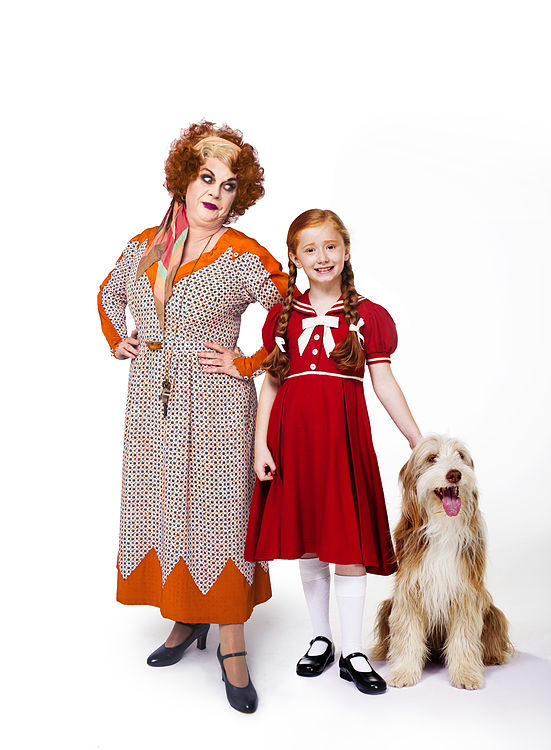 Alongside comedic asides, dance routines to die for and a wee measure of slapstick the musical highlights include Easy Street, Hard Knock Life and Elaine C. Smith's stunning rendering of Little Girls. There are around sixteen musical numbers in the show.
With a list of credits including leads as Dean Martin in Rat Pack and Buddy Holly in The Buddy Holly Story, Alex Bourne is a natural as Daddy Warbucks. He commands the stage just as Warbucks commands his business empire. Anya Evan's Annie is of course centre stage throughout and she excels in, what is after all, a very demanding role.
Callum McArdle's portrayal of the wheelchair bound president was refreshingly honest. In reality of course, Franklin Delano Roosevelt's mid-career polio was stage managed to the point where most of the American public remained blissfully unaware of his condition.
Tuesday's performance at His Majesty's concluded with a five minute stand-up ovation. By the end of the week the likelihood is that this will have increased to ten minutes at the very least!  Harold Gray must be rolling in his grave.
Directed by Nikolai Foster with Children's Casting by Debbie O'Brien and starring Elaine C. Smith Annie plays at HMT Aberdeen until Saturday 14th May
Tickets from Aberdeen Performing Arts Tel: 01224- 641122
Words © Duncan Harley and Images © APA