Ross County ran rampant against a poor, and in some cases inexperienced Aberdeen side summarises Voice reporter Andrew Watson.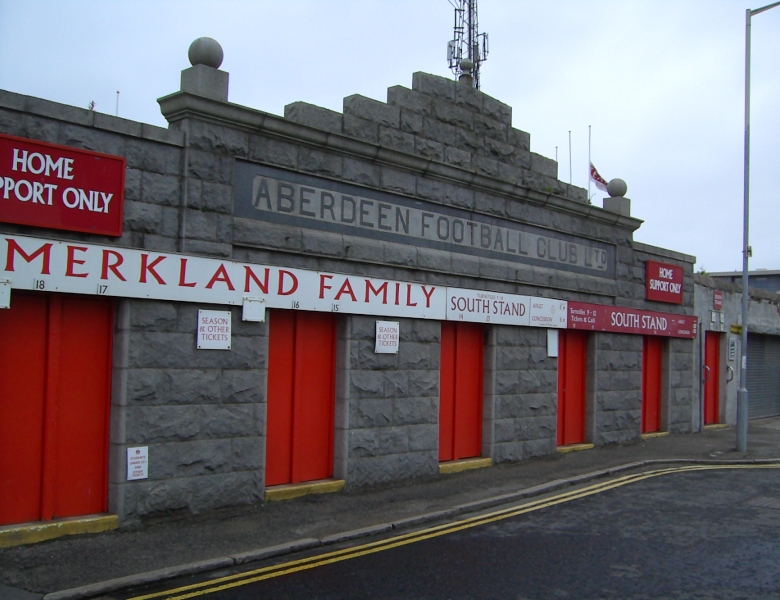 In terms of the pitch, it looked not too bad after some drizzle which thankfully, didn't persist.
This rain though, did highlight some of its imperfections but these were only slight. Marked improvement from pitch conditions in recent months.
'In The Shadows' by The Rasmus played over the tannoy.
Was this implying Aberdeen were, under manager Derek McInnes, no longer just merely scraping top six finishes? As the game turned out, you would be just aswell dedicating the song to the Staggies.
Anyway, there were boos as Willie Collum's name was announced as referee. This was to some extent true for ex-Don Ricky Foster who appeared for County on the bench.
Deceased Red Army veteran Norman Goldie had his caricature resurrected from the Hearts game on Thursday night, though appearing at the Dick Donald Stand, and not his native Merkland Stand. The former also had a card display akin to those previously mentioned odd socks the super fan was so fond of.  Again, Angus The Bull also sported that sock combination.
Kenny McLean, come the game proper, came close after good linkup play with Jonny Hayes.
Captain for the day, retiring Don Barry Robson was then caught looking for a free kick.
Debutante keeper, Aaron Lennox, not long later, performed a full stretch save.
Keeper down the away end, Scott Fox, came in with some heroics too. He did spill the ball, though this was safely in front of his own back four.
Robson later weighed in with superb sliding challenge to help Aberdeen retain possession.
Niall McGinn headed down a cross; but this was straight into the keeper's arms.
Following this was a well deserved corner after an Aberdeen advance. Nothing came of it
Again, Aberdeen came close as McGinn, like McLean, wasn't too far from converting a layoff.
There was then a drinks break which saw Aberdeen kick out of play and, in turn, almost score.
Lennox disappointed with a poor kick out down the other end after his under pressure defence passed it back. Simply no composure from the man between the sticks, and it was indicative of a scrappy game so far.
His name was to crop up again as he took down a County forward for a penalty after busy scenes in the box.
This was converted only 23 minutes into the game via Brian Graham.
0-1 Ross County.
Between this and the Hearts game on Thursday, the common denominator was poor goalkeeping.
Aberdeen seemed to be getting brushed aside in the middle of the park too. Willo Flood found himself wiped out; though, thankfully, won a free kick.  McGinn appeared later to cross the ball, but found the delivery touching the top netting.
Shaleum Logan, down the other end, headed back to Lennox, diffusing the Staggies threat.
Scott Wright then almost found himself in a crossing position, but was hassled into conceding a goal kick instead. He got it next time though. Then came another corner.
McLean won a free kick without even going down. It was encouraging he soldiered on and played advantage.
McGinn put in a more promising cross, this one looking to be the delivery for an emphatic header. No dice.
McLean then, strangely, went down this time, but wasn't awarded anything.
County pounced again just before halftime.
0-2.
The finish, a remarkable overhead effort by Alex Schalk, was a hard one to swallow.
Halftime 0-2.
'Three Little Birds' by Bob Marley and the Wailers, played during the intermission. With its, "every little thing's gonna be alright", it seemed laughable. Was this because, really, the game was inconsequential?
After the break Ross County came with a clever free kick. It was the right idea, just a tad too high and over the crossbar.
Wright then almost, down the other end, caught out keeper Fox, but like County in the previous run of play, off the mark.
Flood, perhaps satisfying those bored, and perhaps resigned to a Dons defeat, came in with some banter for the fans. He basically bumped into his opposite number, and following this looked like he was wanting a scrap.
Lennox seemed to make amends for the penalty, coming out for a ball that looked a dead cert to be yet another goal for the Dingwall side. Very brave.
County fired in a driven shot that almost beat Lennox.
Ashton Taylor further complicated manners with a hard ball to teammate Logan, from a short distance.
McGinn was taken off in favour of Cammy Smith; and Joe Nuttall was put on for Robson. Both substitutions were made after 59 minutes.
Schalk then beat Flood and was unlucky with his shot.
Down the other end, there was a superb switch from McLean on the left, right up to Logan on the right, in a further advanced position. Nothing came of it, though.
Fox then came with an unbelievable save to deny the Dons a goal.
Liam Boyce, attacking the opposite goal, had a nightmare miss. In retrospect, his teammate should've pulled the trigger; instead of opting for the passback.
Boyce made up for it however. He smashed an emphatic header into the net after 68 minutes.
0-3.
"Easy, easy, easy!"
Scott McKenna was taken off in favour of Daniel Harvie after 71 minutes.
Harvie, tracking his man, homed in too quick and ended up falling on his backside. He ended up not paying too highly for it, though.
Fox made another remarkable save to push out for a corner; the latter of which came to nothing.
Harvie cropped up again with a woeful pass in attack.
Martin Woods punished the woeful Dons, scoring after 78 minutes.
0-4.
Having said that, the ball then somehow avoided the County net.
This was followed by some goalmouth action, or lack of it, in terms of converting from the final third. The ball crossed County's entire box with no end product.
Hayes came pelting in and delivered a fine ball into the box. This went out for a corner, which was swatted away.
Robson was given a customary man of the match award, and one additional minute of play was added. No point extending the pain?
Final score:  0-4.
Reflecting on the game, perhaps it was good to blood the youngsters; but bad to subject them to such a demoralising team performance?