By Duncan Harley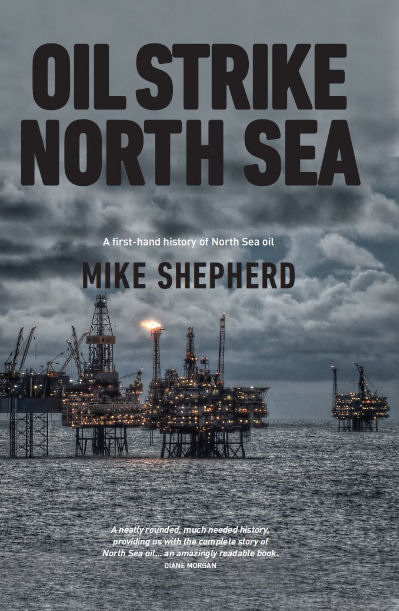 As oil prices remain volatile and the UK government records its first losses in 40 years from North Sea oil and gas production, Aberdeen geologist Mike Shepherd has penned a classic.
An industry insider, Mike has produced a highly accessible and non-technical account of how the North Sea energy boom took shape, the ups and downs of the industry and the story of the people who made it all happen.
In the true tradition of all good writers, Mike writes about what he knows best, in this case the search for Black Gold.
While on a geological field trip to Skye in 1978, Mike had witnessed first hand the construction of the Ninian Central platform.
Fabricated in Loch Kishorn and weighing in at an impressive 601,000 tons, the concrete and steel structure was reckoned at the time to be the largest man made structure ever to be moved across the surface of the earth.
"The North Sea proved to be a new frontier for the oil companies … they had been offshore before … but never in waters quite so stormy or so deep," writes Mike.
The huge discoveries in the Forties Field in 1970, the share price crash of Black Monday 1987, and the inevitable influence of big money are discussed in detail. The effects of taxation, international politics and equity negotiations feature alongside the human cost in terms of accidents, including of course Piper Alpha
The decline in North Sea reserves as a strategic resource for the nation comes under close scrutiny. Mike predicts that production will finally cease around 2050 after which a massive clean up operation costing around £31.5 billion will be required.
In a chapter simply titled 'Aberdeen', Mike looks at the social and economic effects of boom and bust on the Granite City. Infrastructure including both the airport and the harbour initially needed urgent investment to serve and secure the initial 500 or so oil-related companies who set up in the city between 1970 and 1977.
Amazingly in 1972:
"The airport was quite basic and the arrival/departure building was an old Nissan Hut. One end was the bar and the other end was the tickets and seats. The same bloke did both jobs."
With a foreword by Diane Morgan who comments:
"Given the depth of its subject matter it is an amazingly readable book",
this publication is essential reading both amongst those of us who strive to understand the phenomenon of oil, and also those of us who strive to extract that Black Gold.
Oil Strike North Sea (187pp) is published in hardback by Luath Press at £20
ISBN 978-1-910745-21-2
First published in the February 2016 edition of Leopard Magazine.