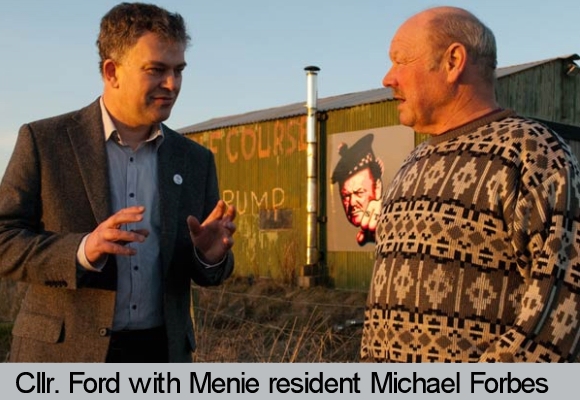 With thanks to Martin Ford.
Ten years after New York developer Donald J. Trump first announced his intention to build a golf resort in Scotland (on 25 January 2006), the North-east has gained little but lost much.
Said Cllr Paul Johnston,
"Essentially, the north-east has ended up with the worst of both worlds. We've lost the amazing, natural, dune system – but the promised economic benefits used to justify that destruction are nowhere to be seen."
Cllr Martin Ford said,
"Mr Trump's grandiose and extravagant promises of jobs, money and enhanced reputation for the region – parroted by First Minister Alex Salmond's Scottish Government – have failed to materialise.
 
"At Menie, little of the proposed resort has been built. None of the 950 timeshares. A 19-bedroom hotel in an existing country house instead of a 450-bedroom new build. One golf course, not two. A much smaller clubhouse than originally proposed. Under 100 jobs, not 6000. Around £30 million spent instead of the £1 billion investment pledged.
"Meanwhile, the unique dune system at Menie, a protected Site of Special Scientific Interest, has been sacrificed – the justification being the economic benefits Mr Trump and the Scottish Government said would come from the resort that hasn't been built.
 
"Mr Trump's neighbours on the Menie estate have had their lives disrupted by bullying and intimidation for most of the last decade.
 
"Latterly, Mr Trump's truly revolting behaviour as a presidential hopeful has seen him shunned by many organisations not wanting to be tainted by his obnoxious views. His association with the North-east clearly does nothing for our reputation in the world. He is an embarrassment, not an asset."
 Cllr Paul Johnston said:
"Mr Trump and his golf course have been a divisive issue in the North-east. Had Mr Trump been a more reasonable individual, a golf course could have been built at Menie without touching the Site of Special Scientific Interest or adversely affecting his neighbours.
 
"We need to learn lessons from this unfortunate episode. Next time an overly ambitious speculator comes round making ridiculous promises, I hope attitudes will be different."
Comments enabled – see comments box below. Note, all comments will be moderated.