Aberdeen sees a second BrewDog bar open, and long-time devotee, beer lover Suzanne Kelly is there to report; photos by Julie Thompson.
The old Athenaeum is the newest BrewDog bar. We shareholders were asked what we wanted for the Aberdeen bar, and we got it.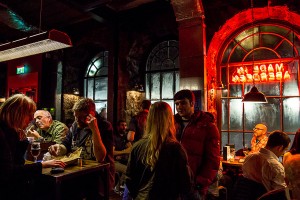 Shareholders such as me were invited for the opening festivities; old familiar faces and newer shareholders mingled in the large space which still had the distinctive BrewDog feel to it.
For me, jostling my way through the crowds and entering the Bottle Shop was the highpoint of the night.
The walls from floor to ceiling are filled with some of the world's greatest craft beers, and veritably all of Scotland's finest brews. Some are in chiller cabinets; most are on shelves, interspersed with books, notebooks, badges and other goodies.
The book of the moment is founder James Watt's bestselling book, 'Business for Punks'.  I've got one, but have been too busy to read it yet. It's my Christmas reading, or so I intend.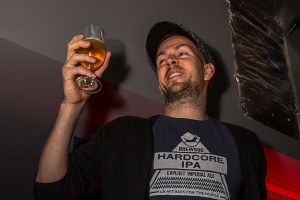 James was on hand to welcome us all with a speech and a toast. The crowd fell silent when he spoke of being passionate about fantastic beer:
"As equity punks, you guys have done this. Thanks!!"
This to the Brewdog shareholders, now about 11,000 strong, give or take.
Someone else yells "F*** yeah!" Watt also talks about the music and live entertainment there will be in the basement: Underdog is lining up a variety of acts.  He continues
"Our AGM will be on the 9th of April and again it's going to be in Aberdeen. This is Hinterland,  our 10% chocolate coffee imperial stout. Tthanks for coming to the opening, thanks for being equity punks and God Bless America."
 We all drink the chocolatey rich beer we've been given and then applaud. Then it's back to the important business of drinking.
Early on, I'm talking to Nathan who only recently started working with BrewDog; he's had a week and a half of training.
I said "this is absolute madness," and he said "yes, but  it's beer madness and that's the best kind of madness there is."
He said this is the best job he's ever had, with the nicest people he's worked with, and he's very happy.
Chris is the manager of the new bar; it's now three months that he's been with the company. He stresses how passionate he is about beer.
"We are really happy, so nice to see the building full of our equity punk shareholders. Beer is absolutely my passion, we're evangelical about it."
Later during the evening James tells me:
"Yeah, it's amazing we opened our first Aberdeen site 5 years ago. Since then we opened 44 other sites around the planet.  It's amazing to be back in Aberdeen. So many people in Aberdeen asked us for a bigger bar, a bottle shop, more food. So we listened and we've hopefully given the people what they want. We have so many equity punks in Aberdeen as well, and they've been the heart and soul of our business. Great to have so many equity punks come out; it's a special night."
I'll give him that. Cheers. I didn't know this yet, but BD was soon to do its open letter to Donald Trump. Let's just say that cheered me no end. That, and a menu filled with things like Bavarian pretzels, oreo cookie shakes with beer, vegetarian hotdogs, and a bottle shop that makes me want to go back soon.