With thanks to Paul Smith, Managing Director, Citrus Mix.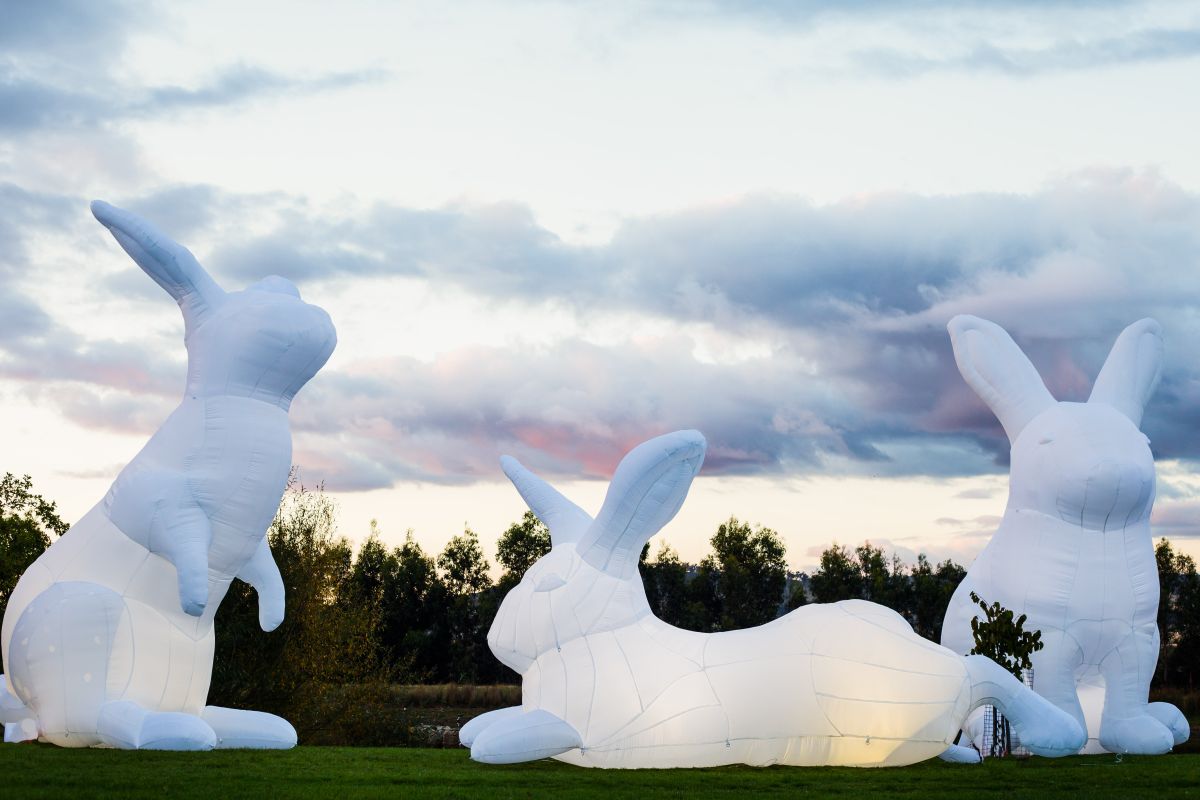 The arrival of one of the world's most eye-catching art installations will help underline Aberdeen's credentials as a cultural hub, according to the organisation which has secured the acclaimed display for the city.
Aberdeen Inspired has worked closely with artist Amanda Parer to enable the striking public light installation Intrude to be brought to the north-east.
The mesmerising work will be unveiled in December in Union Terrace Gardens as part of this year's expanded Winter Festival. It will serve as a precursor to SPECTRA, the increasingly popular Aberdeen festival of light.
Intrude has been showcased in high profile festivals across the globe – with New York, Paris, London and Sydney all included on an impressive list of host cities.
The installation features a collection of giant inflatable illuminated rabbits which stand up to seven-metres tall.
Gary Craig, chief executive of Aberdeen Inspired, said:
"Amanda Parer has earned wonderful reviews for Intrude, which is a truly stunning piece of work and one which has won international acclaim.
"Aberdeen Inspired has worked hard to bring this installation to the city centre and we're delighted to be preparing to welcome Amanda and Intrude to what we feel will be a stunning setting. It will bring a real sense of fantasy and intrigue to the heart of an area that will be a hive of activity during the festive period."
Amanda Parer said:
"The whole idea of having these giant pieces on display is that they don't fit in. It is a playful art work that evokes fantasy and wonder. It has been designed to give the sense that five giant glowing white rabbits have just hopped in and intruded on a given environment, in this case the Aberdeen's wonderful Union Terrace Gardens.
"With this art work people find a wonder associated with similar childhood events such as Christmas. Yes, there is a dark element to the work, as with many childhood stories. An element of darkness is required to show the light and my rabbits do glow so very brightly. 
"I am very much looking forward to bringing Intrude to the north-east of Scotland this winter and I thank Aberdeen Inspired for asking me to present my installation and Aberdeen City Council for having us."
The arrival of Intrude is part of a packed Winter Festival programme, which will also feature the new Aberdeen Christmas Village on Union Terrace. Aberdeen Inspired, Aberdeen City Council and amusement specialists Codona's are working together to bring the village concept to life from November 25 to January 3.
Gary Craig added:
"Aberdeen Inspired is striving to make the city a more vibrant, attractive and appealing place to visit, live and work in. Art is an incredibly powerful way of doing that and particularly when it is an installation as vivid and as high profile as the one Amanda Parer has created. To be able to bring this as a free outdoor exhibition to a north-east audience is tremendous.
"Of course art of any type has the power to spark debate and divide opinion, but we have been incredibly encouraged by the excitement which is already building. In recent years SPECTRA has brought a real buzz to the city centre and captured the imagination of thousands of people. We view the arrival of Intrude as the perfect way to set the scene for what I'm sure will be another successful festival of light.
"In the past Aberdeen has been criticised for its commitment to the arts. In my view that is unfair – there is a very healthy cultural scene which can grow and thrive with the right support. Aberdeen Inspired has an important role to play in that and we are prepared to continue to invest to bring the best, most captivating and thought provoking work to our city centre."
Aberdeen Inspired is the banner under which the Aberdeen BID (Business Improvement District) operates. It is a business-led initiative within the city centre in which levy payers within the BID zone contribute. Proceeds are used to fund projects designed to improve the business district. Further information on the work of Aberdeen Inspired is available at www.aberdeeninspired.com
Comments enabled – see comments box below. Note, all comments will be moderated.