With thanks to Annie McKee.
Tarland is well-placed for local produce and a thriving music scene, which will both be showcased in our second Tarland Food and Music Day. This festival will be held on Saturday 26th September (with events kicking off on Friday 25th September), at venues throughout the village, including the wonderful two year-old community garden (recently featured on the Beechgrove Garden).
A weekend of fantastic music is planned, with performances all around the village.
World-renowned local fiddler Paul Anderson will kick off the activities on Friday 25th September with a guided local walk, featuring musical interludes and local heritage tales (2-5pm, advanced booking required by emailing: tarlandfoodandmusicday@gmail.com).
Paul will also feature in the exciting evening concert with popular Perthshire fiddler, Patsy Reid and friends, including the pianist Andy Thorburn, Shooglenifty guitarist Ewan MacPherson, and drummer Signy Jakobsdóttir (£12/£10 MacRobert Hall, doors open from 7.30pm; Deeside Brewery bar). Local musicians are invited to join Patsy and friends for workshops in the Upper Hall on Saturday morning (10-12; £5 per hour).
The Food and Music Day itself will open with the established food and local produce market in the MacRobert Hall (10am – 12 midday, free entry), featuring Crannach Bakery, Mortlach Game, Deeside Brewery, Cambus o' May Cheese, Wark Farm, Tarland Community Garden produce and much more. Morning teas and cakes will be ably provided by Cromar Senior Citizens Association.
An exciting game cookery demonstration will be provided by award-winning Chef Raj from India on the Green, Ballater, sponsored by the Scottish Natural Heritage initiative, 'Scotland's Natural Larder' (2.30-4pm; free entry). Lunch will be provided by H.M. Sheridan Butchers, firing up the barbeque at Tarland Primary School, with India on the Green providing curry, rice and pakora lunch boxes in the MacRobert Hall (12 midday – 2pm).
Visitors can learn to put the 'oomph' back into their day with a talk by Torphins-based nutritionist, Dr. Chris Fenn (£3, Upper MacRobert Hall, 1 – 2pm).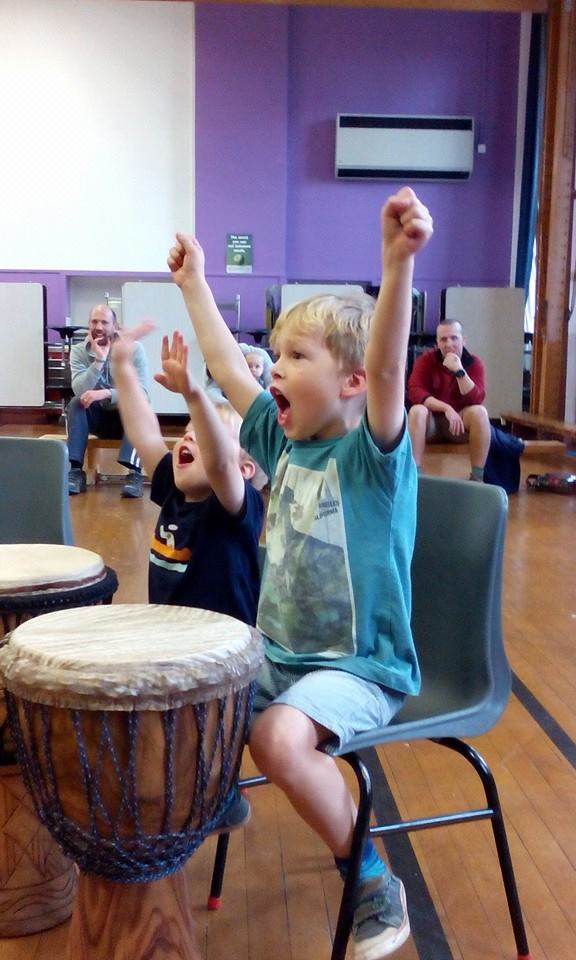 Tarland Community Garden will be open within 'Scotland's Gardens' scheme, including music by singer/songwriter Megan Albon, plus talks by James Reid from Tap O' Noth Permaculture and Yvonne Davidson from Tarland Bee Group (£3, 2-5pm).
Aberdeen's-own African drumming group 'Drummin Aboot' will be holding workshops in Tarland Primary School for both children and adults (4-6pm, £5 per hour), preceding a performance in the MacRobert Hall (6.15-6.45, free entry) – not to be missed!
The finale of this exciting Food and Music Day will be a concert with world-renowned, local folk superstars, Old Blind Dogs.
With a current line up featuring Jonny Hardie (fiddle, guitar and vocals), Aaron Jones (bouzouki, guitar, vocals), Ali Hutton (Border pipes, whistles, vocals) and Donald Hay (drums, percussion), the Tarland audience is sure to be in for a musical feast.
Ticket price includes hearty soup supper from Tillypronie-based chef Carol Eagles, and Deeside Brewery will be on hand with their tasty craft beers and ales (£15/£12; doors open 7pm, concert at 8pm).
The full programme of events can be found at www.tarland.org.uk (following links to the Food and Music Day) and all tickets can be booked by emailing tarlandfoodandmusicday@gmail.com or bought in person from Tarland Spar and Paper Shop and Strachans, Aboyne, at the Tarland Local Produce Market and on-the-door.
Please note that advanced booking is required for the music workshops and strongly advised for all concerts! The Tarland Development Group looks forward to welcoming you to the feasting and music-making on 26th September!
Comments enabled – see comments box below. Note, all comments will be moderated.