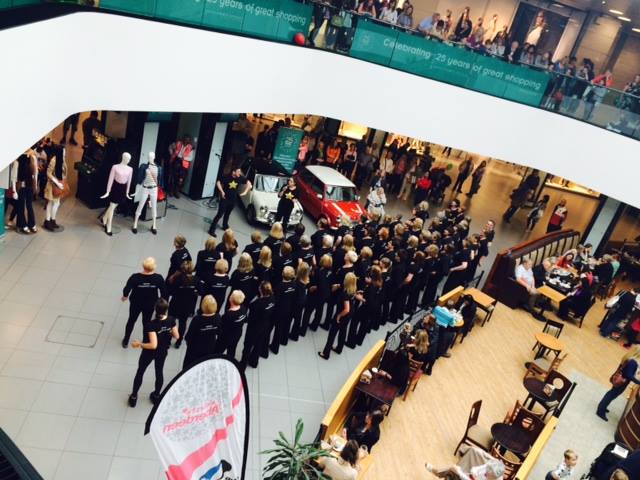 With thanks to Phil Moar, Account Manager, Citrus Mix.
Thousands of shoppers came together at the weekend to celebrate a city centre shopping mall's 25th birthday.
Bon Accord & St Nicholas celebrated the milestone on Saturday (August 22) with a day of fun filled events that saw staff, both old and new, retailers and visitors step back to the 90s to mark the anniversary.
Visitors flocked to the Bon Accord mall to join in the fun, with a pop-up 90s museum, retro games, competitions, and a throwback to the fashion of the times proving popular.
The party atmosphere continued throughout the weekend, with 90s films and music being played, helping visitors gain a glimpse of what life was like when the centre was opened by Her Majesty the Queen in August, 1990.
This weekend's Celebrate Aberdeen event also rolled into the centre, with performances from the Tranquillity Wild West re-enactment group, Create Rock Choir, Sweet Adelines barbershop choir and folk singer Iona Fyfe adding to the celebratory atmosphere.
Craig Stevenson, manager of Bon Accord & St Nicholas, said:
"We've had a fantastic weekend and I'd like to say a big thank you to everyone who visited us over the two days. The mall was a buzz of excitement and it was great to see so many help us celebrate our 25th birthday in style.
"The retro arcade games proved really popular with visitors, so much so that we're keeping them within the mall for the next week. The Celebrate Aberdeen weekend also added something extra to our line-up of activities and there really was something for everyone.
"It's not every day a shopping centre turns 25 and I think that we've definitely managed to mark this milestone in style. Bon Accord & St Nicholas remains at the heart of the city's retail scene and we'll look to continue to develop and innovate to ensure that this remains the case in the coming years.
The centre's celebrations will continue throughout September, with a number of the retro arcade games and parts of the exhibition being present in the mall across the coming weeks. For more information, please visit www.bonaccordandstnicholas.com
Bon Accord & St Nicholas are at the heart of Aberdeen city centre's retail sector, offering 840,000 sq ft of prime space and home to around 100 stores. Scotland's largest Next, Aberdeen's only Topshop and Topman standalone store as well as the City's largest New Look and River Island are among the key retailers.
The centres, which attract an average of 275,000 visitors a week, are owned by BMO Real Estate Partners and managed by specialist retail agency Savills. For further on the centres visit www.bonaccordandstnicholas.com.