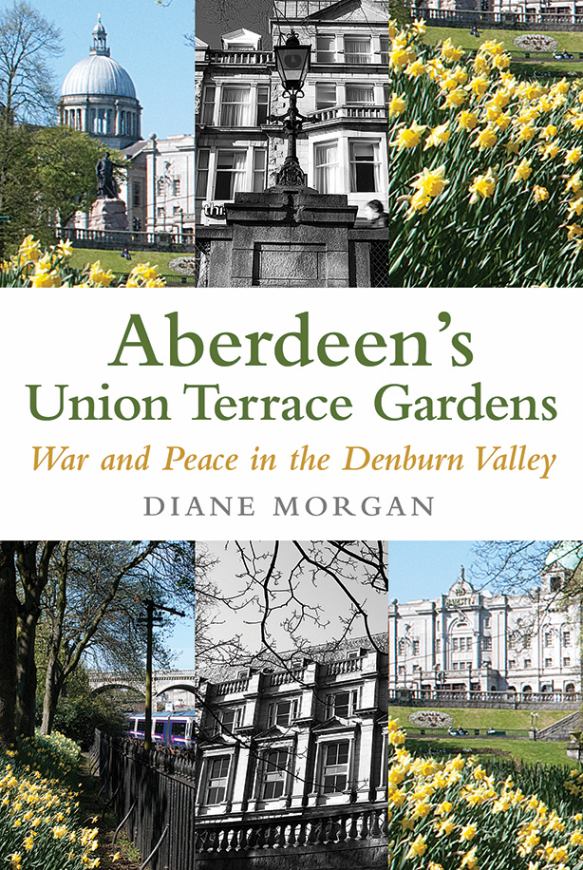 By Duncan Harley.
In Aberdeen's Union Terrace Gardens, her eleventh book about Aberdeen, Diane Morgan explores the often turbulent history of one of the last of Aberdeen's city centre green spaces.
Opened to the public in 1897 and bounded by some of the city's finest architecture, the Gardens have often been the subject of debate between developers intent on transforming the area to meet the needs of an expanding population and conservationists intent on retaining an irreplaceable asset.
Dedicated to "all friends of Union Terrace Gardens" and profusely illustrated with both modern and historic images, the new book presents the complex and sometimes dramatic story of the Gardens from very early days right up to the present.
Writing in her customary and easily accessible documentary style, Diane Morgan traces the early history of the Denburn Valley guiding the reader gently through the events and the politics which have shaped the manicured parkland which visitors experience today.
At times under threat from roving sheep, the coming of the railways and the unpredictable flooding of the Denburn the prospect of the development of the valley has often reared its head. The defence of the valley against encroaching development by architect and future provost James Mathews in the 1860's is explored in some detail in the book and the transformation of Corbie Heugh into what we today might recognise as Union Terrace Gardens takes centre place.
Links to the Hanoverian Army under General Johnnie Cope, the Globe Theatre and William Shakespeare, Archibald Simpson's Triple Kirks and the religious upheaval of the Disruption are explored in some detail. In chapter thirteen the more recent City Garden Project comes under special scrutiny under the title of "The Battle for Union Terrace Gardens".
In this specially commissioned chapter Mike Shepherd, the first chairperson of the campaign group Friends of Union Terrace Gardens, has recorded the recent and sometimes hilarious events surrounding the most recent proposal to re-develop the parkland into a civic square complete with underground car park.
From Sir Ian Wood's unexpected announcement in 2008 that he was prepared to allocate £50m to "raise Union Terrace Gardens to street level" through the public referendum phase to the eventual death of the project in 2012 due to lack of public funding – all is explored in some detail.
This book is essential reading for anyone interested in the social and economic history of the city of Aberdeen and Diane Morgan's authoritative and thoroughly researched text will satisfy both casual and academic readers.
Aberdeen's Union Terrace Gardens is published in paperback by Black and White Publishing at £14.99
First published in Leopard Magazine © Duncan Harley