Voice's Old Susannah takes a look over the past week's events in the 'Deen and beyond. By Suzanne Kelly.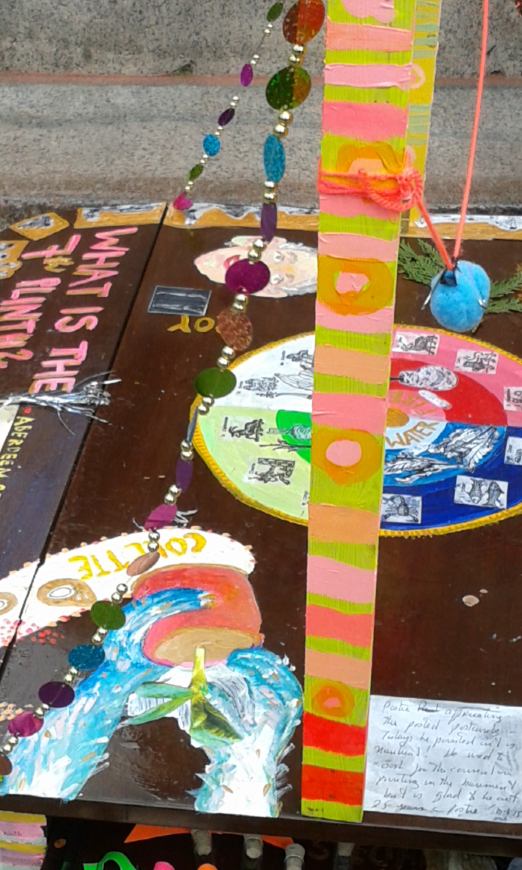 Apologies for the late running of this service. However, I've been busy getting Tullos Hill petition signatures, and writing my presentation to the city's Petitions Committee for this coming Tuesday.
Fortunately, the brand new album from the Gerry Jablonski Band arrived to give me some new listening pleasure while I was reliving all the fun of the 2012 Tullos Hill issues.
For some reason, the blues seem particularly appropriate to some of our city's latest comings and goings.
The city council will no doubt be thrilled that over 250 city residents on the electoral register signed the Tullos Hill petition.
They've signed up to get the city to stop killing the deer (at least for now – there may be very few left), and to get full disclosure of the hundreds of thousands of pounds which Aileen Malone's 'free' scheme to plant trees cost us.
The signatories also request that the city seek indemnity from Scottish Natural Heritage – you may remember they made Aberdeen give them £43,800 for the last failed tree planting. This was blamed on deer browsing and on weeds.
The blame couldn't have been related to the fact the hill's so rocky it is unlikely any trees will withstand any high wind (in a government soil report which every supporter of killing your deer knew about). At least as my photo shows, they've done a bang-up job taking care of the weeds on the hill. The city's rangers are very proud as to how much gorse they've been manly enough to cut and put in a wood chipper.
They've made it so you can see around a corner on a path they've widened. Result! Maybe not a great result for the wildlife, insects and birds that live in the gorse, but it kept the boys happy, and that's what counts.
More on the Petition later – but a huge thank you from the Stop The Tullos Hill Deer Campaign to every single person who signed, shared and helped with this petition. That extends to all the people whose signatures weren't eligible. ACC discounted hundreds of signatures. The city said some people weren't on the electoral register (I hope everyone is registered to vote and are paying their taxes, just like our local rich do).
Also disregarded were people who live in the shire, who clearly shouldn't be allowed to have any opinions on the city's doings. A mere 400+ people want the city to stop this cull, the Scottish SPCA 'said killing deer to plant trees which could be planted anywhere at all was 'abhorrent and absurd.'
Animal welfare organisations offered to help advise on how you can have trees and deer without blasting the creatures, but that's not much good for councillors after the hunting community's votes. In 2012 objection to killing 36 deer was put down to emotionalism, sentimentality and other fully unacceptable traits; not to the fact the trees aren't likely to grow.
Still, when the gamekeepers' association also says the SNH culls are draconian, I guess that means they're just being emotional, sentimental fools, too.
I'm sure the petition committee members will welcome a speech from Old Susannah with unbridled joy.
I hope they remember that I may be making the presentation, but it's the thousands of people who signed the initial petition and the 400+ people who they are answerable to. Those were the thousands of people written off in an official report as being 'a vociferous but vocal minority.'
Old Susannah will report back well before the upcoming elections to let you know how the 5 labour, 5 SNP, LibDem, Conservative and Independent on the committee vote on the three petition proposals before them. I'm just trying to keep 'the vociferous minority' informed, and the objecting community councils.
As a reminder, the last time we had elections an anti-deer cull independent Andy Finlayson was voted in, defeating pro-cull, legwarmer-wearing Lib Dem Kate Dean. The LibDems saw a marked change of fortune in the Deen.
I'd hate to want our elected officials to feel hot under the collar though, or think they have some duty to listen to what the people are telling them, when non-binding, controversial guidelines from the SNH are at stake. I wonder what we're in store for this time at the ballot box?
Mind you, I've not heard or seen much about the upcoming elections. There were one or television programmes which might have been debates. I just wasn't sure if these were either beauty pageants or episodes of University Challenge. Aside from one or two newspaper articles and the occasional good-humoured post on Facebook, you'd barely know an election was looming.
Congratulations to all the parties which are keeping the electioneering so factual, dignified and honest.
I will vote, mostly because a bunch of tiresome old women back in Edwardian times made voting into a big deal. Hopefully some smart man can help me decide what party to pick, and how to mark those complicated ballot papers.
The question is how to select just one candidate from the honest, trustworthy, charismatic steadfast field? Should I vote for the people who want to kick non UK borns like me out; should I vote for the ones who want the UK to keep chipping in a little for the privilege of having Trident? Or perhaps I'll just vote for the ones who promise to tax the rich and sell me a council house on the cheap.
Because I value safety and world peace, I'll probably vote for a candidate who favours Trident. Trident is how the Americans keep us safe. Their missiles are right here (that makes me feel safer already).
If the US decides to push the button, then they can pretty much destroy all of Europe and make it uninhabitable for hundreds of years at least. And because we want to do our bit, the UK pays for it. After all, it's not like we'd do anything else with a few spare billion pounds is it?
I also value candidates who are honest rather than opportunist, and who stick to their word and their convictions no matter what, so I may go LibDem.
Aileen Malone must have known how many deer would be slaughtered for her precious trees, and how much money would be used; but good on 'er; she stuck to her guns. Then there's that nice Mr Clegg; he stuck to his word about tuition fees, didn't he?
Or perhaps I'm remembering that wrong. Then again, some of the women candidates have really nice shoes. Happy voting everyone!
Unhappily, all the fun of campaigning is soon enough finished, and then we will forget all about politics again for another 5 years or so. What we really want is bread and circuses (or TV and fast food) to distract us from boring things like nuclear weaponry, torture, armed police, food banks and tax avoiders,( isn't that right Sir Ian)?
Therefore it's time for some cheery definitions based around recent doings in the Deen.
Look Again: (Modern Scottish compound noun) A vibrant and dynamic, forward looking (and forward looking again) visual arts festival.
Edinburgh is gearing up for another year of its Fringe, International Film, and Book festivals. Tens of thousands from around the world will enjoy over a thousand events. They will take to streets with scarcely any crowd barriers or teams of police and security guards; and somehow it still works out.
Dundee residents will quickly forget that their V&A project was millions over budget (although some of you in government knew, didn't you?) and add another arts venue will join Dundee's contemporary arts centre, The Discovery and The Unicorn (Dundee for some reason wants visitors enjoying themselves on its river, not just cargo ships). Aberdeen however excels at something – and that is one-upmanship.
A long time ago, art was a means of inspiring thoughts, evoking memories and feeings, stoking aspirations, and stimulating creativity. Thank goodness we've modernised. Our Look Again festival has reminded everyone what an art festival is really about. We had 'top' artists dressing up our boring, easily ignored giant sculptures of heroic figures.
Who'd have ever noticed Robert the Bruce if we hadn't put cheeky seagull and pigeon figures on him?
Who'd have noticed a statue of some guy named William Wallace if we didn't put some kind of dayglow toga on it?
And how else to show the kids that we're cool and down with them other than by putting a set of giant Dr Dre's on Robert Burns?
An outdoor arts festival is all about showing off, vibrant colours, and artwork that needs explanation and makes us ask questions like 'why is Robert Burns holding a giant knitted ball that's supposed to be Mercury with a big red dot on it?' It's about showing how clever artists are – but not so clever that every last man, woman and child can't figure out what the artwork is supposed to mean when told.
Art festivals are whimsical, fun, vibrant, dynamic (and probably well connected). It doesn't really matter if a person who's painted human figures can't do so – we can just write that off as them being an artist that is expressionist. Most of all, art festivals need to generate controversy – but not anything too bold or risqué – particularly if public money is involved.
Aren't we all wonderful? Isn't everything bright and shiny? It was a wonderful fun festival for all the family, which avoided anything that was garish, cheap, tinny, dumbed-down, poorly-executed, forced, or which required any form of imaginative or intellectual input from the viewer.
I am sure parts of the festival were not quite as interesting as these wonderful statues, but the statues are what so subtly whispered 'pssst have a look' and which caught the public's imagination.
That the public's imagination had to be cudgelled and frogmarched around by pre-briefed, script-adhering clipboard bearers (who didn't know how much we spent on the dressed up statues) is neither here nor there. We've showed our big sisters Glasgow and Edinburgh that we're cool, we are artistic, we do festivals and we rock. Result!
I am only a foreigner here (until UKIP kicks me out in a fortnight); but in my country and in my own meagre study of art history and creating art, I had some old-fashioned ideas. These included showing respect and dignity towards the artwork created by others, be they alive or dead.
I'm sure the Wallace statue's sculptor would have been delighted to see his masterwork turned into a figure of forced, weak laughter and whimsy.
For some reason the Gordon Highlander monument at Castlegate escaped the modernising treatment. I don't' know why that should have been, but surely it wasn't because the curators of this splendid festival knew that decking this monument to a recently-closed regiment of heroes might not have kept the gullible public on side.
Maybe they'll put paper hats on their heads and make them hold fish and chips next year; we'll see. The absence of any material on the day to give history of the original sculptors or their subjects was a good move too; why burden people with stuffy detail when you can show them the arse of a pigeon with the saying 'Fit Like' on it?
The sordid subject of money should never be brought up when the arts are involved, but each 'top' artist who got to show their skills by decorating these statues was given a fixed budget, amount unknown. Suggestions I've had saying that some of these wanted to do their bit as cheaply as possible to keep profit margins up are of course just unkind.
That Aberdeen City found money in its arts budget will be huge comfort to those who missed out on any arts awards at the last round.
Equally pleased will be the photographers whose work has over time been 'borrowed' by the city for print and internet publication – without a cent ever being paid to the artists involved, and in many cases without even bothering to contact the artists, for whom the honour of having their work associated with ACC should be reward enough.
Let's see what we get next year; let's see which artists are consulted and invited. For I may well be wrong, but this festival might possibly have been the work of the usual suspects. The usual suspects have worked long and hard to make this city's publically-funded arts scene what it is today. Perhaps they should rest from their intensive labours, and let someone else get involved.
Graffiti:
Our local graffiti artists have outdone themselves this time; they have managed to capture the whimsical, irreverent humour of the Look Again festival and combine it with political commentary! Result! The manifestation of this appeared on political party offices in Rosemount.
Persons or persons unknown decided to do away with the boring intellectual debate side of campaigning, and took the time and trouble to paint a swastika on some of our city's office fronts. This rather charming motif shows a certain amount of historical knowledge, so hat's off to the bright spark behind this little episode.
Some might think this is a mindless, crude, insensitive, illogical, brutish, violent act of a coward too afraid to put their feelings into words or to do anything positive with the options at their disposal, but that's just nit-picking. Yes, this was the act of a young folk hero or heroine, who deserves all of our thanks for their charming display.
Then again some graffiti artists are young people who, spoiled for all the exciting things they can do in this town want to paint. Don't they know how many different shops we've got?
Every part of this teen-friendly town is filled with exciting free drop in centres open hours that suit teens where they can relax, play pool, use computers, do music, dance or sit around.
It must be like paradise for them, however much or little money they have at their disposal.
We clearly cannot allow graffiti as practiced by kids today; an arts festivals like Look Again and the really happening Aberdeen Youth Festival be quite enough artistic outlets for them indeed.
If we allowed young people to for instance have a graffiti wall that might lead to all forms of self-expression.
That kind of thing might lead to disrespect for our built heritage, art that was not State-approved, and all sorts of other unacceptable, non-conservative activity. It would be awful if unartistic crude adornments added to our city's monuments and buildings; this must not be allowed. Unless it's paid 'top' artists who are doing it.
I think that's all the art I can stand for, particularly as I stood for hours trying to get into the Art Gallery's last open night for some years. A massive 300 strong crowd was allowed inside this time!
That's about as many they fit into The Lemon Tree (which may be just a wee bit smaller). A woman in a wheelchair waited in this queue without complaint. After all, a 300 max was for our safety, don't you know.
The first evening event I went to at the gallery was on the theme of World War I; it was safe to say that more than 300 people were inside, and somehow no horrendous accidents occurred. But our safety mandarins got wind of how popular this was, and decided it was a job for a few crowd barriers and sensible attendance rules.
It's amazing how our subtle safety mandarins know how to add just that bit more fun, excitement and buzz to our city's events. What was about the most artistic thing I've seen this past month? Two Mona Lisas (pictured above), queuing up to get in the Gallery on its last night until in a year or so it reopens – minus its marble staircase and with a shoebox type addition on the roof. Art is amazing.
Next week – Safety, elections, NHS Grampian, and a roundup of what the city's great and good have been up to.
Comments enabled – see comments box below. Note, all comments will be moderated.
[Aberdeen Voice accepts and welcomes contributions from all sides/angles pertaining to any issue. Views and opinions expressed in any article are entirely those of the writer/contributor, and inclusion in our publication does not constitute support or endorsement of these by Aberdeen Voice as an organisation or any of its team members.]