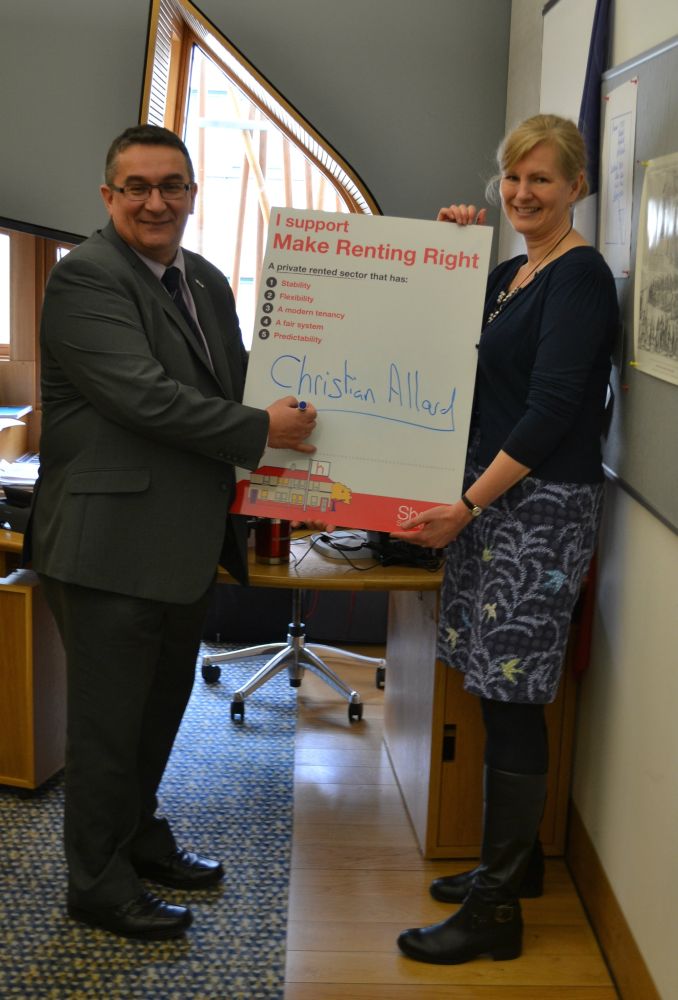 With thanks to Gavin Mowat.
SNP MSP Christian Allard has signed up to Shelter Scotland's 'Make Renting Right' campaign which calls for a renting sector that works both for people who live in rented housing and landlords who rent out their properties.
The Make Renting Right campaign seeks to improve the growing and changing private rented sector to make sure it is a safe, secure and stable housing option.
312,000 households in Scotland now live in the private rented sector, which is 13 per cent of all households.
The number of families with children has more than doubled in the last ten years, with 80,000 children now living in private rented accommodation.
Mr Allard and other signatories of the Make Renting Right campaign are asking for: Stability for people wanting to make rented housing their home; flexibility for people to stay in their home as long as they need to; a modern tenancy that gives security and flexibility for tenants AND landlords; a fair system for sorting out renting problems when they occur; predictable rents for tenants and landlords.
Commenting, Christian Allard MSP said:
"I am happy to have signed up to this campaign – fair renting for both the tenant and the landlord is an important priority.
"Here in the North East there is a vibrant private renting market which should be fair, flexible and suitable for everyone involved.
"That is why I am delighted to have the opportunity to support Shelter Scotland's Make Renting Right Campaign."
Comments enabled – see comments box below. Note, all comments will be moderated.
[Aberdeen Voice accepts and welcomes contributions from all sides/angles pertaining to any issue. Views and opinions expressed in any article are entirely those of the writer/contributor, and inclusion in our publication does not constitute support or endorsement of these by Aberdeen Voice as an organisation or any of its team members.]