With thanks to Richard Bunting.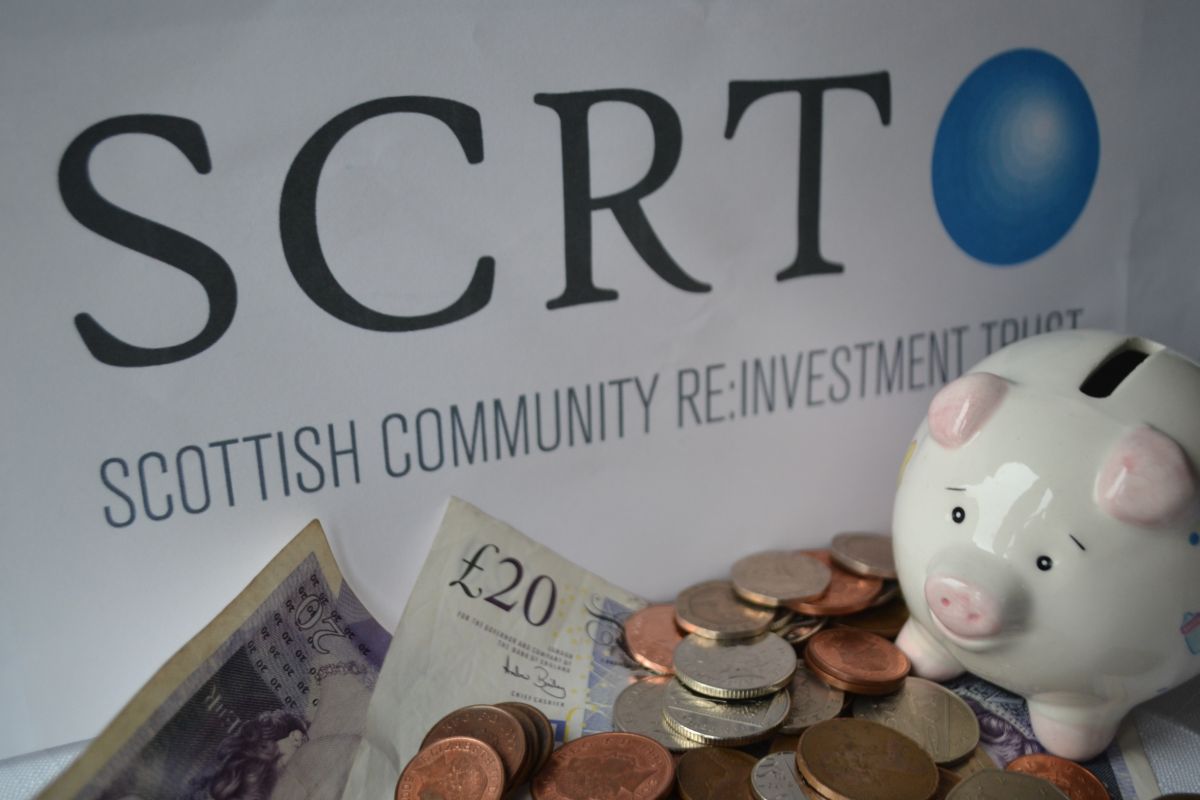 Scottish Community Re:Investment Trust, a new independent charity aiming to transform how Scotland's third sector uses and thinks about its finances, has been launched.
The trust's first initiative is a specially designed new savings account to be introduced at today's Glasgow Social Enterprise Trade Fair.
With a lack of Scottish-focused banks offering any longer a transparent way for people or third sector organisations to invest in line with their values – and with the existing financial framework failing to adequately meet the needs of charities and socially focused organisations – the trust is setting out to create radical change.
It plans to help independent charities and socially beneficial organisations to harness their collective assets, strengthen their financial expertise and gain access to financial services tailored to their specific needs.
The new Anchor Savings Account – provided by Airdrie Savings Bank, Britain's last independent savings bank – offers a fresh and tailored focus for third sector savings. By connecting hundreds of separate accounts beneath one umbrella, the pioneering account will increase the impact of the sector's shared financial clout.
"Scotland's third sector, which does huge amounts of public good, desperately needs access to a financial infrastructure that matches its values and ways of working. For charities and socially beneficial organisations, the current financial system is broken beyond repair – leaving them hampered by scattered resources, unsuitable products and unmet needs," said Deirdre Forsyth, Chair of Scottish Community Re:Investment Trust.
"By acting together and harnessing its collective assets – and by strengthening its understanding and knowledge of socially responsible use and management of money – the third sector can use its substantial financial resources to invest in its own future in alternative and better ways than is currently possible."
Scotland's third sector includes an estimated 45,000 different and richly varied organisations. Its investable assets have been calculated to be approximately £3.8 billion, according to the Scottish Council for Voluntary Organisations – but these substantial resources are currently spread across financial institutions that are mostly uninterested in the third sector's work or needs.
If just one per cent of these assets were invested more strategically, it could transform the sector's economic independence and its influence on banking practices.
Malcolm Hayday, Advisor to Scottish Community Re:Investment Trust, said:
"By building a common, collective and shared wealth there is huge scope for organisations to invest in and support the development of the wider third sector – recycling its investment resources and creating significant benefits for its crucial work for society, our environment and people's well-being. In the sector, we focus on the positive impact of everything we do except when it comes to our financial reserves."
Scottish Community Re:Investment Trust cites evidence of widespread third sector dissatisfaction with current financial services. This includes recent research for Charity Bank, which revealed that although 65% of respondents believed that loans can benefit charities' work, only 31% of those approaching a high street bank for a loan took one, 29% were declined and 40% could not take up offered loans because of onerous terms.
With many UK social investment schemes underpinned by a focus on private investor returns rather than social, environmental and wider economic benefits, third sector organisations can also struggle to meet increasing expectations that their business decisions should be ethically based.
Another problem is that while a key third sector role is to act as society's social antennae – identifying new needs, and inventing and testing new social solutions – such work is traditionally unbankable, often being viewed as too experimental and risky for commercial and even many social funders. Yet the sector needs supplies of relatively small amounts of high-risk investment, as well as micro loans and unsecured loans, to incubate new generations of start-ups.
Although the social finance market within the UK – and especially Scotland – is relatively small, since the financial crisis it is gaining recognition as an important funding source for third sector organisations, including the supply of early stage investments and start-ups, fostering innovation and supporting community-based investments.
But as the third sector's resource needs increase – and as its requirement to invest in its own future becomes more acute – its members will need to act together more whenever possible.
As it explores the third sector's appetite to work across Scotland in a new, more cooperative way on finance, Scottish Community Re:Investment Trust's own long-term future will depend on the response of the sector. The Anchor Savings Account allows organisations to choose to donate a proportion of earned interest to the trust – allowing the charity to become self-sustaining following an initial period of grant funding.
Discussions are underway with several organisations to act as early standard bearers for the new initiative.
The trust has been established with a founding Board and team with extensive experience of social banking institutions and the third sector, founded by several organisations – Senscot, CEIS, Penumbra and Ekopia – and chaired by Deirdre Forsyth, Chair of ScotWest Credit Union. It is registered as a Scottish Charitable Incorporated Organisation (SCIO) and is to be owned and managed by Scotland's third sector.
During an initial two-year implementation phase, the trust will build its membership amongst Scotland's third sector organisations, from which a new board will be elected in late 2015. For more information, visit www.scrt.scot.
Comments enabled – see comments box below. Note, all comments will be moderated.
[Aberdeen Voice accepts and welcomes contributions from all sides/angles pertaining to any issue. Views and opinions expressed in any article are entirely those of the writer/contributor, and inclusion in our publication does not constitute support or endorsement of these by Aberdeen Voice as an organisation or any of its team members.]